The National Hockey League seems really big, but it's actually a pretty small world, where secrets don't stay secret for very long. Often, a player or two emerge as on-ice leaders on a team and those around the club hope against hope that word doesn't get out and other teams don't start taking notice of them. But word travels fast and teams adjust, and sooner or later it becomes evident how good players truly are in the big league.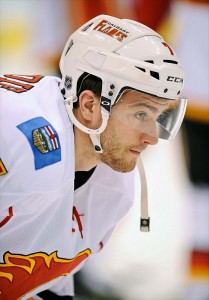 It's been awhile, and I think it's now safe to say that Mark Giordano and T.J. Brodie are for real, and are among the top defensive pairings in the entire National Hockey League. The dynamic duo, each a product of a rather unlikely hockey success story, have each emerged as a huge part of Calgary's on-ice success over the past year and bonafide Norris Trophy contenders.
Giordano, 31, joined the Flames organization in the summer of 2004. The club was still smarting after the heart-breaking Game 7 loss to the Tampa Bay Lightning in the Stanley Cup Final, and decided to fill out their development system with a slew of minor-league depth signings – part of the team addressing the roster issues that arguably cost them a championship. Giordano quietly emerged as a solid hand, and eventually progressed up the ranks to became Calgary's captain and best player. Boasting a physical edge, impressive shot blocking and a cannon of a shot, Giordano has 35 points through the first 38 games of this season, leading all defenders.
Brodie, 24, was Calgary's fourth round selection in the 2008 NHL Draft (and the 45th defender taken that year). Like Giordano, Brodie was brought along slowly; he initially had a short call-up followed by a full season in the AHL. Then he split a season between the AHL and the Flames. Then he spent a third season mostly in the NHL. And when he was in the NHL, he was brought along slowly, and it wasn't until the team jettisoned Jay Bouwmeester that Brodie got a lot of ice time in every situation (and thrived). A swift skater with excellent vision and a tremendous first pass out of the defensive zone, Brodie has become a strong weapon for Calgary's transition game. He has 25 points in the first 38 games of the season.
Thrown together in training camp last season as a pairing, Brodie and Giordano became an anchor for the club – if all else failed, coach Bob Hartley could throw them onto the ice and things would be just fine. The pairing boast speed, offensive creativity and strong 200-foot awareness. Their value to the team became really evident last season during Giordano's 18-game absence due to an injury – Brodie was paired with Chris Butler, the Flames constantly got out-shot and out-scored, and they went 5-11-2 and fell towards the bottom of the NHL's standings.
Now in their second season as a pairing, the deployment of Brodie and Giordano speaks to how they're perceived by their coach. The pairing plays roughly 41% of all the team's even-strength minutes, are featured prominently on special teams, and are almost always matched up against the top lines on the other teams. Despite facing the league's best, the available possession analytics indicate that the puck moves toward the other team's net much more often for them than for Calgary's other defenders.
Brodie and Giordano boast a 47.4 Corsi For percentage (measuring shots, missed shots and blocked shots for and against)
Dennis Wideman and Kris Russell have a 44.5 Corsi For percentage
Ladislav Smid and Deryk Engelland have a 40.7 Corsi For percentage
When you factor in the differing levels of competition each pairing faces, Brodie and Giordano's defensive and offensive prowess becomes even more impressive. Particularly when you factor in that opposition coaches know very well that these guys are Calgary's best players, both offensively and defensively, and often target them with tough match-ups in an effort to tired them out and create opportunities for the rest of their forwards.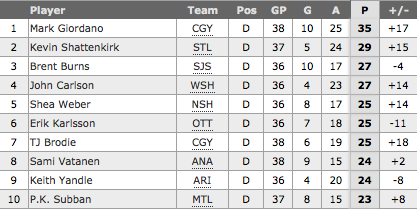 Last season, despite missing a quarter of the season, Giordano was 10th in Norris Trophy voting. T.J. Brodie didn't make a dent in the balloting, likely due to the fact that his partner missed time. No Calgary Flames player has ever won the Norris Trophy, not even Hall of Famer Al MacInnis (who spent 13 seasons in Calgary).
If things continue the way they have been, two of them will make strong cases to break that trend.
Ryan Pike has covered the Calgary Flames and the NHL Draft extensively since 2010 as a Senior Writer for The Hockey Writers and Senior Contributing Editor of FlamesNation.ca. A member of the Professional Hockey Writers Association, he lives in Calgary.