What began as a much-publicized experiment is going to get a lot more interesting.
All eyes from around the league were on the St. Louis Blues franchise on December 2nd when they formally announced the signing of free agent goalie Martin Brodeur, and rightfully so. Brodeur will go down in NHL history as one of the sport's greatest netminders, riding a career full of records, trophies, and other accolades into a surefire place in the Hockey Hall Of Fame. It was the first time in Brodeur's NHL career that he was to play with a different organization other than the New Jersey Devils, the team that originally drafted him way back in 1990.
Beyond all the fanfare and increased ticket sales, the Blues' signing of Brodeur was also borne out of necessity. Starting goalie Brian Elliott had gone down with an injury at the time and was expected to miss a month of action, while backup Jake Allen was deemed not quite ready to handle the lion's share of the minutes in net.
On one hand it was a successful gamble, as Brodeur has been playing respectably well since he was signed, sporting a record of 3-2 with a .904 save percentage.
On the other hand, however, with Elliott now healed and ready to play again the Blues find themselves in a sticky situation, carrying three goalies with no clear and simple plan as to what to do with them. While the Too Many Goalies situation likely isn't going to evolve into a Too Many Cooks level of insanity, it does create some tough decisions for the team.
Out of the three goalies, Elliott is clearly the best of the bunch. His .931 save percentage is by far and away the highest of the trio, and the .922 that he put up last season suggests that it isn't a fluke. He's only 29 years old and is signed for two more years after this one, so the Blues can continue to hold onto him without much in the way of sacrifices.
Allen, 24, is sporting a below-average save percentage of .899, and hasn't looked particularly sharp in the St. Louis net this season. However, he's still developing and has a lot of good hockey years left in him. His impressive track record from both the QMJHL and AHL would suggest that he's going to eventually develop into a solid goaltender at the NHL level, possibly even a legitimate starter. Looking long term, holding onto Allen makes sense for the Blues.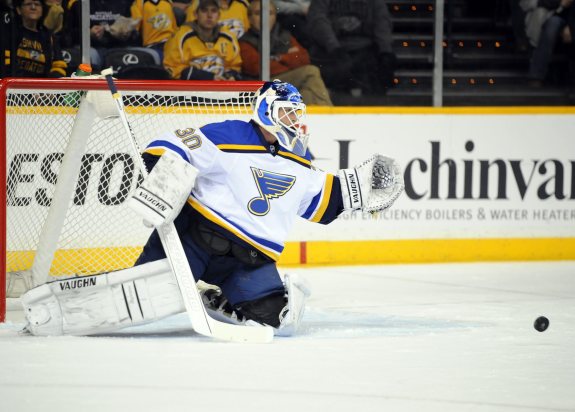 And then there's Brodeur. At 42 years old and with declining numbers over the past few years, this is almost certainly going to be the last season of his decorated career. While he isn't the same elite goalie that he once was, there's definitely something to be said about the value of experience. Brodeur has accomplished pretty much everything that a player can in their hockey career, and that experience could prove to be very useful for a St. Louis team that has Stanley Cup aspirations this year, but has a notable lack of proven playoff performers. Holding onto Brodeur would have no payoff long-term, but could end up being a worthwhile move in the short-term.
With Allen unable to transfer down to the AHL without passing through waivers, a trade will probably have to be the course of action for the Blues. But who? And are there any other teams in the NHL that are even looking for a goalie right now? With St. Louis not likely wanting to hang onto all three goalies for any extended amount of time it'll be something to keep a close eye on in the upcoming weeks.
Derek Neumeier primarily covers the Dallas Stars, but also other various topics related to the sport of hockey. A Journalism graduate of Mount Royal University, Derek also writes for Defending Big D, and has done previous work with the Edmonton Oilers as a communications intern and Hockey Canada as a freelance writer. You can follow him on Twitter at @Derek_N_NHL