BOSTON — David Pastrnak had three goals and an assist to lead the Boston Bruins to a 5-1 win over the Toronto Maple Leafs on Saturday night.
Patrice Bergeron had a goal and two assists, Joakim Nordstrom also scored and Brad Marchand had two assists as the Bruins ended the Maple Leafs' three-game winning streak and handed Toronto its first road loss of the season. Jaroslav Halak stopped 40 shots.
John Tavares scored the only goal for Toronto, and Garret Sparks finished with 29 saves.
Pastrnak's second hat trick of the season gave him the NHL scoring lead with 15 goals after he entered in a four-way tie for the most.
After assisting on Bergeron's goal late in the first period, Pastrnak scored twice in the second and completed got his third of the night with a one-timer from the left circle with 5:56 left to play.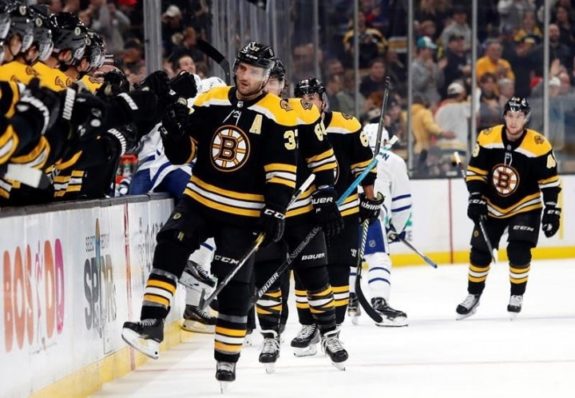 Nordstrom scored again for Boston just 26 seconds later to seal it for the Bruins, who won the first meeting of the Original Six rivals after going 1-3 against the Maple Leafs last season.
Halak got the start in the Bruins' first game since the club granted a leave of absence to Tuukka Rask for undisclosed personal reasons. Halak stopped all 20 shots he faced in the first period, keeping the Bruins in it despite a slow start.
After Pastrnak set up Bergeron for the first goal of the game, Bergeron returned the favour 5:46 into the second with a pass from behind the net for a one-timer from the left circle to give Boston a 2-0 lead.
Related THW Content – Bruins Are a One-Line Team
Pastrnak made it 3-0 on a power-play goal 10:24 into the second, tipping in a shot by Marchand after a cross-ice pass from Bergeron with 36 seconds left on a hooking penalty on Toronto's Martin Marincin.
Tavares scored for Toronto with 30 seconds left in the second period.
NOTES: Halak was pulled Thursday against Vancouver after allowing five goals on 19 shots. … The Leafs allowed their most goals since a 3-1 loss to Calgary on Oct. 29. … With Rask unavailable, the Bruins called up G Dan Vladar from AHL Providence on an emergency basis. … Bergeron's goal in the first was the 298th of his career.
UP NEXT
Maple Leafs: At Los Angeles on Tuesday night.
Bruins: Host Vegas on Sunday night.
___
More AP NHL: https://apnews.com/NHL and https://twitter.com/AP_Sports
Doug Alden, The Associated Press