Let that marinate for a minute…
Bruins BLAST Pens 6-1. In Pittsburgh. In a game that most of us felt was a desperation game for the Penguins.
They needed to win Game Two. To avoid going down 0-2 in the series, heading to Boston for games three and four.
I'm not going to bore you with stats from last night's nonsense. They're irrelevant. This was a clinic. Plain, pure, and simple.
The narrative after Game One was easy: bad bounces for the Pens, lucky bounces for the B's. The Penguins were in Game One till about midway through the third period. Even despite losing their cool at the end of the second frame, they still had a chance.
Not last night. Not even for 30 seconds. Brad Marchand saw to that.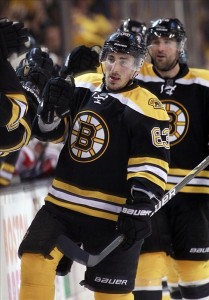 He scored 28 seconds into the game. On a turnover by none other than the Pens captain, Sidney Crosby. Just inside the Bruins' blue line, he put the puck right on Marchand's blade, and away he went. And just like that, 1-0 Bruins.
By the time this debacle was over, the Bruins were humming along, at a nine-goals-to-one pace so far in this series. And for all that there was for the Pens to smile about after a Game One loss, there was equally as much, if not more, to be unhappy, nay, ticked off about after last night's mess.
Said Vokoun: "We have to better. We have to change our mindset."
Crosby: "It was a bad hockey game."
Really? Ya don't say.
Too often this spring, even after wins, this Penguins' team has been taken to task. Too many turnovers by it's star players (who have been anything but so far through two games). Poor defense and porous goals that led to the benching of "franchise" netminder Marc-Andre Fleury. Bad or not enough adjustments made by Dan Bylsma and his coaching staff.
So Crosby, Malkin and Letang, the nucleus of this team, so far are a combined minus-12. Only Letang was on the ice for Brandon Sutter's goal, the only one the Penguins have scored in 120 minutes of hockey so far.  But it goes beyond that.
Tonight, the Bruins' second goal was a direct result of a Kris Letang turnover. A theme all too familiar to Pens' fans this postseason. And Malkin, for all his worldly efforts in game one (at least half of it anyway), was pretty much invisible tonight after his first shift. And ditto for Crosby, who seems to be trying to win The Stanley Cup with one shift.
Then there is the goaltending. None of the three goals allowed by Tomas Vokoun, could he be blamed for. Marchand's breakaway 28 seconds in. Letang's turnover that led to Nathan Horton's goal, and a disastrous defensive breakdown that led to David Krejci's tally.
And then in came Marc-Andre Fleury.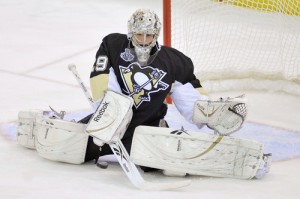 After Brandon Sutter's goal made it a 3-1 game late in the first, and just when you thought that the Penguins may have some momentum, Fleury quickly extinguished that flame by allowing an un-screened Brad Marchand goal from just above the left wing circle to beat him glove side. And that was that. Fleury would give up two more goals before it was over, all of which he could have, and should have stopped.
So where do the Penguins go from here? Well, Boston for starters. That's the easy answer. Dan Bylsma must, HE MUST, find a way to get his team generating offense. For the past 90 minutes the Bruins have carried the play, and dare I say dramatically so.
Bylsma continues to inexplicably play Jarome Iginla on the left wing. He is clearly not comfortable there, despite Games Four and Five against Ottawa. Furthermore, Bylsma continues to put Kris Letang on the point of the first power play unit, despite his turnovers and irresponsibility defensively.
And don't get me started on his system. Too late.
While down 3-0 and then 4-1, heck even 5-1, Bylsma continued to go with his high forward at the Bruins' blue line, for the chip and chase approach. An approach, mind you, that has not produced results this entire postseason.
Okay, sure, I submit that the Pens have won two series thus far. But that's what great goaltending (provided by Vokoun) and supreme talent up front will get you. The Boston Bruins are a far better team than the Ottawa Senators or New York Islanders. And they are proving it right now.
Now that the smoke has cleared, and the dust has settled, I remain just as stunned now as I was walking out of Consol Energy Center last night. There simply are no words or thoughts to describe the train-wreck of a game that this was for the Penguins. They were not good defensively tonight. That's an understatement. Fleury was awful, and at no point gave his team a chance to win this game. And Bylsma is apparently going to live and die by his system.
All I can say is that this Penguins team tends to play well on the road, and they have played well in Boston specifically as of late. As cliched in sports as it is to say in a situation like this, the Pittsburgh Penguins must win one game; the next game. They can play better, much better, than they've shown so far. They must play better in Game Three.
Otherwise, the lasting memory of 2013 will be of a 6-1 drubbing at the hands of the Boston Bruins, and a golden opportunity squandered.
That's it for now. I'll be back at it tomorrow with a piece on Dan Bylsma's reputation, and I'm going to publish the article on Evgeni Malkin. Now seems like a good time for both.

Pittsburgh, Pa. Class of 2000 graduate from Robert Morris University with a B.A. in Mass Communications. Full-time objective sports fan.