It has been five days since the Boston Bruins lost one of their top defensemen, Torey Krug, in free agency to the St. Louis Blues. In the last five seasons, Krug has averaged 43 points while playing over 20 minutes a game. He has played a valuable role on the blue line and been instrumental in the power play.
Related: Bruins' Aging Core Impacting Front Office Decisions
So far, it does not appear that the team has plans to replace Krug externally. In addition, captain Zdeno Chara remains unsigned as well.
While I believe the team will ultimately sign Chara, at the moment, there are open spots on the blue line. This means there is opportunity for players to step up. Here's a look at what the blue line will most likely look like and potential prospects who could push for a spot.
Charlie McAvoy
Games Played: 184
Points: 92
With Krug gone and Chara's age, Charlie McAvoy has become the top defenseman. He was drafted at 14th overall in 2016 and has lived up to expectations. He's the top-paid defenseman on the team and will make $4.9 million per season through 2021-22. 
Related: Boston Bruins 2019-20 Prospect Pyramid
There's a lot to like about McAvoy's play in the last few seasons. He plays tough and is unafraid to lay out the big hits. This past season saw him logging an average of 23 minutes of ice time a night. He played with Matt Grzelcyk on the second power-play unit and on the penalty kill. Going forward, he'll be tapped to take on more minutes on the first power-play unit.
McAvoy can match up against a lot of the top players in the league and has been developing his own offensive game. He's been right around 0.5 points per game in all three seasons. He's not at the level of Krug's offensive play yet, but with more time on the power play, I think his points will only go up.
Brandon Carlo
Games Played: 297
Points: 51
Brandon Carlo has spent the last two seasons playing with Krug as his defensive partner and they were great complements to each other. Carlo is a solid shutdown defenseman who often slides under the radar. While he doesn't generate a lot of points or have the same flashy plays of other top defensemen, he is a beast in the defensive zone.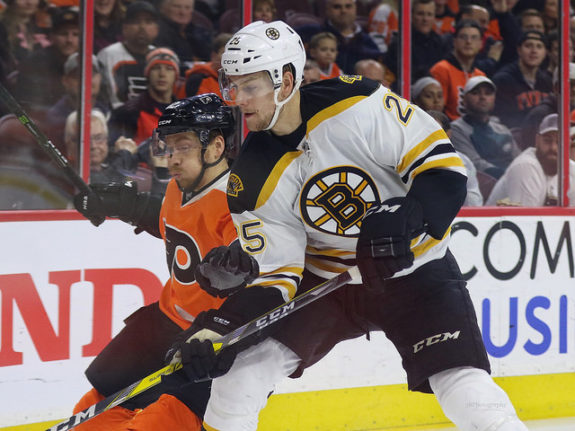 Carlo is trending up. He had career highs in goals and points, nearly doubling his numbers from 2018-19 with five fewer games played. 
What he also brings to the table is maturity. When injuries hit the blue line this past season, Carlo stepped up in a big way and welcomed the challenge. He handles responsibility well and is well respected by the team. If Chara is not re-signed, he could be someone the team looks to take on a leadership role down the line.
Matt Grzelcyk
Games Played: 197
Points: 54
The Boston-native is a small, puck-moving defenseman who has seen an increased role on the team in recent seasons that will grow in Krug's absence. He averages around 18 minutes of ice time a night, less than both Carlo and McAvoy. I would expect those numbers to increase this season as he moves up the depth chart. Grzelcyk will also be tapped to take on more power-play minutes.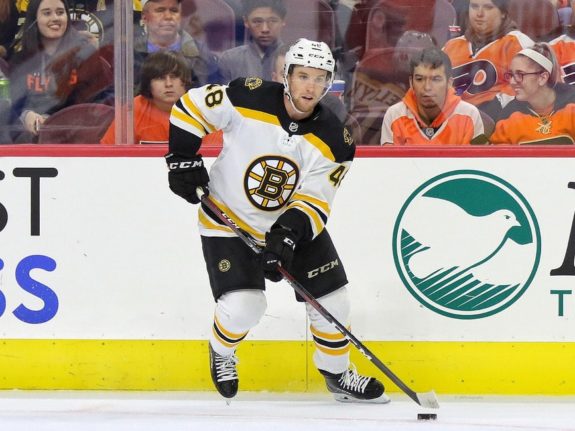 At the moment, the restricted free agent is unsigned and filed for salary arbitration with the NHL. The arbitration hearing has been set for Oct. 20. The Bruins' cap space is currently at 11 million, and I wouldn't be surprised to see his cap hit be around $2.5 – 2.75 million.
Connor Clifton
Games Played: 50
Points: 3
Earlier this year, the Bruins signed Connor Clifton to a three-year, $3 million contract extension. When the defense was decimated by injuries during the 2018-19 season, Clifton was called up from Providence and made an immediate impact. While he is on the shorter end at 5-foot-11, he plays a big game. He's an assertive player who's unafraid to make hits and skates well.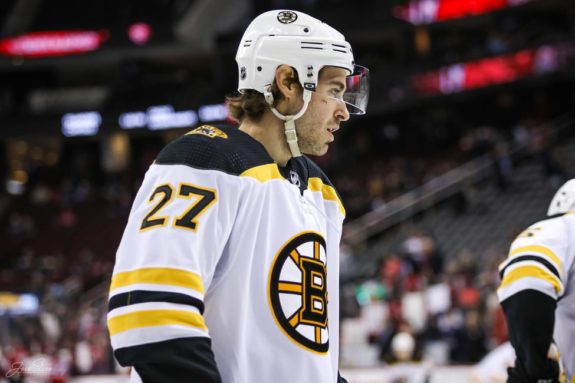 At times his game lacks structure and he can play with reckless abandon. Coach Bruce Cassidy has made the decision to scratch him in favor of others at times. But, I think there is a lot of upside to Clifton and his "Cliffy Hockey," and his impressive play during the playoffs demonstrated that.
John Moore
Games Played: 532
Points: 115
Before discussing John Moore, I would like to note that he is the first person on this list who has played for a team other than the Bruins. The Bruins have had a lot of recent success with drafting and developing young defensemen. 
Related: A Check-In on the Bruins' 2020 Free Agency
Moore was signed to a five-year deal with an average annual value of $2.75 million in 2018. This season saw him only playing in 24 games after he missed the start of the season recovering from shoulder surgery. He was then a healthy scratch for all but one game during the playoffs as he, Clifton, and Jeremy Lauzon were all competing for the sixth spot on the blue line.
If Krug and Chara both leave, Moore becomes one of the most senior members of the Bruins' blue line along with Kevan Miller. Given his experience and the respect he holds in the locker room, I think he has a lot of potential to step up this season.
Jeremy Lauzon
Games Played: 35
Points: 3
Lauzon played 19 games in the regular season and looked like he belonged out there. All signs point to him being another good defenseman drafted and developed by the team. Most likely, even if he's a healthy scratch some nights, he will have a permanent spot in Boston this season.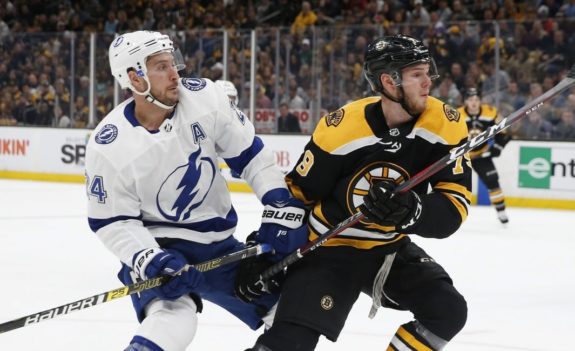 If Chara re-signs, Lauzon will most likely be seventh on the depth chart over prospects like Urho Vaakanainen and Jakub Zboril. But he could be bumped down further if Miller returns and stays healthy. 
Waiting in the Wings
At the moment, if the Bruins don't make anymore signings for the defense, I think the team's blue line will consist of McAvoy, Carlo, Grzelcyk, Clifton, Moore, and Lauzon. It's a young group and relatively inexperienced when you consider neither Clifton or Lauzon have hit that 100-game mark yet. There are several questions surrounding the blue line, but I think there are two that stand out.
The first is who will play on the top pairing with McAvoy? Even if Chara is re-signed, I don't know if he will remain on the top pairing, meaning it's up for grabs for the rest. Carlo or Clifton could be a potential options.
The second is who will step up in points? McAvoy is the only player who comes close to scoring at the same rate as Krug. Grezelcyk is the most likely option to make the biggest jump in points, but it would be nice to see players like Clifton and Moore contribute more on offense.
Related: NHL Top 100 Prospects Ranking
There's also some interesting players who could make a bid at a starting position should anyone listed above get hurt or have a rocky start. Miller missed the entire 2019-20 season due to injury and is currently on the injured reserve list. He has 67 points in 324 career games and was recently signed to a one-year deal. According to general manager Don Sweeney, he should be ready for the start of the next season. He could bring valuable experience and toughness to the young lineup if he is truly healthy and ready to play.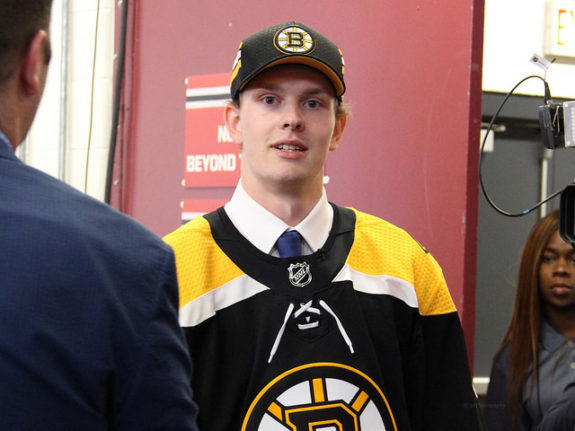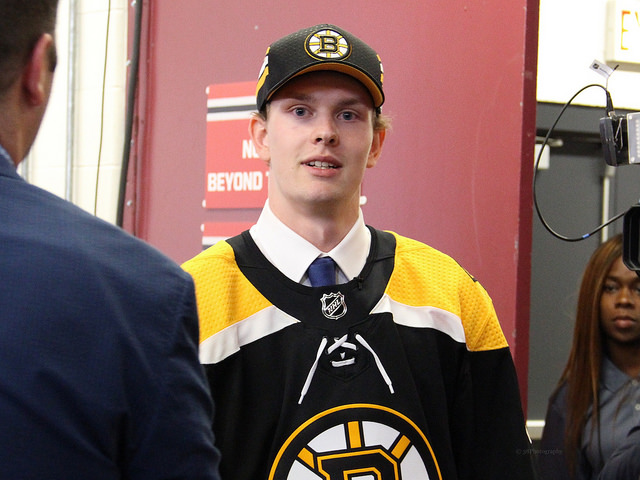 Vaakanainen and Zboril are former first-round picks and neither have gotten much playing time in the NHL. They'll both push for a spot on the roster and could be difference-makers as call-ups during the season. The team also signed Jack Ahcan out of St. Cloud State this past spring and has the potential to stir up the depth chart.
Krug is a big loss and Chara will be as well if he is not re-signed. But, the Bruins have shown over the last few seasons to have depth at defense, even if they're fairly young and inexperienced. When the majority of the starting defensemen were injured at the start of the 2018-19 season, the team had players to step up and managed to win the majority of games. I, for one, am excited to see what happens when the NHL (hopefully) starts the next season in January.
All stats came from Hockey Reference.
---
---