They say that patience is a virtue. However, anybody who has every waited a while for anything can tell you that patience, in general, is much more easily said than done. After being drafted in the second round in 2011, and leading the Providence Bruins in scoring for the last two seasons, it could be pretty difficult to remain patient for your shot at the NHL.
Such is the case for Alexander Khokhlachev.
The Russian-born forward has spent the last two seasons and change with the Baby Bruins down in Providence, and has tallied 100 points in 126 games. He's been pretty successful with the P-Bruins, however, he's only seen four games in an NHL uniform, three of which came last season with the B's.
Over the past few seasons, Khokhlachev has been told to be patient by the Bruins' brass. However, after two successful seasons, and no real shot at the NHL, Khokhlachev, at 22, is starting to lose his patience.
"This is my last year of contract. I'm 22 already. If they don't give me the chance to play, why am I here? I will not play in Providence all my life," Khokhlachev said at training camp on Saturday, per nesn.com.

"They told me just wait for your chance and I'm still waiting for that. "I played in Providence two years and was the leading scorer for two years. I think I played good, and I'm not a young guy anymore, 22. I think I'm ready for the chance."
Many people, Khokhlachev included, believed that the 5-foot 11-inch center would have seen a fair share of NHL time by now. However, he's yet to be given a real shot, and has been given minimal game-experience with the Bruins. His third and final appearance in 2014-15 consisted of just 2:53 of ice time.
"Well, I played two games and the third game I played two minutes. I don't think that's really a chance," he said. "I played fourth line — it doesn't matter what line I play — but I don't know if that's really a chance if you play two games."
Decision time for the Bruins
Long story short, the Bruins need to make a decision on Khokhlachev. He's had pretty successful numbers with the Providence Bruins, and many people believe that he could become a high-impact player in the NHL. However, if that's going to happen, then Boston needs to give him a chance to show his worth.
It's understandable that he's losing a bit of patience. The Bruins have had plenty of chances to give him a shot, and he's been passed over time and time again. However, despite his frustration, Khokhlachev is focused on making an impact right now, and proving at training camp that he belongs on the Bruins' roster.
"I'm just focused on making (Boston's roster). That's my team, they drafted me," Khokhlachev said. "I think they believe in me and want me to play, so I'm just focusing on that. I believe they will give me a chance and everything will be good."
Boston has a couple of options to consider. On one hand, they could bring up Khokhlachev, and give him a shot at the B's roster. In his final contractual year, Khokhlachev needs to prove his worth.
However, the Bruins' centerman depth is pretty strong, and Khokhlachev has a lot of competition that will be fighting for a spot. Chris Kelly, Max Talbot, and Zac Rinaldo could all end up in the lowest offensive line spot, as well as any of Boston's other younger prospects.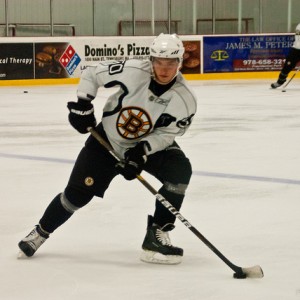 If Koko doesn't make the cut, then maybe Boston should put him on the trading block. With decent potential, Khokhlachev could probably draw some attention from across the league. While he won't be the heart of any blockbuster trades, the Russian center could still draw a decent return for the Bruins. The question is, who is going to be willing to take the chance on him?
As training camp plays out, keep an eye on where Khokhlachev lands. If he's not on the Bruins' roster this fall, then Boston ought to consider making a move, before he becomes a free agent next summer.
Cam is a Broadcast Journalism student at the University of Maryland. He's the Boston Bruins Beat Writer at The Hockey Writers, and is an avid college hockey fan. Find him on Twitter @CamHasbrouck!