When David Pastrnak entered Tuesday's contest between the Boston Bruins and Detroit Red Wings, he was missing only one assist to record 100 for his young career. With a three-assist night, including a point on three of the Bruins final four goals, Pastrnak not only recorded his 100th assist, he also recorded his 101st and 102nd career assists as well.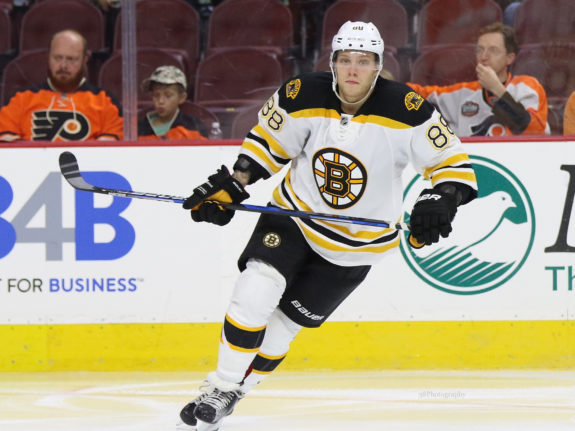 It's been an up-and-down season for the budding 21-year-old superstar. On the one hand, he's scored 23 goals and 61 points in 64 games. He's on pace to score 29 goals and set career-highs in assists with 48, points with 78 and games-played with 82 on the year. On the other hand, Pastrnak's consistent track record of turnovers has plagued him for much of this season.
Despite recording 41 takeaways and proving to be a solid two-way forward with superb dynamic and creative abilities, his 57 giveaways have found a way to overshadow his production to a degree.
From the outside looking in, it's hard to find many flaws in Pastrnak's play. For those watching Pastrnak play each game, however, it's clear that there are certain tendencies in his game that he'll need to eliminate before he can ever be seen as the same level of two-way threat that his linemates in Patrice Bergeron and Brad Marchand have proven to be throughout their careers.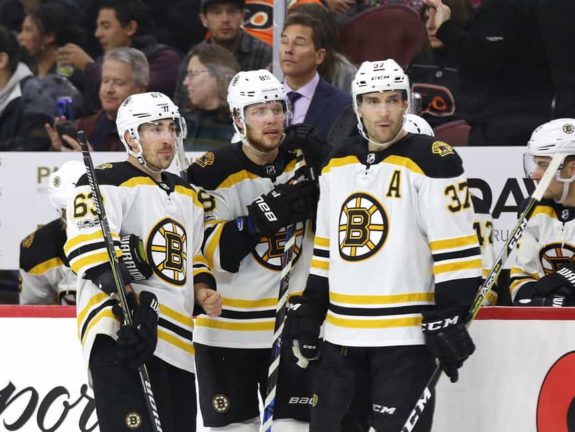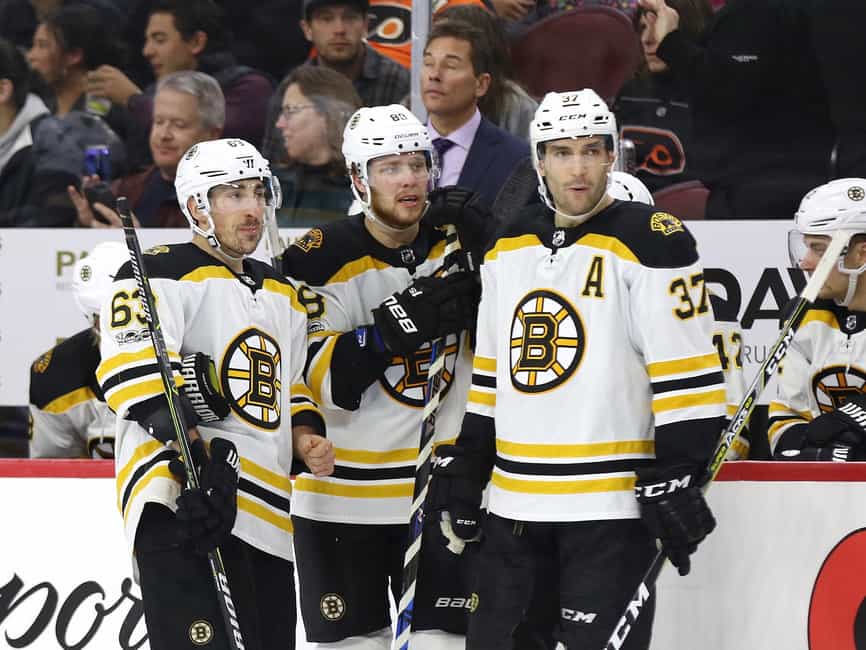 While skating with those two superstars, it's easy to overlook some of the more simple mistakes in Pastrnak's game. When those mistakes come back to haunt the Bruins with numerous odd-man rushes and easily preventable goals, however, the narrative has found a way to consistently creep up every now and again.
Pastrnak's Turnovers Aren't the End of the World
Fortunately for the Bruins and Pastrnak, these tendencies aren't actually as bad as they may seem, especially when Pastrnak is such a positive player on the ice for Bruins in terms of his offensive potential, booming shot and creativity.
Head coach Bruce Cassidy has already worked on fine-tuning Pastrnak's game this season and the receptiveness of the young star has been encouraging to say the least.
For now, Pastrnak should appreciate the fact that he's already recorded over 100 assists before even hitting 22 years old. It's an accomplishment in itself and it wouldn't be possible if it weren't for the fact that Pastrnak has made a conscious effort to learn from his mistakes.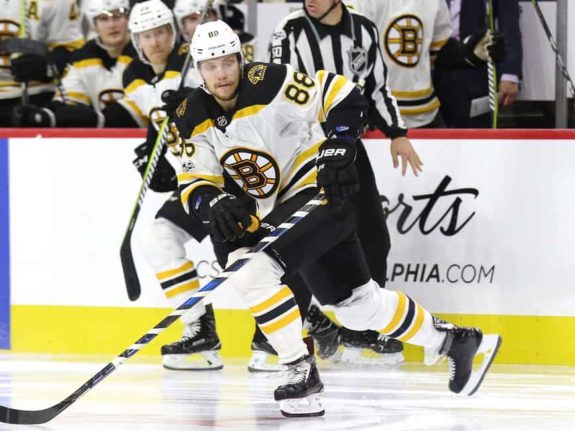 Turnovers are part of the game and are seen more among creative offensive talents who possess the puck for long periods of time. While they won't ever go away entirely, they will certainly decrease as Pastrnak continues to develop into the superstar that he's already proven he can be.
Rome wasn't built in a day. In that same vein, Pastrnak's turnover numbers won't just go away overnight. The fact that he's maintained his spot on the team's top line even without Bergeron in the lineup is a testament to Cassidy's confidence in his young winger. It's also part of what's allowed Pastrnak to excel offensively despite the lack of goals.
Pastrnak's Assist Totals Are as Strong as Ever
Even when Pastrnak was failing to find the back of the net – a drought that has amounted to only three goals in his last 19 games, Pastrnak has proven to be an invaluable part of the Bruins top line alongside Marchand and Bergeron and more recently, Marchand and Riley Nash. His assist totals have simply never faded throughout this goal-scoring drought as he's recorded 14 assists in that 19-game stretch.
While 100 assists may not seem like the most groundbreaking statistic in the world, it's something to take note of as it took the Czech-born winger only 236 games to reach that mark. To put that in perspective, it took Marchand 319 games to reach the 100-assist mark.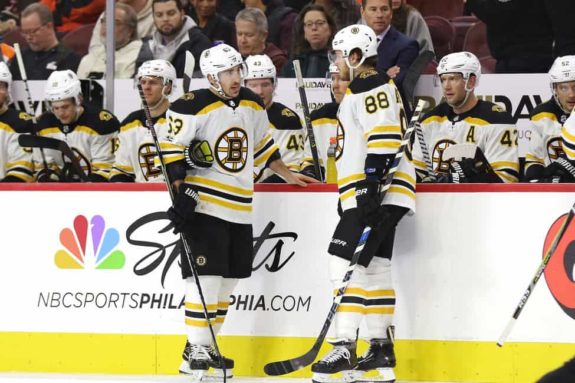 With the way Pastrnak's point totals are trending already, it will be interesting to see just how many assists he ends up with when all is said and done. The ultimate goal is obviously to win Stanley Cup Championships and as such, personal accolades will always take a backseat. Still, there's no reason to ignore or belittle an accomplishment such as this one, especially with the aforementioned struggles Pastrnak has faced throughout this season.
With another five years on his current deal that will see him earn $6.66 million per season until he's 27 years old. In that time, he'll have a chance to cement his legacy and potentially break records with the Bruins franchise similarly to how Marchand has in his career.