The Nashville Predators have been one of the best teams in recent seasons. They have advanced further in the playoffs each of the past three years, culminating with a loss in last year's Stanley Cup Final. Currently, they are first in the Central Division and Western Conference and have already surpassed their win total from last season. Since Peter Laviolette took over as head coach following the 2013-14 season, the Predators have placed on emphasis on replenishing the farm system with forwards. In the drafts since Laviolette's hiring, the Predators have used 13 of their 28 selections on forwards. Two of these, Kevin Fiala and Viktor Arvidsson, have become regulars on the NHL roster and one, Vladislav Kamenev, was an asset in the trade for Kyle Turris. While their farm system has taken a hit in recent seasons, the Predators still have the prospects necessary to make an impact in the future. But, which prospects are in their top four?
Top Prospect Eeli Tolvanen Will Arrive Soon
Finnish left wing, Eeli Tolvanen, has become a widely known name in the hockey community after Nashville drafted him 30th overall at the 2017 Entry Draft. Despite having top 10 talent, he fell to the Predators late in the first round and has already developed into one of the best prospects in hockey. Tolvanen, who is 18 and doesn't turn 19 until Apr. 22, is currently playing for Jokerit Helsinki of the KHL. His 36 points in 49 games broke the KHL scoring record for a player 19 or younger previously held by Evgeny Kuznetsov. His 36 points in the regular season were second on the team but led Jokerit in points-per-game.
Tolvanen represented Finland at this year's World Junior Championships and the Olympics, scoring 15 points in 10 games between the two tournaments. Prior to playing in the KHL, Tolvanen played for the Sioux City Musketeers of the USHL, scoring 30 goals and 54 points in 52 games during his draft year. He added another 10 points in 13 playoff games for the Musketeers that season. After the USHL, he was  committed to play college hockey at Boston College but did not pass the school's admission standards and signed with Jokerit instead.
Scouts view Tolvanen as a pure sniper with his elite shot as his best weapon. He can change the angle on his shot as well as anyone his age and he is able to beat goaltenders from anywhere in the offensive zone. He loves to shoot the puck, averaging 3.51 per game in the KHL. Those shot rates, although high, are still lower than the 3.59 and 4.73 per game he averaged in his two USHL seasons. Despite his high shot rate, he remains lethally accurate, 9.6 and 12.2 percent in his two USHL seasons and 11.0 percent in the KHL. If Tolvanen has a weakness, it is his small frame. At five foot, 10 inches and 181 pounds, he is small by NHL standards and is the biggest reason he fell in the Draft.
A Free Playoff Rental
In a recent interview, Tolvanen confirmed his intention to join the Predators after the KHL playoffs are over. Once he arrives in Nashville, he is all but assured to have an immediate top six role. He will be an impact on the roster and his timing for coming to North America essentially makes him a free playoff rental. Tolvanen, along with former captain Mike Fisher, will be additions that didn't cost the organization any assets other than money.
Dante Fabbro: Next Elite Blue Line Addition
The Predators drafted defenseman Dante Fabbro 17th overall in the 2016 Entry Draft. The 19-year-old is currently in his sophomore season with the Boston University Terriers and has 26 points in 32 games. At six-foot, one inch and 192 pounds, Fabbro isn't a giant on the ice but has great mobility, especially with the puck on his stick. His hockey sense is his greatest asset which helps him make the correct play nearly every time. This is especially true when it comes to passing the puck and knowing where to be on the ice. His hockey sense will translate well to the NHL and makes him a low risk prospect with a high floor and an even higher ceiling.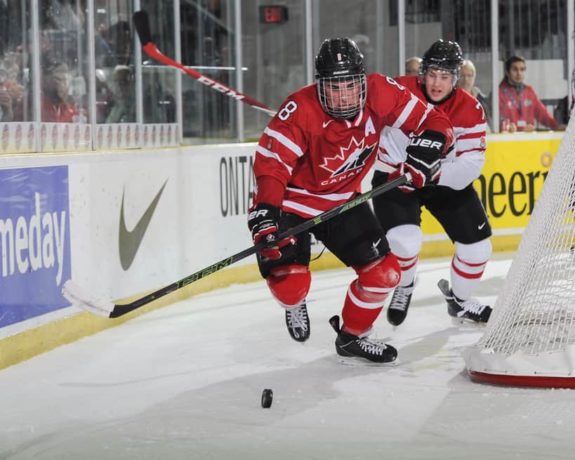 Prior to playing at Boston University, the British Columbia native played for the Penticton Vees of the BCHL. With the Vees, Fabbro was a teammate of current Colorado Avalanche Tyson Jost. In his final season in the BCHL, Fabbro had 67 point in 45 games. He represented Canada at this year's World Junior Championships, going pointless in seven games but still helping Canada win gold.
Scouts love how safe Fabbro is on the blue line and the fact that he is a right shot makes him a coveted player in today's NHL. Fabbro doesn't have to be on the scoresheet to have a positive impact on a game. It is possible that he signs his Entry Level Contract with the Predators this summer and makes a push for an NHL roster spot next season.
"Steady, calm and efficient. Makes the right plays without a lot of fanfare and does it under pressure. Outstanding consistency and rarely makes a mistake." TSN's staff scouting report of Fabbro prior to the 2016 Draft
Emil Pettersson Excelling
Swedish center Emil Pettersson has been in the Predators system for four years after they drafted him in the sixth round of the 2013 Entry Draft. Since his draft year, he spent four seasons in his native Sweden, playing most recently for the Vaxjo Lakers of the SHL. His final season in the SHL he scored 38 points in 51 games between two SHL teams. This past offseason, he signed his Entry Level Contract with the Predators and they assigned him to their AHL affiliate, the Milwaukee Admirals. With Milwaukee, Pettersson has 39 points in 54 games and participated in the AHL All-Star Classic. Considering this is his first season in North America, he has adjusted well to the smaller ice and a different style of game.
At 24, Pettersson is older than most prospects but he still has the potential of a second or third line center in the NHL. He is big enough at six-foot, two inches and 176 pounds and can withstand the hits dished out in the NHL. Like younger brother, Elias, drafted fifth overall by the Vancouver Canucks in the 2017 Entry Draft, Emil is also a gifted passer and an excellent skater. If the Predators have any injuries at center, Pettersson will be one of the first prospects called-up from the AHL.
Grant Mismash Climbing in the System
With one of the best names in hockey, center Grant Mismash is the youngest prospect on the list, having only turned 19 on Feb. 19. The Predators drafted him in the second round of the 2017 Entry Draft and all he has done since is turn heads. After the Draft, Mismash participated in the Predators development camp and performed well in the prospects game, scoring in the opening period.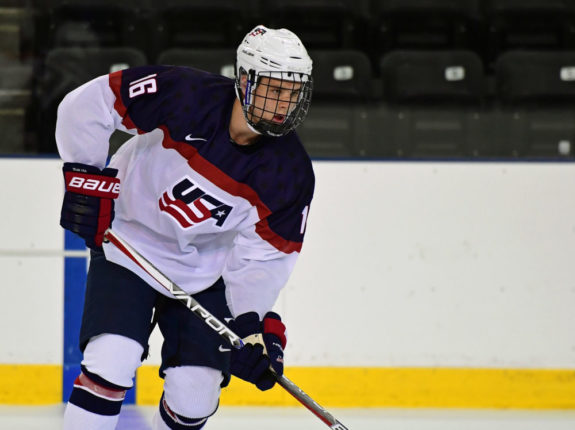 The Edina, Minnesota native already has a mature frame at six-foot and 190 pounds. He is currently a freshman at the University of North Dakota where he is fifth on the team in scoring with 22 points in 34 games. Emulating Corey Perry in style of play, Mismash is unafraid to go to the dirty areas to create problems for the opposition. He plays like a bigger Viktor Arvidsson in how Arvidsson screens goaltenders.
One of Mismash's problems prior to playing at UND was taking too many penalties, accumulating 106 minutes in 65 games with the U.S. National Team Development Program in 2016-17. He cut those penalty minutes down to just 33 in his freshman season at UND. With the USNTDP, he had 26 goals and 61 points in 65 games and represented the United States at the 2017 U-18 Tournament. In seven games, he had eight points and helped the team earn gold.
"His first goal [at the USHL Fall Classic], he just overpowered the opposition. To me, he's got a little more of a speed game and power game. I think Grant, when he's really wheeling and he stops, starts, and gets to the neutral zone, blue line to blue line with a lot of speed, that adds a tremendous amount of momentum to his game. So he's got to be a guy who continuously is on the hunt. And when he is, he's an extremely effective player." USNTDP U-18 Coach John Wroblewski when asked about Mismash.
Mismash needs to continue to work on the defensive aspects of his game but is at the right program to hone those skills. He follows a long line of successful NHL players who attended UND including Jonathan Toews, T.J. Oshie, Zach Parise, and Tyson Jost. Mismash has the potential to be a top six forward in the NHL and plays the style of game that works well in Peter Laviolette's system. He will spend at least another season with UND before signing his Entry Level Contract but is someone to pay attention to in the coming year.
Other Predators Prospects
Selecting the top four prospects in Nashville's farm system was a difficult task after Tolvanen and Fabbro. The Predators have numerous prospects with high upside and some may even have more potential than Pettersson or closer to the NHL than Mismash. However, with Pettersson knocking on the door of the NHL roster, I chose him ahead of the likes of Patrick Harper or Rem Pitlick. In addition to these four prospects, the Predators have other prospects including Harper, Pitlick, David Farrance, Yakov Trenin, Alexandre Carrier, Frederic Allard, and Jack Dougherty. These prospects will either eventually be in the NHL or used as assets in trades. The future is bright for this franchise. Let me know in the comments what your top four prospects are.
*All stats came from Elite Prospects
My name is Kyle, and I'm the managing editor of The Hockey Writers. I joined THW in Oct. 2017 and am always striving to bring you the best hockey coverage possible. You can email me directly at kyle@thehockeywriters.com.