July 1 marks the start of the NHL's annual free-agent frenzy, and a lot has been made about some key players, such as former Bruin Milan Lucic, who will be hitting the market, looking for a new home. However, in the midst of all of the craze about the big-name players, some solid names have slipped under the radar heading into the month of July. One of those names is Brandon Pirri.
Pirri is a 25-year-old, left-shooting center who spent last season with the Florida Panthers and the Anaheim Ducks. He was traded from Florida to Anaheim at the trade deadline in exchange for a sixth round draft pick. However, his contract ran out, and the Ducks chose not to extend a qualifying offer to the 6-foot center, so it appears Pirri will be headed elsewhere this summer.
The Bruins should take a look. Pirri has put up 80 points in 166 NHL games, with his production increasing each season as more playing time has been made available to him. This may not seem like a ton, but it's enough to place him in the 88th percentile for goals/60. At 25-years old, he's still pretty young, and still has an upside that he can continue to climb.
With 35-year-old Chris Kelly entering free-agency this summer, it would be smart for the Bruins to move on to younger talent. This is where Pirri fits in.  Pirri is 10 years younger than Kelly, and would bring quite a bit more goal-scoring than Kelly does. Just take a look at how their HERO Charts compare: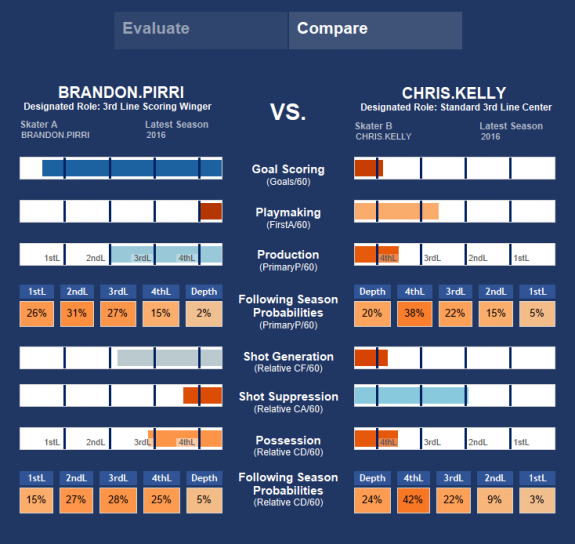 Pirri's scoring numbers look more impressive when you take situation into account. According to SB Nation's Anaheimcalling.com, Pirri is tied for 27th in 5v5 goals per 60 minutes (with .95) over the last three seasons, locked alongside Brandon Saad and Sean Monahan. That's pretty impressive for a bottom-six forward.
Pirri could slide right into Kelly's spot in one of Boston's bottom two lines, and could create some real production for the Bruins. The other upside to this flip would be the price differential. Pirri could be drawn in on a pretty team-friendly deal. Last season, he made just $975,000 as compared to Kelly's $2.5 million (Kelly also had a $3 million cap hit). While Pirri will earn a pay bump this summer, it's likely that he can be obtained for less than Kelly could be. At 25-years old, Pirri could be that exact middle-of-the-pack player that Boston needs.
Don Sweeney and the Bruins will have quite a few decisions to make this summer, and I think Pirri should at least get a look.