During the 2015-16 season, the Pittsburgh Penguins were in unfamiliar territory. For the first time in the Sidney Crosby era, the team was having trouble scoring goals and they weren't winning games.
It was time for a change.
It started with the firing of head coach Mike Johnston. Then came the promotions of young, talented forwards Bryan Rust, Conor Sheary, Scott Wilson and Tom Kuhnhackl. Then the trades acquiring Trevor Daley and Carl Hagelin.
It sparked a turnaround for the Penguins, and they used their newfound speed and scoring on all lines to win their first of two consecutive Stanley Cups.
Rust and Wilson had previously made their NHL debuts during the 2014-15 season. Rust played 14 games, recording two points. Wilson played one game, going pointless.
While three of those young players are no longer with the team, with Sheary and Wilson in Buffalo, and Kuhnhackl with the Islanders. They've kept around arguably the most important piece in Rust.
On June 26, it was announced the Penguins and Rust had agreed to a four-year, $14 million contract, keeping him with the team until 2022. Rust was coming off a two year, $1.28 million contract ($640,000 AAV).
The 26-year-old has proven he's worth the gamble with 79 points in 181 career games, the versatility he brings and his strong analytical performance.
It could prove to be another steal for Jim Rutherford and the Penguins.
Playoff Heroics, Regular Season Production and His Comparables
Rust has shown that when the stakes are at its highest, he'll perform. He has 21 points (16 goals, 5 assists) in 58 career playoff games and 10 of those goals have come in 18 elimination games.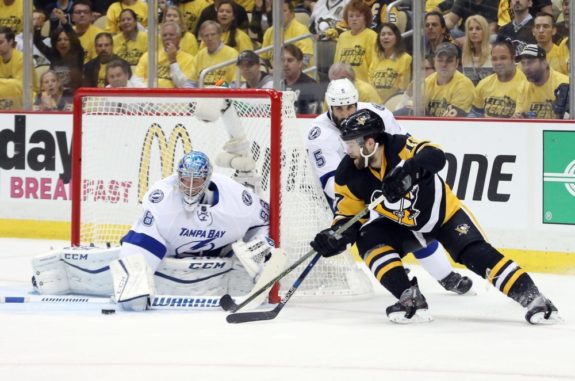 In three career Game 7s, Rust has scored three of the Penguins' six goals.
His biggest performance came during game seven of the 2016 Eastern Conference Final against the Tampa Bay Lightning, where Rust scored both of the Penguins' goals in the 2-1 victory, sending them to the Stanley Cup Final.
In the regular season, he's still been a productive player with the aforementioned 79 points in 181 games.
Last season, he recorded 13 goals and 23 assists for 38 points in 69 games for a PPG average of .55, which works out to 45 points over a full 82 game slate. This also came with a 5-on-5 P/60 of 1.56.
So what notable players had a PPG of .55 or below and what were their cap hits?
Max Domi, 23, Montreal Canadiens – 45 points in 82 games (.55 ppg), $863,333 cap hit. Re-signed to two year, $6.3-million deal in June 2018.
Mikael Backlund, 29, Calgary Flames – 45 points in 82 games (.55 ppg), $3.5 million cap hit. Re-signed to six year, $32.1 million deal in February 2018.
Bobby Ryan, 31, Ottawa Senators – 33 points in 62 games (.53 pgg), $7.25 million cap hit.
Jakob Silfverberg, 27, Anaheim Ducks – 40 points in 77 games (.52 pgg), $3.75 million cap hit.
Brandon Saad, 25, Chicago Blackhawks – 35 points in 82 games (.43 ppg), $6 million cap hit.
So even though he doesn't put up 60-plus points a season, the Penguins are getting good, or even above-average value in Rust when it comes to production.
His Proven Versatility is Needed
Usually, when using the word "versatile" to describe a player, it means they aren't good but they can do one or two things well, so it earns them playing time.
This isn't the case for Rust, though.
During his three seasons in Pittsburgh, the speedster has shown he can play all three forward positions on any line, as well as the power play and penalty kill, and he does all of it well.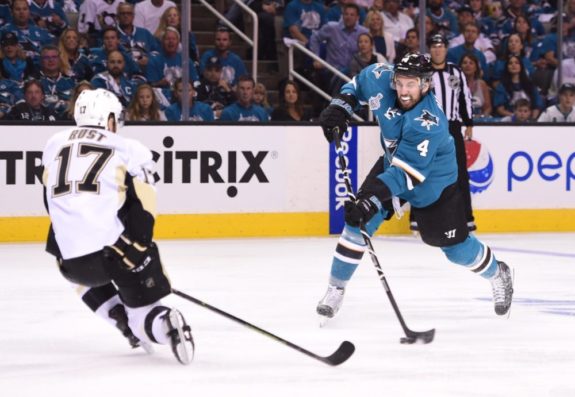 Back in January, Rust returned from an upper-body injury which kept him out, our Julie Stumbaugh wrote the following after his performance against the Carolina Hurricanes:
Rust almost immediately made an impact, setting up several real scoring chances and making the Penguins' fourth line into the kind of threat it hasn't been in quite a while.
It's just one example of what Rust does well. He can be put on any line, and he makes a difference. The numbers back it up, too.
Rust spent at least 100 minutes with the three centers who spent a majority of the season with the Penguins and they all controlled over half the shot attempts when on the ice together.
In 396 minutes with Sidney Crosby, he and Rust had a Corsi For % of 58.62. In 248 minutes with Evgeni Malkin, that number was 53.31, and in 138 minutes with Riley Sheahan, it was 52.92.
His time with trade acquisition Derick Brassard was limited (31 minutes) but the pair controlled 69.81 percent of shot attempts together.
Rusts worst number with any Penguin who he spent at least 20 minutes with was Tom Kuhnhackl (50.34).
It furthers what head coach Mike Sullivan said back in March.  "He can play the left side. He can play the right side," Sullivan said. "We can play him up and down the lineup. He can play on our checking line, and he can play with our skilled guys."
Sullivan also said Rust's speed and pursuit creates a number of opportunities.
What else can he do?
Rust led the team in Short Handed points (3) in just over 96 minutes, and he also recorded four power-play points in 52 minutes.
For a team who seems to deal with injuries non-stop, Rust's ability to play all over the lineup helps soften the blows.
 He's Among the Penguins Best Forwards
In an era where analytics are used heavily in the hockey community, Rust stacks up as an undervalued asset.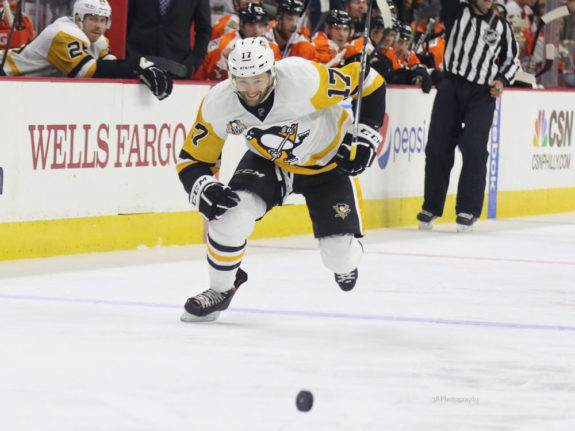 After spending the first two years of his career in the 51 percent range when it came to controlling shot attempts, Rust broke out in 2017-18 with a Corsi For % of 56.38. The best number among Penguins who played at least 200 minutes.
His 1.56 P/60 at 5-on-5 was ninth best among Penguins with 200-plus minutes. His 2.06 P/60 at all situations was seventh best.
He's also capable of producing performances like this:
Folks, I present to you Bryan Rust's 5v5 results tonight:

27 shot attempts for
7 against

16 scoring chances for
2 against

— Jesse Marshall (@jmarshfof) March 24, 2018
Rust was among the best Penguins when it came to primary shot contribution and goals above replacement.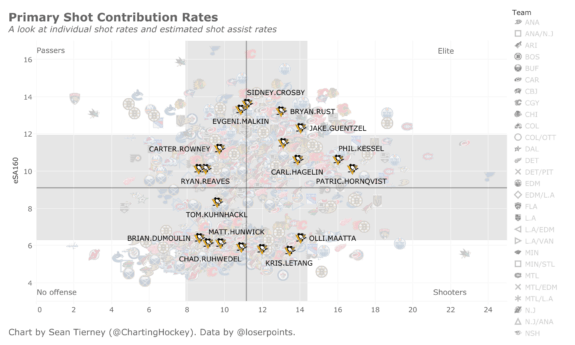 Chart by @ChartingHockey and Data from @LoserPoints.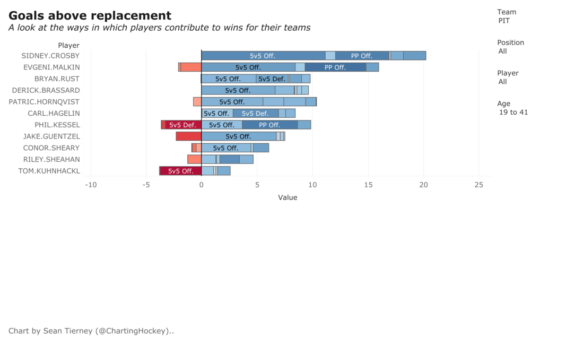 Chart from @ChartingHockey and Data from @CMHockey66.
Rust had an XGF of 16.84 compared to his actual output of 13 goals. Meaning he may have had some slight misfortune with the puck, as does his 98.09 PDO.
Rust also provided bang for the Penguins buck under his old cap hit. Using CapFriendly's cost per point tool, Rust cost the Penguins just $16,842 per point last season.
In comparison, Carl Hagelin (31 points) and his $4 million cap hit cost the Penguins $129,000 per point last year.
This is something else Julie Stumbaugh wrote about a year and a half ago. 
Why is that special? Because Sheary, Rust, and Wilson's salaries together, at under $1 million each, take up less than three-percent of the Penguins' $76 million cap hit. These three players, brought onto the roster last December, represent significant bang for the Penguins' buck.
Rust does have some durability concerns, as he's yet to play more than 69 games, but when he's on the ice, he's among the Penguins best forwards.
It's not unrealistic to expect 20 goals and 45 points over a full season if he stays healthy.
Of course, Rust's new cap hit of $3.5 million accounts for 4.4 percent of the Penguins cap, and he'll have to continue playing at the level he has to earn it.
Although in a league where the salary cap is consistently rising, this could become one of the best value contracts in hockey.
*Advanced statistics from Corsica and Natural Stat Trick
Conner McTague is a recent graduate of the Journalism program at Durham College. He covers the Pittsburgh Penguins for The Hockey Writers. He hopes to make a career out of sports reporting.