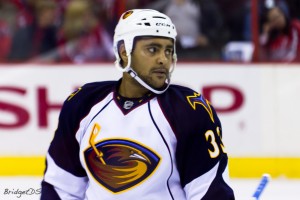 With the 14th overall pick in the 2011 NHL All Star fantasy draft, Team Lidstrom selected Stanley Cup Champion and current Atlanta Thrasher defensemen, Dustin Byfuglien. 16 goals, 25 assists and six game winning goals so far for the Thrashers this season, "Big Buff" stamped his ticket to the RBC Center well in advance of the circled and anticipated date on everyone's calendar.
Byfuglien was selected by team Captain Nick Lidstrom of the Detroit Redwings and his assistants Martin St. Louis of the Tampa Bay Lightning and Patrick Kane of the defending Stanley Cup Champions Chicago Blackhawks. Having won the Cup together in Chicago, Patrick Kane had the inside track on Byfuglien. Chicago defensemen Duncan Keith who was selected 4th overall by team Lidstrom, added to the supporting cast for Dustin Byfuglien, and eventually with the 14th pick, all three cup champions became re-united.
However, there was only one piece missing from the reunion on the big stage, forward and captain of the Chicago Blackhawks Jonathan Toews was still available and showing slight signs of frustration, geared towards teammate Patrick Kane. Eventually though, Toews would join the team with the 16th pick of the draft and Dustin Byfuglien would officially become teammates again with three stanley cup champions.
A native of Minneapolis, Minnesota, Dustin Byfuglien has been the heart and sole of the Atlanta Thrashers this season. His first season with the Thrashers since coming over from Chicago in a blockbuster trade, Byfuglien alone, has changed the attitude and work ethic of the Atlanta Thrasher hockey club. His intensity level has contributed to the energy level of the team, and his willingness to battle for 60 minutes a night, and contributing to the score sheet as well as he has, has paid dividends for the Thrashers since General Manager Rick Dudley pulled the trigger on the trade.
Byfuglien didn't have to wait all that long to be selected last evening in Raleigh, but the most important part of last night for the Atlanta defensemen, was the opportunity to be there.
Byfuglien has done everything humanly possible to turn the table in Atlanta. His numbers don't lie. When Nick Lidstrom and company welcomed him to the team, Lidstrom was well aware of who sits one point behind him in regular season stats.
The All Star weekend will be a special few days for "Big Buff". Upon completion of this weekends events in Raleigh, Byfuglien will make his return to the Atlanta area to help the Atlanta Thrashers maintain position in the 8th spot in the Eastern Conference standings.
This weekend is well deserved for #33, Thrasher fans are well aware.