The 2018 Calder Memorial Trophy race has a much different feel to it compared to the last few seasons. In 2016 and 2017, there were generational players making their career debuts who dominated the Calder conversation. This season, however, there is a crop of high-talent rookies who can all make a serious case to win the Calder. No one rookie has had the same media presence as Connor McDavid or Austin Matthews, but there are plenty of players who can make a strong case as to why they deserve the award.
In fact, injuries may play a bigger role in deciding who wins the Calder than anything else. In just the last week alone, top rookies including Brock Boeser of the Vancouver Canucks and Charlie McAvoy of the Boston Bruins suffered serious injuries that will have them sidelined for at least a month. Missing a full month of productivity will likely end their bids to win the Calder as other rookies are able to pad their stats while making significant playtime down the stretch.
With these injuries in mind, who are the top candidates for the Calder Cup right now?
The Favorite: Mathew Barzal
Coming into the season, few people would have hailed the New York Islander's rookie center Mathew Barzal as the player to beat in the Calder discussion. When Barzal failed to register a point in his first five games of the 2017-18 season, even fewer would have predicted that the 20-year-old rookie would go on to have one of the most prolific first seasons in NHL history. In 68 games, Barzal has tallied 18 goals and 51 assists, putting him at a grand total of 69 points so far this season. This point per game production has already matched Matthews' total from last year and is a full 14 points ahead of the next highest-scoring rookie. If this production continues, Barzal could even threaten Evgeni Malkin's decade-high total of 85 points during his rookie season in 2006-07.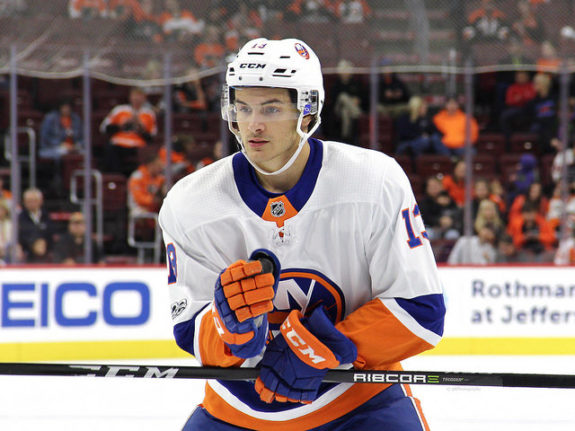 Things are lining up for Barzal to continue on with his hot production. With the Islanders on the outside of the playoff hunt, they will be relying on their top players to pull them back into the race so he will continue to receive top, meaningful minutes as the season reaches its' end. Barring an injury, Barzal will be able to pad his already impressive statistics throughout March and April, making him nigh untouchable in the Calder race.
The Contender: Brock Boeser
Despite his potentially season-ending injury, Boeser will still end the year as one of the top rookies to hit the ice this year. His production on a struggling Vancouver Canucks team has been striking, with 29 goals and 55 points in 62 games. If he had stayed healthy, he would have easily eclipsed 30 goals and 60 points, keeping him at the top of the rookie charts. Even with his injury, Boeser could still be the top goal scoring rookie this season, with only Yanni Gourde close to catching him with 24 goals.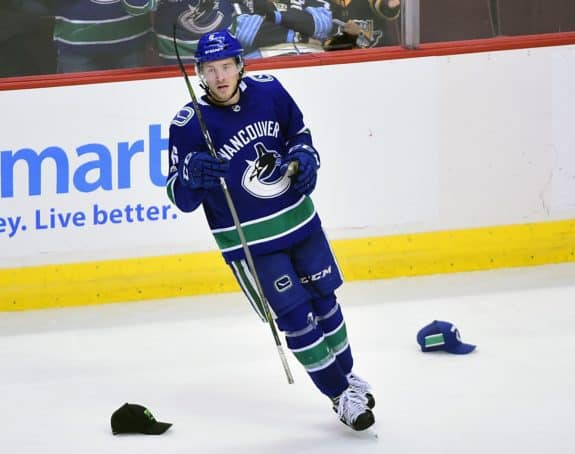 Boeser has had a real dream rookie season, winning the All-Star MVP in Tampa Bay and earning close to $340,000 in bonuses during the weekend. It would be a real shame to see his year potentially end due to a freak accident, but that is the nature of a sport like hockey. However, even if he doesn't get to take the ice again this season, Boeser has done enough to show that he is one of the top young playmakers in the league, and he has earned a nomination for the Calder Trophy.
The Dark Horse: Yanni Gourde
Who could have predicted that one of the top rookies would be an undersized 26-year old forward playing for the Tampa Bay Lightning? On a team filled with superstar talents like Steven Stamkos and Nikita Kucherov, Gourde has managed to separate himself with a truly unexpected outburst of scoring. In 68 games this season, he has put up 24 goals, tying Tyler Johnson's rookie franchise high, and 53 points placing him third in rookie scoring this season. He also leads all rookies with five game-winning goals and is a massive +29 along with his offensive prowess.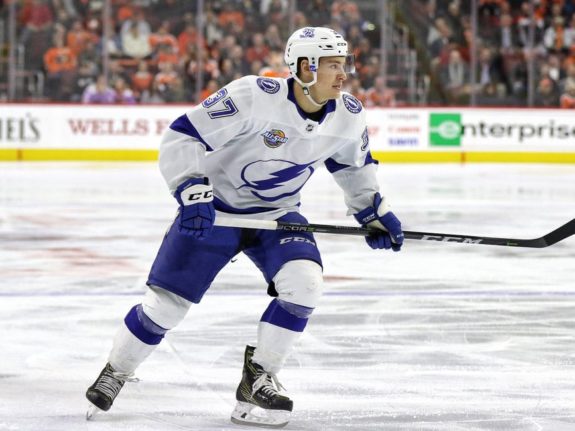 It would be easy to undersell Gourde as a product of his surroundings, but he is doing more than making the most of a great opportunity in Tampa Bay. He has consistently been one of the Lightning's top forwards this season, whether he was paired with Stamkos and Kucherov on the top line or taking defensive zone draws on the third. Should he win the Calder? No. But he has proven that he deserves to be recognized along with the best rookies in the league and has earned a Calder nomination.