If you changed the channel after the top ten picks in the 2017 NHL Entry Draft, you may have missed that the Philadelphia Flyers made a trade and drafted another player. That other player is Morgan Frost from the Ontario Hockey League's (OHL) Sault Ste. Marie Greyhounds.
It would have been very easy for general manager Ron Hextall to run away from the draft after making out like a bandit with the lottery pick of second overall pick Nolan Patrick. Instead, he chose to make some room on the NHL roster for Patrick by trading Brayden Schenn to the St. Louis Blues in exchange for Jori Lehtera and the Blues first-round picks for 2017 and 2018 (lottery protected). It was a trade that was necessary to clear a spot for Patrick but also to add to the prospect bank.
It was a tough choice to trade Schenn but either he or Sean Couturier had to go and Couturier provided more stability. Now, when you look back on the trade, Hextall looks pretty smart. Schenn has had a breakout season, but the Blues haven't looked particularly great as a team which could result in a good draft pick in either this year or next year's draft (if they choose to defer). The Flyers, though, drafted a solid prospect in Frost who has led the OHL in points at times throughout the season as well as Lehtera, who was more of a cap dump, and an additional draft pick.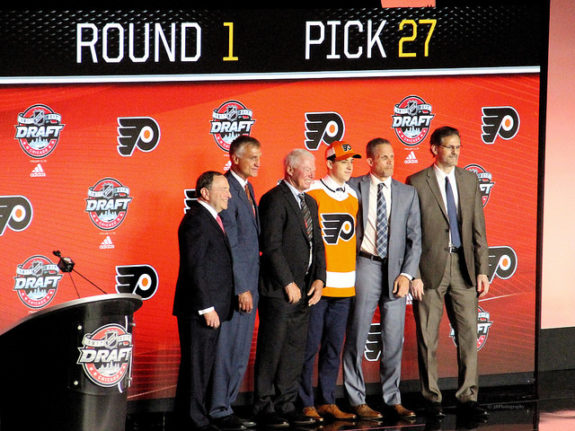 Frost is Dominating the OHL
Late first-round picks are usually very hit and miss. Some develop into great players whereas others end up in the American Hockey League for their careers. This season Frost has played hard to prove to the Flyers that they made the right choice not only by drafting him, but moving up to select him.
It's simple to look at the Greyhounds record and say "he's just playing on a good team, he was bound to put up points." However, when you take in the fact that he is currently sitting third in the OHL in points with 103 and is ahead of every other Greyhounds player by 24 points it is impossible not to peg him as the driving force for this team's success. Ultimately, it is going to be his play that dictates the success of the Greyhounds in the playoffs.
Frost is annihilating his previous career highs posting 38 goals, 65 assists for a total of 103 points. An intriguing note is that in this season alone he has surpassed his previous two seasons combined total for goals, assists and points. He is also enjoying an eye-popping plus-65 season.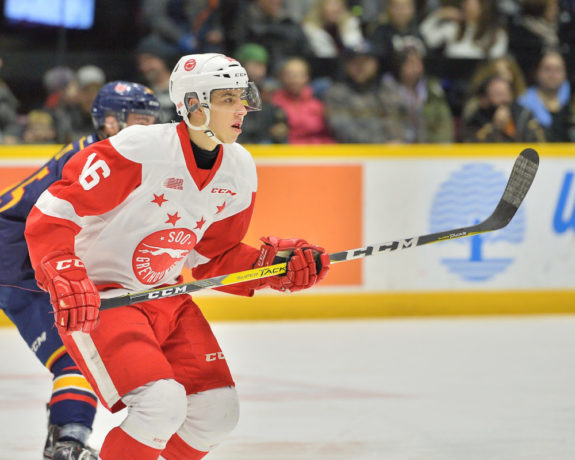 There have been many other players who have put up big numbers in the OHL and never turn out to be anything when they move to professional hockey. Watching Frost play, he will not be one of those players. He sees the ice too well, is a playmaking machine and works hard for the team every shift.
Frost will most likely be back in the OHL next season to polish up his skills. Watching the numbers he is putting up this year, the imagination starts to wonder as to how many he can put up when he is one year older.
Are His Numbers All Show or Can He Back Them Up?
As is usually the case when a kid tears up junior hockey, the question that always follows is "will their game transition well to the NHL?" Everyone has heard of the Alexandre Daigles of the world who turn into major draft busts because their numbers in the NHL don't reflect their play in junior.
After observing his play, Frost is far too smart of a hockey player and appears to envision the game two steps ahead of everyone else. With the hockey IQ that he has displayed, he is made for the new NHL where skilled players have more room to make plays. Having a coach like Drew Bannister who has NHL experience has also helped Frost's development.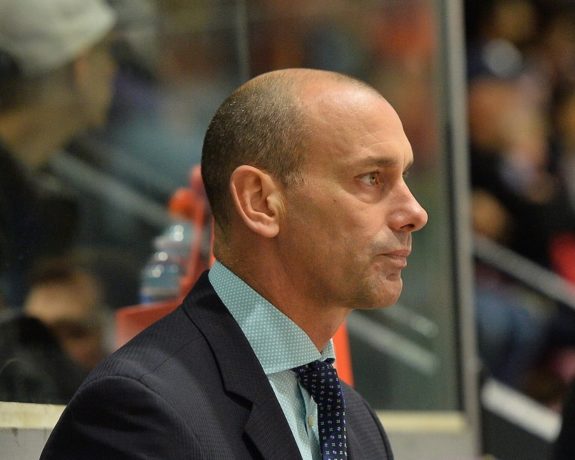 He has also consistently grown as a player. His point totals have climbed in each season since joining the Greyhounds. Next season will be a determining factor as to the type of player he will be. If his point totals completely fall off next season then we will know that perhaps this was just a good team and he was benefitting from a great supporting cast.
Breaking down the Size Barrier
Back in the day, small players had a tougher time breaking into the NHL because teams drafted for size and strength. It was a time when speed was a bonus but not necessary with the hooking and holding that was allowed. Flash forward and now the NHL is slowly moving in the direction of smaller, speedier players.
Standing 5-foot-11 and weighing in at 170 pounds, Frost is far from a giant on the ice. He is only 18 years old so he may grow an inch or two and may pack on a few pounds but he'll never be considered a big player by traditional NHL standards. A player like Frost needs to be both quick and smart in order to make a difference.
For Frost to be an effective NHL player he will have to model his game around Patrick Kane's style. While that is a big shadow to cast on a kid who hasn't played a game in the NHL, Frost is not a grinding type of player so he will have to be more finesse. A player that currently plays with the Flyers that he can take some notes from is Travis Konecny. Similar to Frost, Konecny is not big but plays bigger than his size.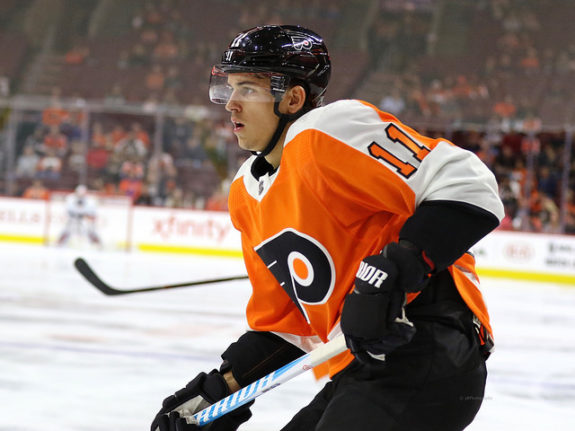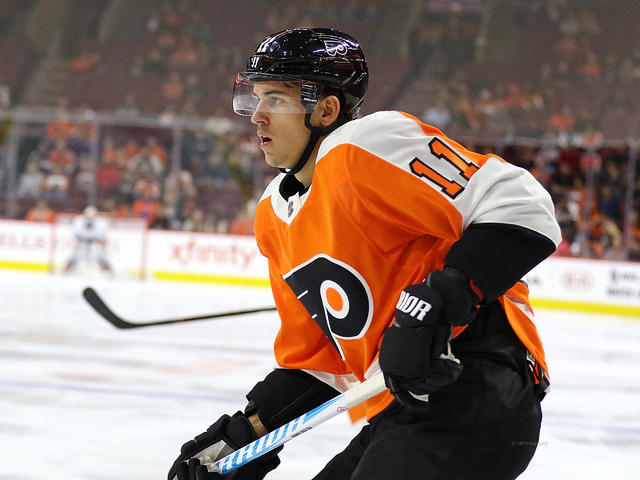 The NHL is becoming much faster and much more of a thinking man's game. Because of this, there aren't barriers for smaller players anymore. While Frost may have to work a bit harder, if he continues his progression he will be a very good player for the Flyers.
Frost Has a Promising NHL Career Ahead of Him
Frost looks like he is headed down the right road for a solid NHL career. He will have to continue to improve his game and continually develop his skills to keep ahead of the ever-developing competition. Frost will also have to put on more muscle to hold his own when facing bigger players in the NHL.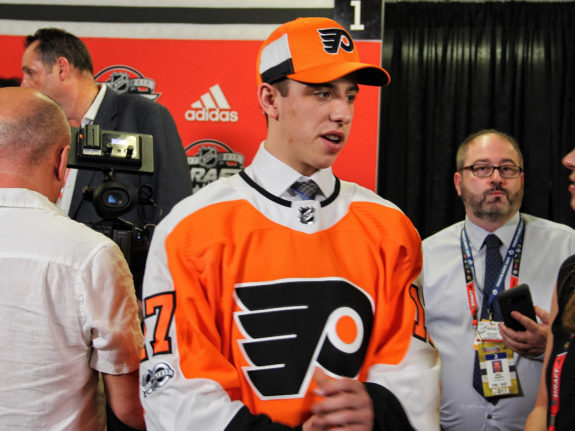 Frost will likely play in the OHL next year and then he will get a shot at the Flyers roster out of training camp in the 2019-20 season. My prediction is that he will make the roster in 2019-20 as a third line winger. Although he is currently a centreman, I can see the Flyers transitioning him to the wing with the depth they currently have down the middle.
He will be a solid player that will fit in the top six forward group through the prime of his career. My thoughts are that he will be a second line winger with the ability to be interchanged on the first line when there are injuries. I believe he is a top-four prospect in the Flyers system. If Frost can bring it all together he will be an important piece to the Flyers puzzle in the near future.
A writer covering the Philadelphia Flyers and NHL Prospects. Kurtis is also a Guelph Storm season ticket holder. Feel free to contact Kurtis at @kurtiswells92, or by email at kurtiswells@rogers.com.