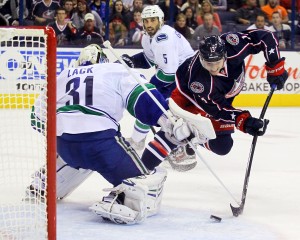 After last night's marquee matchup and victory by the Philadelphia Flyers over the Pittsburgh Penguins, the idle Columbus Blue Jackets officially hit the bottom of the Metropolitan Division. On first blush, that sounds a bit dire for Ohio's hockey team. Warm memories of last March and April have faded, the results just aren't coming. If not for the number of games played by Florida, Edmonton, and Buffalo, Columbus would be in the absolute sub-basement. Now the calls for change have started to trickle in. New concerns about defensive weakness emerge every night. Even the national media has started asking questions about the long-term status of the coaching staff.
So is it panic time in Columbus? Probably not. The Blue Jackets still have 80% of their season remaining, and they only sit 5 points back from 3rd place in the Met. Of course, improvement is necessary to climb from the cellar, but the hole is not as big as "last place in the division" sounds. What must the Jackets do to make the playoffs? How realistic is that kind of performance?
The Blue Jackets Playoff Outlook: Three Cases
As of this writing, the Columbus Blue Jackets have 13 points, putting them at a 0.382 point percentage. That kind of pace is woeful, but the key is in the number of games: they've only completed 17 games. To put the rest of the season in context, let's consider the points they'll need to make the postseason.
The last time the NHL had an 82 game schedule, the Eastern Conference cutoff for being on the precipice of playoffs was 92 points. For the West, the total was 95. In 2009-10, the East minimum was 88 points. These numbers are sure to shift a bit thanks to the new conference structure, but let's make three cases of those benchmarks.
Case 1: 95 Point Total, Requires 82 points in 65 games (0.631 Pt% pace), record of 40-23-2 to close season
This sounds like a tough goal. Winning nearly twice the games you lose is a difficult feat for any team, and for Columbus to turn around that sharply (and continue at that level for 65 contests) would be remarkable. This would almost certainly result in a playoff bid, but subjectively this doesn't feel like a likely outcome, so let's carry on to the second case.
Case 2: 92 Point Total, Requires 79 points in 65 games (0.607 Pt% pace), record of 39-25-1 to close season
It's only 3 points less and still a stretch, but that lowered point percentage makes this a less lofty case. Consider that as of this writing, 14 different teams in the NHL have managed a 0.600 point percentage in their opening 17-20 games. If Columbus manages a single 20 game run of that magnitude in the near future, they'll likely be ahead of pace on the 92 point end-goal. With that, the closing weeks of the season wouldn't require quite the same scorching pace to make the playoffs.
Case 3: 88 Point Total, Requires 75 points in 65 games (0.577 Pt% pace), record of 37-27-1 to close season
This case requires a bit of help. If the Met is as weak as claimed, it's possible that 3rd place in-division (an automatic playoff spot) could dip this low or lower. Accordingly, it's not surprising that this is the most doable option for the Blue Jackets, but it's refreshing just how possible this looks. Last year's torrid March and April for Columbus was a 19-4-4 run. With that kind of record, Columbus would be more than halfway to the needed 75 points with plenty of room to spare in the endgame. Yes, that kind of drastic change would be needed soon (and Bob isn't playing like he did last season), but even a fraction of that explosion would put Columbus on the right path. After that? They'd only need to tread water.
Now that we've considered cases where Columbus makes the playoffs, do they actually have what it takes to turn their record around?
Columbus is Better This Year (Yes, Really)
I realize this isn't a commonly held view, especially after many fell in love with the upstart club that grinded toward the promised land last year. But the underlying performance of the team suggests the improvement is real.
Last year's Blue Jackets had a Fenwick Close % of 45.39%, only managing 26.7 shots on goal per game and scoring 2.40 goals per game. That's a terrible performance. This year (as of this writing), Columbus has a Fenwick Close % of 46.64%, with 30.6 shots on goal per game, and scores 2.53 goals per game. While these aren't spectacular results, improvement is finally here for Columbus after years of declining results.
The offense and overall team possession effort has turned upward. Why aren't the wins following? That's due to the performance difference in net. Sergei Bobrovsky, unsurprisingly, hasn't been Hasek-like this season, and the team point production has slipped. However, the core of the skaters has improved thanks to the lead of Cam Atkinson, Brandon Dubinsky, and Ryan Murray. But does Columbus have enough to push past the "merely very good" version of Bob?
The Health is Returning (Just in Time)
The key to getting Columbus on one of the playoff paths is probably currently on IR. Matt Calvert has been a consistent positive force for the Blue Jackets. Prior to his injury, this season looked no different. His energetic presence will be a welcomed addition when he returns to the roster. Boone Jenner is also waiting to get back on the ice. His tantalizing blend of physical play and high skill seemed primed to make an impact on the team (and his two goal game versus the Montreal Canadiens was an exciting glimpse at his potential future). Jenner's return is sure to boost the Jackets.
But maybe the biggest part of a mid-season surge will be Nathan Horton. The prized free agent signing has been on the mend following shoulder surgery but should return sometime in the next month. In his years with both Florida and Boston, Horton was a dominant possession player, so his contribution to sustainable success in Columbus is highly anticipated. Even if Horton doesn't become a point-scoring machine, his presence on the ice ensures that other teams will have fewer chances than the Jackets.
The Quest for Playoffs Starts Now
All is not yet lost for the last-placed team in the Met. The Columbus Blue Jackets have a better team in place than they did last year and are still in a position to make a realistic run at the playoffs. The success of their postseason aspirations depends on continued team-wide improvement, the return of key players from injury, and a sudden change in the team's win percentage. If the Jackets start moving now, this season may just be a positive one.
Check out our partners at TiqIQ for the best deals on Columbus Blue Jackets tickets for all 2013-14 games.
Matthew is a hockey fan who fell for the sport through watching college games. He now shares thoughts on the Columbus Blue Jackets at the Hockey Writers. When not thinking about pucks, his interests are chemical engineering and good music.