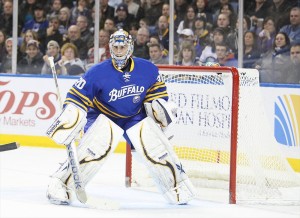 The Buffalo Sabres head into the lockout-shortened season with a very strong chance of succeeding in the North East-Division and it could come down to their strength between the pipes.
Looking at what the other teams in the division have done or not done…yet, gives great optimism that the Sabres' Ryan Miller could be the key to the team recapturing the Division Crown for the first time since the 2009-10 season, if he stays healthy of course.
Here is a look at how the other teams in the division break down in net.
Boston Bruins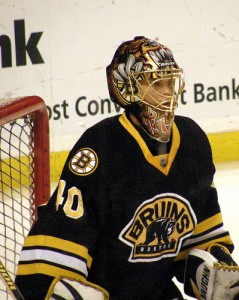 With Tim Thomas taking a year off or retiring or missing in action, goaltending for the Bruins is turned over to a largely unproven commodity in 25-year-old Tuukka Rask. Rask looks like he could be a potential star in the league but the Finn has never played more than 45 NHL games and his career high in the AHL is 57. With a short season that could be a factor or a non-factor it is yet to be seen. What has been seen, is his number when he has been active are very respectable. He has a career goals against average of 2.20, save percentage of .926 and 11 shutouts in 102 appearances.
With that said, he is unproven as the bon-a-fide number one.
Backing him up is Anton Khudobin, a 26-year-old from Russia who only has seven NHL games under his belt.
It all adds up to a great deal of pressure on Rask from an organization that expects to win.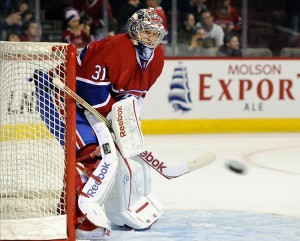 Montreal Canadiens
Along with Miller, the top of the goaltender in the division has to be Montreal's Carey Price. Talk in Montreal has already begun about the 25-year-old Price playing all, or almost every game this short season.
Price himself will also have some added pressure as he hopes to attract attention from Hockey Canada to be Canada's number one goalie at the upcoming Sochi, Russia Olympics in 2014. Price has captured a World Junior gold medal for Canada in 2007.
To ask Price to play every game maybe a bit of a stretch, but when you consider that his backup is 30-year-old Peter Budaj of Slovakia, Price will be in the net quite often.  Price has made 40 or more starts in each of his five NHL seasons, including 65 last season.
The Canadiens rely heavily, sometime too heavily, on Price and they don't seem to have the horses in front of him to get the offense needed to be a force in the division.
Last season Price had 26 wins, a goals against of 2.43 and a save percentage of .916. Not bad for a team that finished last in the conference.
Ottawa Senators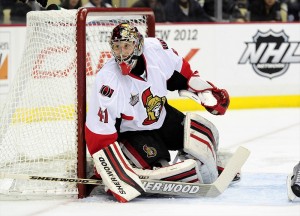 The Ottawa Senators have American Craig Anderson who has a habit of a good season, followed by a bad season, so the question is which Anderson shows up in 2013? Last season, he won 33 games with a goals against of 2.84 and a save percentage of .914.
At 31, Anderson has the veteran experience, entering his 11th NHL season, that the young Sens will need. If he is unable to get the job done or is injured, the Sens do have depth at the position.
They have their blue-chip prospect in Robin Lehner who captured the Calder Cup as a member of the Binghamton Senators in 2010-11.
The 21-year-old Swede is lighting it up again this year in the AHL with a record of 13-5-1, a goals against of 1.94 and a save percentage of .944. Those numbers along with his experience of 13 games in the NHL make him a viable option.
Also, last season the Sens acquired Ben Bishop from St. Louis for a second round pick. Bishop, 26-years-old from Colorado, is a large goalie standing 6'7 and weighing 215lbs, which gives him the ability to cut down angles in the net. He too has fared well in the AHL this season with an 8-3-1 record, goals against of 2.66 and save percentage of .928.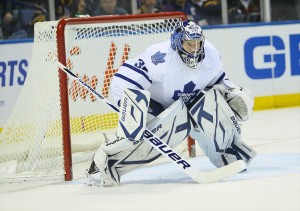 Toronto Maple Leafs
The Toronto Maple Leafs have the biggest question mark between the pipes to begin the season. Other than emerging from nowhere in 2010-11 to win 20 games, James Reimer has not shown the ability to carry the ball as a number one or remain healthy enough to prove otherwise. Last year he was limited to 34 games due to a concussion. He finished the season with just 14 wins, a goals against of 3.10 and save percentage of .900.
Behind Reimer are 26-year-old Canadian Ben Scrivens and 25-year-old Finn Jussi Rynnas who have a combined 14 NHL appearances between them.
Rumours are flying around that the Leafs may be the front-runners for Roberto Luongo. However, much is still to be done such as agreeing on price and if he will waive his no-trade clause. And there is always a possibility that other teams could be involved.
Buffalo Sabres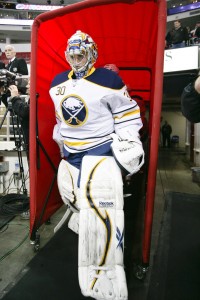 That brings us to the Buffalo Sabres who, on paper, are the mot solid with Miller. Miller is the only current goalie in the division with a Vezina Trophy to his name (2009-10) when he notched 41 wins, a 2.22 goals against and .929 save percentage.
Miller also brings big-game experience after playing in the 2010 Vancouver Olympics gold medal game. Miller was named the top goaltender of that tournament and most valuable player.
Miller is entering his 10th NHL season and at 32 he has continued to show improvement over the last few seasons. He has not had fewer than five shutouts in the last four years. His save percentage has not dropped below .918 and goals against not been higher than 2.59 during that time.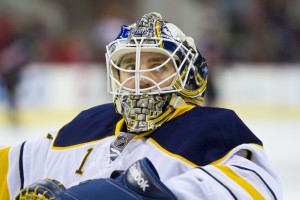 With a rested Miller, there is no telling how many games he could start. Even if Miller goes down to an injury, back up Jhonas Enroth has proven that he is a capable goalie. The 24-year-old Swede made 14 appearances in 2010-11 and 26 in 2011-12. The combination of his experience along with his career NHL numbers of 17 wins, a goals against of 2.75 and save percentage of .913 not only make him a viable option but perhaps one of the better back ups in the division, adding to Buffalo's advantage between the pipes heading into the season.
With that being said, on paper the Sabres have a distinct goaltending advantage within the division. However, wins are not awarded for what is put down on paper. The other thing to focus on with goaltending in the division, as well as the league, is how many guys will go down to injury. Many have not been playing the day-to-day grind of an NHL schedule and with a condensed schedule that could mean higher casualties to injury. In which case, not only starting goaltending will be key, but also depth.