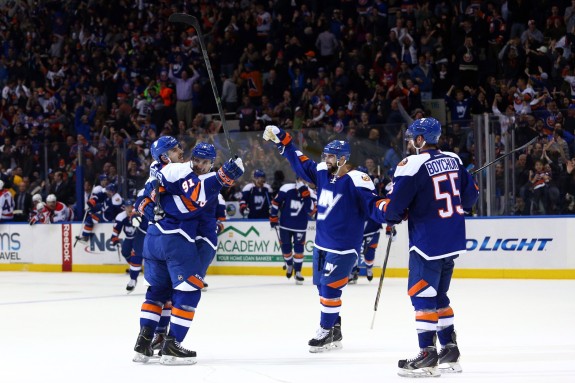 It felt like decades ago, but really it was just two years ago since the Washington Capitals and the New York Islanders were in the playoffs. Injuries, bad coaching, bad timing and a not enough seasoning for the younger players were the results of both of these team's missing out on all the fun last year. Now we are here. Alex Ovechkin has been confirmed the greatest goalscorer of his generation, John Tavares is among the best players in the world, Barry Trotz has unlocked the potential of an under-achieving group of players and GM Garth Snow lucked out like nobody's business on other teams' dire straights with the salary cap to improve his team. So who's going to win the tale of the tape between two of the most improved teams in the NHL?
Scoring is Fun For Everyone
Both the Islanders and Capitals are among the better possession teams in the NHL; which better not come as a surprise as we are now down to the sixteen best teams based on the standings. If we simply look at talent on paper, I would give the slight edge to the Islanders. Yes, New York has not been great since the trade deadline (6-7-5), but some of that was tied to some big injuries to the likes of Mikhail Grabovski, Nick Leddy, Lubomir Visnovsky and Kyle Okposo that led to head coach Jack Capuano scrambling to find the perfect line combinations. They have only had three 20-goal scorers, but seven of them hit 15 and/or racked up 40 points. It could have been eight if it wasn't for Grabovski missing the last month-and-a-half of the season due to a concussion. Washington also has three 20-goal-getters, but only six hit 15-goals and/or 40-points (they could have been seven 40-point-getters if Curtis Glencross played more than the 71 games he had this season).
Using stats.hockeyanalysis.com, the Washington hits about six to seven players in the 50th percentile in even strength points, goals and assists per 60 minutes that have played 500 even strength minutes, the Islanders could have had a whopping ten players hit that territory if it wasn't for injuries to Michael Grabner and Tyler Kennedy. With the league median for individual unblocked shot attempts (aka iCorsi) amongst forwards is a little less than 12 per 60 minutes, Washington only has Alex Ovechkin, Eric Fehr and a usually scratched Andre Burakovsky hit above that mark. Meanwhile, the Islanders have ALL but three of them surpass 12 iCorsi per 60 minutes. You can see through the data how the Islanders have been duking it out with Dallas as one of the most fun and explosive teams in the NHL.
When we get the defense involved, Washington and Long Island each have a good group of players that like to join the rush with Mike Green and Leddy carrying the load in point production. While John Carlson also carries a big cannon for the Caps, so do Calvin de Haan and Travis Hamonic for the Isles.
Usage
While analyzing the usage charts, it's important to find where league average is along the x-axis and y-axis. It's pretty clear that 0 is the league average for team-relative fraction of offensive zone starts, but it's a little more murky for quality of competition based on time on ice. According to war-on-ice.com, that number is about 17.3 this season.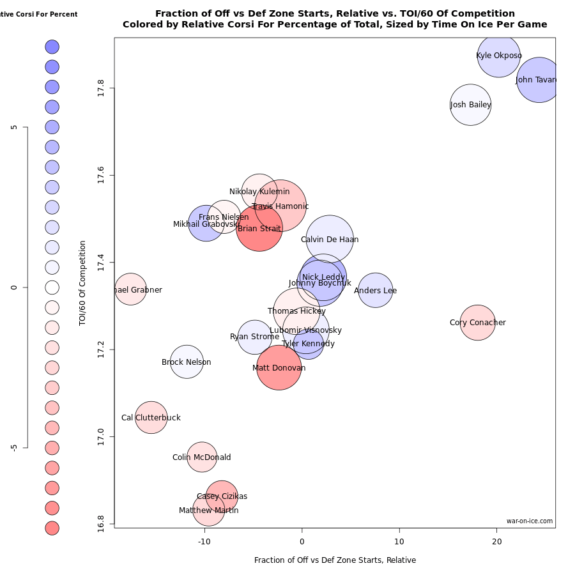 It is abundantly clear when looking at both charts that the Islanders REALLY want to shove the scoring line of John Tavares, Okoposo and Josh Bailey as much into the offensive zone as possible. They do have a solid shut down line in Grabovski, Nikolai Kulemin and Frans Nielson, but that has been broken up due to Grabovski's concussion. It seems like Grabbo may be coming back just in time for the playoffs to start, but he hasn't been practicing extensively with the team either. It's pretty obvious Kennedy was added at the trade deadline as injury cover and to improve the slightly sheltered yet very potent third line of Anders Lee and Brock Nelson.
Defensively, no one on the team seems to be sheltered into the offensive zone and, like the Caps, the top line of Hamonic and de Haan are given the toughest assignments. There is a chance that Hamonic may either miss just game one or a good chunk to all of the first round series due to a possible knee injury he picked up in last Friday's game against Pittsburgh. What could be interesting is to see what happens if Capuano can ease up on the quality of competition for the Leddy-Johnny Boychuk pairing so they can show off their offensive exploits, but this could expose the Thomas Hickey-Lubomir Visnovsky pair and who knows if the pairing's stay the same if Hamonic isn't ready to go.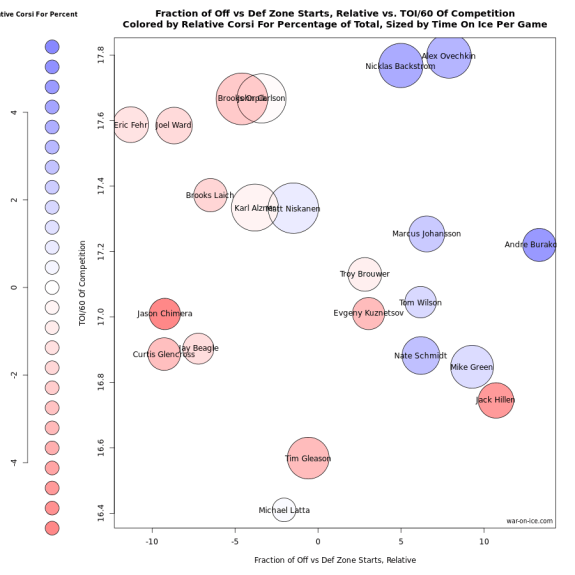 Meanwhile, Washington has been letting Mike Green loose on the offensive end before it was cool. That is all been due to the other two pairings ability to handle their jobs of shutting the tougher opposition better, especially the Matt Niskanen-Karl Alzner pair.
Throughout the majority of the season, the Joel Ward, Eric Fehr, Brooks Laich combination had been the teams main shutdown line, but thanks to the lack of talent on Alex Ovechkin's and Nicklas Backstrom's right wing (unless, you know, head coach Barry Trotz plays Burakovsky). Like it has been all season, Trotz's utilization (and maybe even trust) of Burakovsky, Tom Wilson, Evgeni Kuznetsov and even Michael Latta could determine if the Capitals can consistently outmatch their opposition.
Suppressing All the Fun
Now you may feel like I am giving all the love to the Islanders and I certainly am on one side of the rink. On the other, I just don't see how Capuano's team can out-duel Washington if the games get tight and goaltending and defense become the name of the game. Thanks to Trotz's systems changes, along with the added additions of Niskanen and Brooks Orpik in defense, Washington has now become one of the better defensive teams in the league. To top it all off, Braden Holtby has been one of the best goaltenders in the game and has now developed enough of a sample size that, barring injury, should continue for years to come.
Meanwhile, only the Vancouver Canucks have given up just as many goals at even strength as the Islanders and it's not due to their mediocre shot suppression. It can't be stated enough how much Hamonic's injury could really throw the defense pairings off kilter. His partner, Calvin de Haan's next partner up could be Brian Strait, who last time I checked, is not great playing a shutdown pairing role at the NHL level. Could we end up seeing more of Griffin Reinhart or Matt Donovan if Hamonic won't be able to play a part in the series? For Jaroslav Halak, he has been pretty average in even strength save percentage and it is even worse while the Islanders are shorthanded.
Special Teams
Speaking of the Islanders penalty kill, that save percentage is the sole reason their efficiency is one of the worst in the league. If Halak can catch fire, this should be a non-issue for a team that gives up a league average amount of shot attempts shorthanded and don't commit a ton of penalties.
That lack of discipline is what Washington seems to be infamous for as they are amongst the ten worst in that department. Some may argue that their penalties are more to do with the physical aspect of their game; being among the league leaders in roughing minors, as well as boarding and fighting majors. There's no evidence that this goes away instantly come playoff time, but clearly Washington needs to do a better job at getting into the referees' good graces if they want to improve their chances of winning this series. That being said, the Capitals' physical nature also results in being the tenth best team in the NHL at drawing penalties. This would lead to Washington to deploys their league leading power play and four-on-four play. That is something the Islanders definitely want to avoid having the game turn into, but they have proven that they won't be rattled to get away from their strong discipline.
Conclusion
Why do I have to do this? That's the question that I have to ask not only myself, but also the thousands of Capitals fans that have rooted for them since, at least, the early 80's. If the Capitals win, it will be because of taking advantage of the Islanders' injuries in defense and being able to shut down as much of their top line and secondary scoring as possible.
If the Islanders win, it will be because of not getting into the penalty box and having Grabovski come back and provide the shutdown line needed to shut down Washington's top line and daring Trotz to come up with any semblance of a scoring second line. Either way, this will go into seven games and I am going to be a grouch from now until it is all over. Hockey is the worst sport and the best sport all at the same time.
Ben covers the Washington Capitals at the hockey writers. He has been blogging about the NHL since March 2013. Follow him @DCSportsDork