Another NHL season is right around the corner, and with it comes another opportunity for the Detroit Red Wings to extend "The Streak." For the past 25 seasons, the Red Wings have made the playoffs, and they'll begin their quest to make it 26 when they open the season Thursday at Tampa Bay.
Every year, many experts predict Detroit finally will be forced to miss the postseason for the first time since the 1989-90 season due to the aging core and general manager Ken Holland unable to land a blockbuster free agent. However, during the past couple of seasons, the Red Wings have found a way to scratch and claw their way into the playoff picture, generally clinching a postseason berth on the final day of the regular season.
This season will be a different story, as the loss of All-Star Pavel Datsyuk to Russia, management's hesitancy to trust the younger players and an aging core will be too much to overcome.
THW News Archives – Pavel Datsyuk Inks 2-Year Deal in KHL
No More Datsyuk
Datsyuk no doubt will go down in history as one of the best players to ever wear the winged wheel. He isn't the scoring machine that Alexander Ovechkin is, but his offensive IQ, quick hands, and defensive skills were unmatched.
During the past few seasons, Datsyuk hadn't played like the player he once was, scoring 49 points in 66 games last year after scoring 65 points in 63 games during the 2014-15 season. In 2013-14, he played in just 45 games, scoring 37 points.
While Datsyuk's contributions on the scoresheet hadn't been as consistent recently, he continued to drive possession and contributed to more goals scored for than goals against.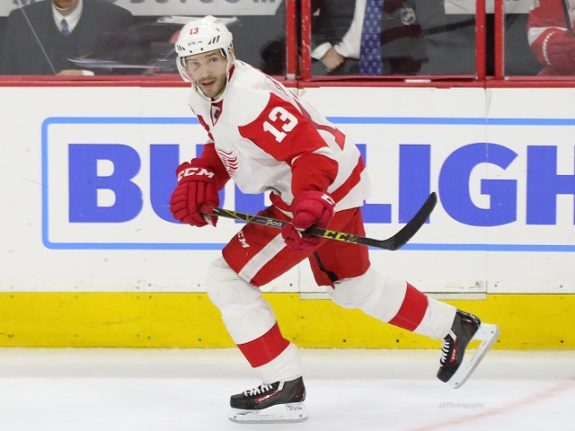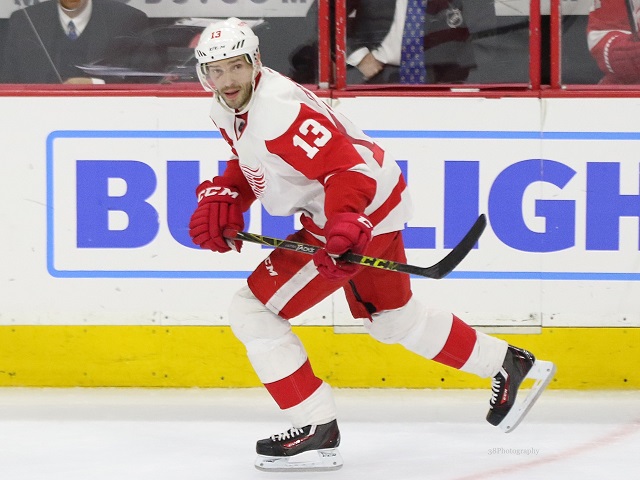 In every season beginning with the 2007-08 season, when advanced stats started being tracked, Datsyuk had at least a 55 score-adjusted Corsi for percentage at five on five, despite playing hurt for much of the past three seasons, according to Corsica. In fact, since 2007-08, Datsyuk is third among all NHL players who have played at least 2,000 minutes at five on five in CF% at 58.49, trailing only Jake Muzzin and Tyler Toffoli, who have played about 942 fewer minutes combined than Datsyuk.
His defensive skills in the middle of the ice will be missed, as the Red Wings defense has struggled in its own zone in recent years. This is a defensive unit that didn't improve during the summer, as Holland was unable to make a trade for a top-four defenseman.
Frans Nielsen likely will replace Datsyuk as the first-line center, but while Nielsen is a solid two-way forward, he won't be able to bring what the Magic Man brought night in and night out.
Tie Goes to the Veteran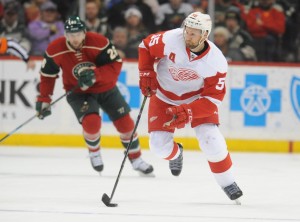 When Mike Babcock coached the Red Wings, the saying he used when determining roster spots or playing time was "tie goes to the veteran," meaning the veteran got the benefit of the doubt over the younger player based on experience and paying his dues.
While this hasn't been a big deal for the Red Wings in years past because the core of Datsyuk, Henrik Zetterberg, Niklas Kronwall and Nicklas Lidstrom were in their prime, Holland's hesitancy to let the kids take over has been a slow and painful process. Lidstrom is retired, Datsyuk is playing in Russia and Zetterberg and Kronwall are not the players they used to be five to seven years ago.
The Red Wings like to overripen their prospects, often leaving them in the AHL for years before giving them an opportunity to even sniff the NHL. While a team with a lot of depth can afford to do this, the Red Wings haven't had that depth, and Holland has attempted to fill that depth with aging veterans.
This summer, Holland signed Steve Ott and Thomas Vanek to one-year deals, in addition to re-signing Drew Miller and Darren Helm. Despite Tomas Jurco starting the season on LTIR, that gives the Red Wings 13 signed forwards on the 23-player roster. Unless a prospect absolutely wows management, there was little hope of them receiving a spot on the roster before training camp started.
Anthony Mantha, Andreas Athanasiou Back to Grand Rapids?
Two of those prospects — Anthony Mantha and Andreas Athanasiou — got their first taste of NHL hockey last season, as Athanasiou played 37 games, recording nine goals and five assists while averaging 9:01 per game. Mantha played in 10 games, had two goals and one assist, averaging 11:42 per game.
The odds were stacked against them from the beginning, and according to MLive.com's Brendan Savage, it doesn't look like either player will make the Red Wings' 23-man roster. Coach Jeff Blashill told Savage:
(Mantha) scored the goal. I didn't think him or Double A were good enough, though, to be honest with you. They got to be better than that. These are big games for those guys and on two of the three (periods), they got to be better.
With the fourth line of Miller, Ott, and Luke Glendening pretty much set, Athanasiou and Mantha needed to beat out Teemu Pulkkinen or possibly Riley Sheahan to secure a roster spot.
While Athanasiou certainly has issues with his defensive play, we've seen the skill he possesses (see goal below), and it's puzzling why a team would not want to utilize that skill. In fact, Athanasiou led the Red Wings last year in goals per 60 minutes (1.40) and primary points per 60 minutes (1.80) at five on five despite averaging just over eight minutes per game in even-strength situations.
The Red Wings also lost prospect Martin Frk to waivers, as Carolina claimed the second-round pick Sunday. The Hurricanes also claimed former Red Wings pick Andrej Nestrasil in 2014.
The glut of forwards Holland signed forced him to expose some of his prospects to waivers and risk losing them for nothing rather than gaining picks or depth players in a trade.
Red Wings Related – 2016-17 Season Preview
With the loss of Datsyuk, an aging group of veterans and management hesitant to hand over the keys to the youngsters, the Red Wings are going to need goalie Petr Mrazek to stand on his head if the Red Wings want to clinch a 26th consecutive playoff berth.
While Mrazek is capable of playing at an elite level, it's a tall task to ask him to bring that level of play for an entire season at this point in his career. As a result, the Red Wings will not be able to clinch a 26th consecutive playoff berth.