The Carolina Hurricanes ended their preseason with a bang — a Jaccob Slavin overtime shootout goal to lift the 'Canes over the visiting Washington Capitals, 3-2. The nearly 8,000 'Caniacs' in attendance were treated to a lively game before what would be the real devastating effects of Hurricane Matthew across the state of North Carolina.
Jaccob Slavin scored in the fourth round of the shootout to lift the #NHLCanes to a win over the #washcaps. https://t.co/j7cbShu3W1 pic.twitter.com/1JXx7v4lhj

— Sportsnet (@Sportsnet) October 8, 2016
Hurricanes Looked Alive
I wrote about the Hurricanes' game against the Tampa Bay Lightning a week ago, wherein I was intrigued by what I saw as a lack of "going all out" on the part of some of the players. My thought was that if a guy is trying to make a team, he'd be playing with his hair on fire. Whatever the reason, the team looked much more alive in their game against the Caps.
The work of center Jordan Staal stood out through the whole game. Staal looks like a guy who is ready to lead, ready to wear the "C" on his sweater, as I wrote about in my article about my interview with him, Staal is leading this team with or without a letter. I think that he has proven himself worthy of the honor of being the captain of the Hurricanes, and we should know soon if his teammates agree.
Staal made several key passes during the game against the Capitals, including one to Lee Stempniak that looked more like batting practice in baseball. Stempniak swatted the puck out of mid-air past Caps' goalie Braden Holtby to give the Hurricanes a 1-0 lead.
[HIGHLIGHT] Lee Stempniak bats in the first #Canes goal of the night. #WSHvsCAR pic.twitter.com/wV2Yo2uyDA

— Carolina Hurricanes (@Canes) October 8, 2016
To me, Staal looked very efficient throughout the contest and skated well. I really believe he is set to lead this team both on and off the ice.
Hanifin Continues to Grow
Noah Hanifin had a superb game, notching the second assist on Stempniak's goal and following it up with one of his own. Victor Rask set him up beautifully and Hanifin blasted the puck by Holtby, giving the Hurricanes a 2-0 lead in the third period.
[HIGHLIGHT] @NHanifin put the #Canes up 2-0 with a power-play goal in the third period. #WSHvsCAR #Redvolution pic.twitter.com/NgGgsIWnoM

— Carolina Hurricanes (@Canes) October 8, 2016
After the game, head coach Bill Peters said this of Hanifin:
I thought Noah skated real well tonight. He was dangerous. I thought he played real well.
That sums up nicely the young Hanifin, a player who consistently plays well. I don't see a "sophomore slump" in his future.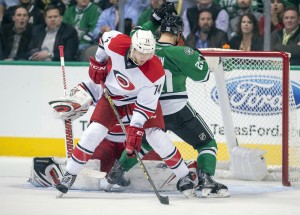 Hurricanes Win a Shootout
A shootout win may not seem like much, but for the Hurricanes it is huge. I wrote in July asking if the 'Canes can find seven points? This statement was part of that piece: "According to data assembled at www.sportingcharts.com, the team participated in seven shootouts and only won two."
Those five shootout losses represent points that would have made a difference in their playoff chances. If not last year, then certainly winning overtime periods and shootouts will be of utmost importance in the Hurricanes' quest for a playoff spot. Slavin has some mean moves as a shooter; his shootout goal helped the Hurricanes end their preseason with a bang. Here's hoping it propels them to a fast start and a winning October.