Hockey Canada announced it's selection camp roster today for the upcoming World Junior Championships in Sweden.
With Brent Sutter back behind the helm, there's a new sense of optimism as Canada enters with a four year gold medal drought. Sutter is one of Canada's most decorated coaches at the tournament and has two gold medals on his resume. He won gold in both 2005 and 2006, going 12-0 in the process.
Sutter is doing it a little differently this year as there is just 25 players invited to camp at the MasterCard Centre in Toronto. Other years there has been 40+ players in camp, but Sutter wants to cut to the chase according to Hockey Canda scout Ryan Jankowski;
"One thing Brent wants to do is get closer to his team sooner. If we can make some of the tougher decisions earlier, I think (the players selected) will play better for us in the long run."
Looking at the players invited, there is 2 goaltenders, 8 defensemen and 15 forwards. Which means just two forwards and a defenseman will be released prior to the tournament.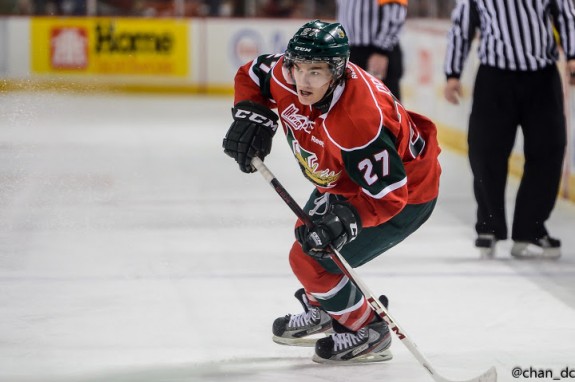 Halifax's Zach Fucale and Saginaw's Jake Paterson will be the two goaltenders manning the pipes for Canada. Paterson is a returnee and Fucale the first goaltender taken in the 2013 NHL draft.
On the backend there is Chris Bigras (Owen Sound), Mathew Dumba (Minnesota, NHL), Aaron Ekblad (Barrie), Josh Morrissey (Prince Albert), Adam Pelech (Erie), Griffin Reinhart (Edmonton), Derrick Pouliot (Portland) and Damon Severson (Kelowna) will be competing for seven spots.
The forwards in camp include Josh Anderson (London), Jonathan Drouin (Halifax), Frederick Gauthier (Rimouski), Felix Girard (Baie-Comeau), Bo Horvat (London), Charles Hudon (Chicoutimi), Scott Laughton (Oshawa), Curtis Lazar (Edmonton), Taylor Leier (Portland), Anthony Mantha (Val d'Or), Connor McDavid (Erie), Nicolas Petan (Portland), Sam Reinhart (Kootenay), Kerby Rychel (Windsor) and Hunter Shinkaruk will be the 15 members fighting for the 13 available spots.
***Click here for full Team Canada Selection Camp Roster***
Short on Experience
With this year's squad there is very little experience in terms of returning members. Goaltender Jake Paterson is back, but he was a third stringer last year and never saw any action.
Griffin Reinhart is the lone returnee on the backend, and he has to serve a three game suspension from last year's tournament before he can suit up.
Up front there are two members, 2013 3rd overall pick Jonathan Drouin and Charles Hudon. Even Hudon though was injured and missed the entire tournament last year.
On December 26 when Canada lines up for their opening game, Jonathan Drouin will be the only 2013 returning member in the lineup.
Dumba Lone NHLer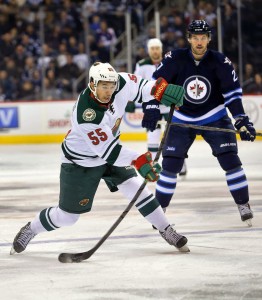 Like with most years, there is always a plethora of eligible players currently playing in the NHL. Last year with the lockout there were a number that would have otherwise been in the NHL but Canada was the beneficiary, especially with a player like Ryan Nugent-Hopkins who became available.
This year is no different. There are players like Nathan MacKinnon, Tom Wilson, Sean Monahan and Morgan Rielly to name a few who are making a name on the biggest stage.
It looks as though the only player who will be released, though, is Minnesota's Mathew Dumba, who has played in 13 of the team's 28 games and has generally been a seventh or eighth defenseman early on.
He has the skillset to excel on the international ice and has in the past for Canada at previous tournaments. It could be a great confidence boost for him as well as a great addition for Canada.
There is still an outside chance that Monahan or Rielly could be loaned, but the possibility is slim.
Youth is Served
In addition to lacking experience, there are a couple of youngsters that jump off the page when looking at the camp roster. The main one is 16 year old Connor McDavid, not draft eligible until 2015.
The phenom has acclimated to OHL life without missing a beat and is dominant many nights as a 16 year old. He is being hyped as not only the next Crosby, but the next Gretzky, which is about as much pressure as you can place on a teenager. McDavid could be entering rare company as he would be just the fifth 16 year old to suit up for Canada, the last being Crosby in 2004.
On the camp roster is also the projected top two picks in the 2014 NHL draft in forward Sam Reinhart and defenseman Aaron Ekblad. Sam is the younger brother of Griffin and captain of the Kootenay Ice and Colts defenseman Ekblad was an exceptional player in his own right as he entered the league a year before McDavid at 15 years old.
Notable Omissions
With naming just 25 players, the focus is often on the players not invited as much as those that are. This year Sutter has chosen to leave off a few names that are raising the eyebrows of many in the business.
One of those names is Max Domi, the London Knights forward who was the 12th pick in 2013 and an offensive dynamo in the OHL. Sportsnet insider Nick Kypreos, also a family friend is not a fan of the omission;
https://twitter.com/RealKyper/status/407543375559393280
Perhaps the biggest name missing is Sault Ste. Marie defenseman Darnell Nurse, the No. 7 pick in the 2013 draft. It's hard to believe that there are eight defenseman in junior deemed better than him.
Notable 2012 first round NHL picks and 19 year old omissions include Windsor's Slater Koekkoek and Erie's Brendan Gaunce.
Other names include Erie captain and OHL leading scorer Connor Brown, who has been on fire in the first two months of the season and Spokane's Mitch Holmberg has 30 goals in 29 games and leads the WHL with 64 points.
*****
This year is no different than any other year or any other international tournament for Canada. All picks will be analyzed and second guessed until the final horn goes. If there's anyone that can handle it and hope to bring a gold medal back to Canada, it's Brent Sutter.
____________________________________________________________________________
Follow Carl on twitter @maloney3383 and Google+ for more articles
Carl covers the Edmonton Oilers for THW as well as providing additional prospect coverage. Follow him on twitter @carlTHW, connect on Facebook or contact at carl.maloney@hotmail.com for questions, comments or if you're interested in him writing for you.