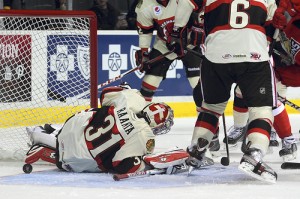 The Antti Raanta as a netminder for the Chicago Blackhawks experiment has been showing some positive results early on. When backup net minder Nikolai Khabibulin was healthy he struggled mightily this season and left Corey Crawford as the only option to play if the Blackhawks expected to win. Raanta was adjusting to North American size ice well in his stint in Rockford and once Khabibulin was injured fans knew it was only a matter of time until he debuted for the Blackhawks. With Raanta on the team it seems Chicago can finally give Crawford some much needed rest as the NHL enters its stretch run before the mid-way mark.
While the Blackhawks were completing their memorable 2013 playoff run, Raanta was embarking on a championship run of his own. Raanta backstopped Assat Pori to the SM-Liiga championship and on the way picked up the Jari Kurri trophy as MVP of the playoffs, to go along with the Urpo Ylonen trophy he won for his regular season performance.
Despite all the impressive accolades he racked up in Finland, no one knew how well Raanta's skills would translate over into the NHL. Besides his time in Rockford all fans had to go on was his relief performance against the Colorado Avalanche Nov. 19 in which he stopped 14 of 16 shots in a little over two periods.
This past week Raanta had his first NHL start against the Calgary Flames and came out victorious in a goaltending battle against Retto Berra making 20 saves. If that didn't have some fans convinced, Raanta was once again called upon this past Saturday in Phoenix. Raanta stood tall for the Blackhawks and survived a second period flurry from the Coyotes to win his second straight start with 32 saves and a .941 save percentage on the night.
The Blackhawks have a busy December schedule with 14 games including 3 sets of back-to-back games. With the confidence to start Raanta it gives Coach Q a solid option on any given night, not to mention give Crawford some rest down the stretch.
With the shortest off-season in professional sports history, a heavy early-season workload and the possibility of playing in the 2014 Winter Olympics, any time off for Crawford will leave him in a better position to guide the Blackhawks to their second straight Stanley Cup championship this spring.
After getting used to great goaltending no matter who was in net last season, fans watched with baited breathe every time Khabibulin made a start. Antti Raanta has taken the first step in his NHL career and if this start is any indication of what is to come, it will be a memorable one.
Creator of the Bettman Stand Up hockey blog. I cover the Chicago Blackhawks for The Hockey Writers, In Hossa we trust! I also write for publications such as Arbitrage Magazine and Elite Sports Blog. You can follow me on Twitter @RickEmrith