The Hockey Writers' Montreal Canadiens channel is looking ahead to the NHL trade deadline with a series of mock trades. This is a fun exercise, as writers covering the Habs weigh hypothetical options available to the team and what impact these trades might have on it in the immediate and long-term future of the rebuild.
Canadiens general manager Kent Hughes made a great trade when he acquired Sean Monahan last summer. Along with Monahan, the Canadiens landed a future first-round draft pick and it cost them nothing at all in return. Their willingness to take on the final year of his contract earned them a prized pick in the future, and they may be able to add another one for him before the trade deadline.
Mock Trade Number Four: Sean Monahan to Bruins
An obvious question at this point would be, why was Monahan's value so low a few months ago, and suddenly so high now? Well, there are a couple of factors that have seen his value grow tremendously.
First of all, the Canadiens can retain half his cap hit, and if a third team gets involved to retain another 25 percent, the team that acquires Monahan at the trade deadline is only on the hook for 25 percent of his remaining salary. Instead of trading for a $6.375 million player, which the Canadiens did before the season, the Boston Bruins could pick him up for $1.59 million.
Related: Canadiens Mock Trade Deadline: Mike Hoffman to Stars
---
Latest News & Highlights
---
Also, more importantly, Monahan played great for the Canadiens this season. He scored six goals and 17 points in 25 games, after putting up just 23 points in 65 games the previous season. He showed that he had recovered from his hip and knee injuries and was ready to contribute offensively once again.
Of course, Monahan has been injured for the past ten weeks, diminishing his once-skyrocketing trade value, but also proving how much the Canadiens missed him. He has been skating for a while, but has yet to return to game action since his injury on Dec. 5. He scored in that game, and had 11 points in his previous 12, which had many fans thinking the Canadiens could get another first-round pick by trading him at the deadline.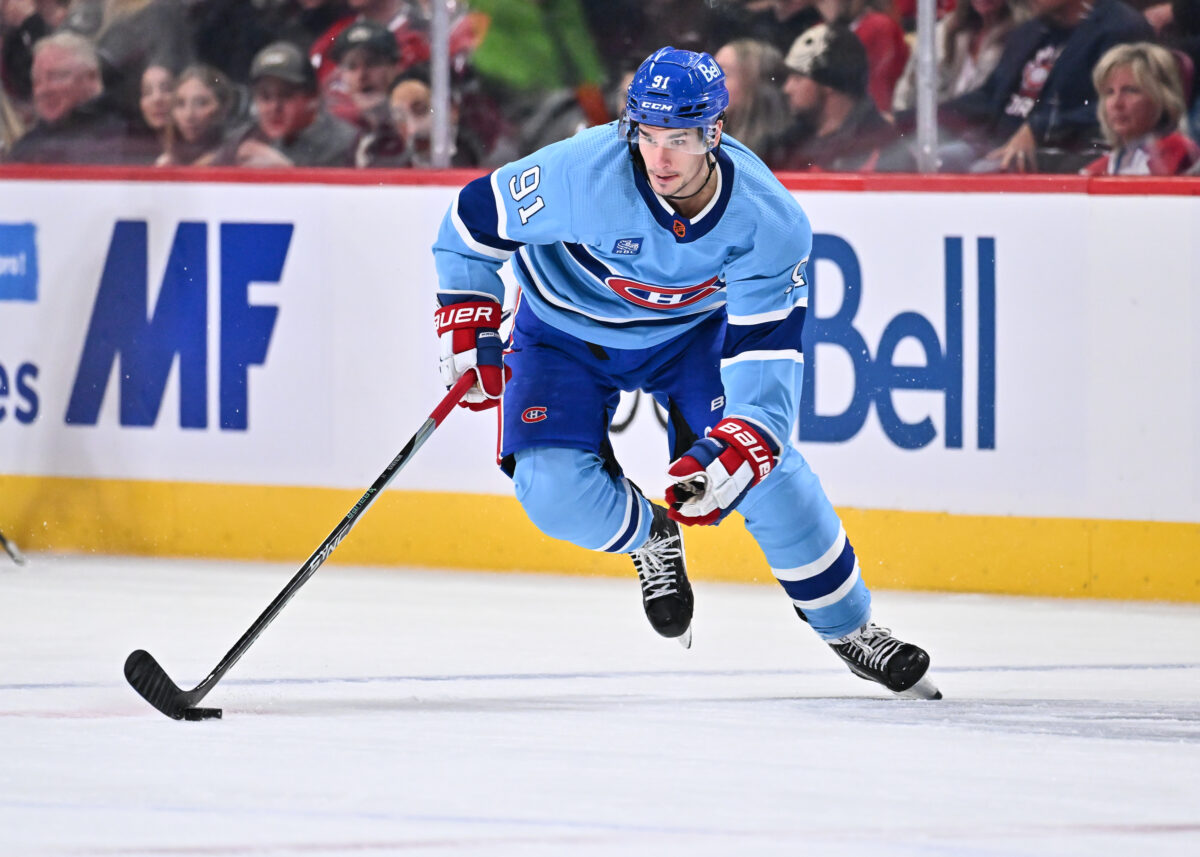 With his lengthy injury history, and his most recent injury still keeping him out of the lineup, that kind of return seems unlikely now. He did show that he can still put up offence, and is a key faceoff guy, and though he has been in the league a decade, he is far from over the hill at 28 years old. A contending team could see there is plenty left in the tank for the Canadiens center.
Boston Bruins Situation
The Bruins are having one of the best seasons in NHL history right now. They have a record of 42-8-5 and are on pace for 133 points. That would dethrone the 1976-77 Canadiens as the most points ever in a single season. So they don't really need to make a big upgrade to become contenders, but every team can use a little more depth.
The Bruins' top six is loaded with Patrice Bergeron, Brad Marchand, David Pastrnak, David Krejci, Pavel Zacha and Jake DeBrusk. They also have former Hart Trophy winner Taylor Hall on the third line with Charlie Coyle and Nick Foligno. That is where they could use a subtle upgrade. At their current pace, the Bruins don't want to shake things up too much.
Monahan, by all accounts, is a tremendous teammate, a great leader and fantastic in the locker room. He fit in seamlessly with the Habs, making a big impact right away, and could do the same with the Bruins.
A third-line center like Monahan could slide between Coyle and Hall to form a terrific third line, while pushing Foligno down to a tough, two-way fourth line with Trent Frederic and Craig Smith.
Canadiens' Return: 2025 Second-Round Draft Pick + Riley Duran
The chances of landing a first-round pick for Monahan drop every day that he is injured, and he has been injured for many days now. Had he continued his scoring pace for 50 games, someone would have already offered a first-round pick for him, but that seems unlikely now. Still, he has value as long as he returns healthy before the trade deadline.
The Canadiens are going to have to deal with the fact that one of their key trade pieces has lost value due to injury. Having not played in nearly two months, there is no way teams are going to offer a top prospect or first-round pick for Monahan. A lot of teams might be scared off altogether.
The Bruins are one team that will be all-in this season and can afford the gamble on Monahan. They could use his presence in the lineup, and can risk trading away a couple of future assets to give themselves a better chance of winning this season.
The Bruins have already traded their second-round pick in the 2023 and 2024 NHL Drafts as part of the trade to acquire Hampus Lindholm a year ago. That means the Canadiens will have to wait a few years to use their draft pick, but that is not off-script for GM Hughes.
At the 2022 Trade Deadline, the Canadiens traded Ben Chiarot for a first-round pick in 2023. Artturi Lehkonen was traded for a second-round pick in 2024, and the first-round pick acquired with Monahan last summer is in the 2025 NHL Draft. So, acquiring a 2025 second-round pick for Monahan would be nothing new for a patient GM like Hughes.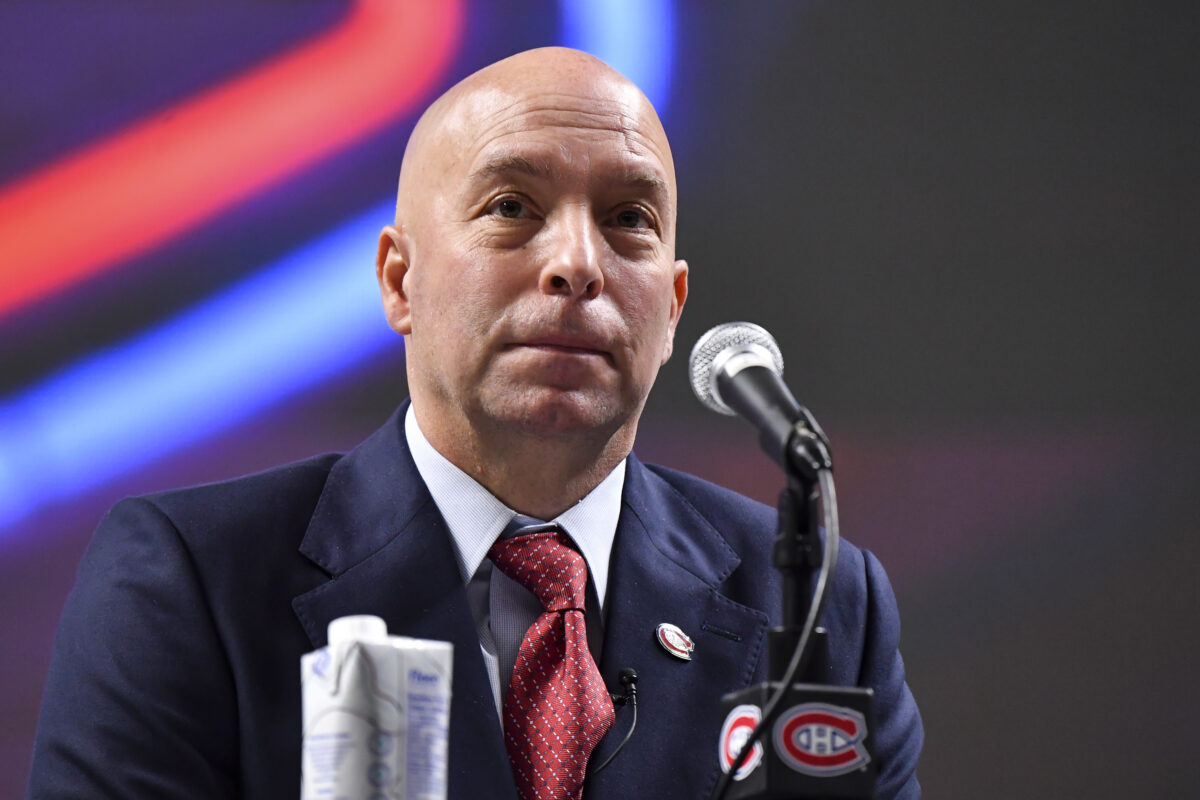 Riley Duran, the prospect in this mock deal is an interesting add as well. He was a sixth-round selection of the Bruins in 2020. He had 19 points in 47 games for the United States Hockey League (USHL)'s Youngstown Phantoms before debuting in the NCAA with Providence College in 2020-21. In his first season of college hockey he scored ten goals and 19 points in 38 games. This season, the 21-year-old center has eight goals and 19 points in 27 games.
Duran does not project to be a big scorer at the pro level and is not one of the Bruins' top prospects. But he is a decent skater, has a big frame at 6-foot-2, plays center, and achieves success solely through his hardworking style. He could turn out to be a responsible fourth-line center who kills penalties down the road.
Duran is also from Woburn, Massachusetts, which is about half an hour away from where Hughes raised and coached his kids, who are about the same age as Duran. Hughes would be quite familiar with Duran's game, making him a little more attractive to the Canadiens' GM.
Ideally, the Canadiens would have received a first-round pick for Monahan at the trade deadline. His play through the first 25 games of the season warranted that kind of value. However, his injury has lingered far too long to expect a team to give up that much at this time. So, the Habs pivot to the next best thing which is a future second-round pick and a depth prospect.
Who knows? Maybe the 2024-25 Bruins have a poor season and the Canadiens have an early second-round pick thanks to their patience. If the 2024-25 Canadiens are playoff contenders, that could be future trade deadline capital that they use to upgrade their roster during a much better season for the team.
---
---