Montreal Canadiens general manager (GM) Kent Hughes has very little time remaining before the trade deadline, and so far, he has only been able to unload Evgenii Dadonov. There are several pieces remaining for Hughes to attempt to trade, but the only one that is likely to get enough interest to provide the Habs a solid return is defenseman Joel Edmundson. 
With the Eastern Conference in a full-on arms race, the Tampa Bay Lightning are reportedly interested in adding a veteran defenseman. Edmundson is the one that seems to be their target. Elliotte Friedman was on The Jeff Marek Radio Show and reports he has heard that the Tampa Bay Lightning have interest in the veteran Canadiens defenseman. 
Tampa Bay Cap Space Issue 
Edmundson in a Lightning sweater makes sense. The 29-year-old 6-foot-4 defenseman has six points in 39 games played this season. He's under contract for one more season after this one, earning $3.5 million, and is close to a return. Tampa Bay hasn't been able to completely replace the role Ryan McDonagh played for them during their three Stanley Cup Final appearances in a row.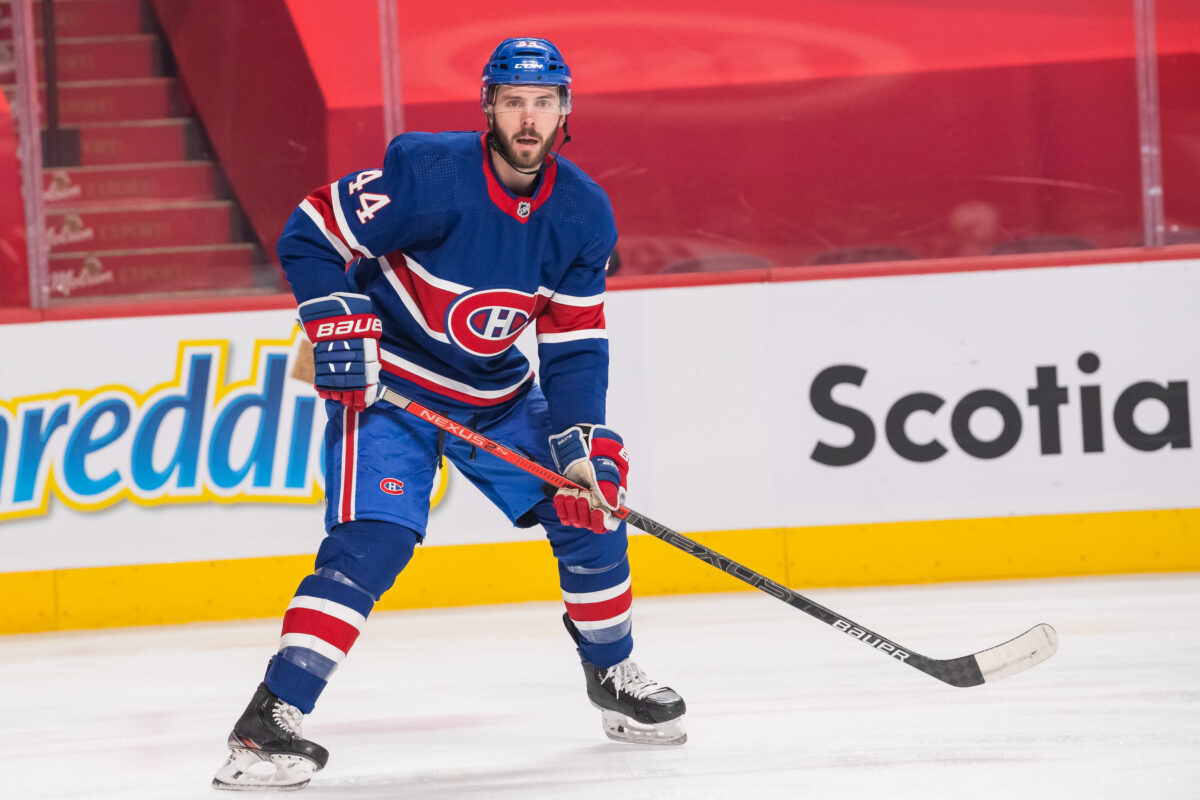 McDonagh provided Tampa with a defender capable of playing a shutdown role in their top four and logging around 21 minutes per game at five-on-five as well as on the penalty kill. Edmundson provides that same style, and like McDonagh, he is mobile and can insulate younger defenders, such as Mikhail Sergachev.  
---
Latest News & Highlights
---
So it makes sense that Tampa is looking, and with Edmundson expected to return from injury to play this week, it couldn't have happened at a better time for Hughes. The Lightning so happened to clear some cap space by trading Vladimir Namestnikov to the San Jose Sharks. That trade provides them $1.269 million in available cap space giving the Bolts some flexibility heading towards Friday's trade deadline. 
Canadiens Rumored Return 
Clearly, with trades raining down on the Eastern Conference like snow in Montreal in February, it's obvious that buyers are highly aggressive this week, and Hughes should want in on that action. On the Tampa Bay side, they have clearly shown that they are not afraid to trade draft picks and pay to get established players, see Tanner Jeannot trade. The big question is, do the Lightning have the assets to pull off another deal that can convince the Habs to move on from Edmundson?
Related: 2023 NHL Trade Deadline Tracker
According to Friedman, Montreal could get more if Hughes is open to retaining 50 percent of that $3.5 million, leaving Tampa Bay to deal with only a $1.75 million cap hit. He also mentioned the name Alex Barre-Boulet, along with a future second-round pick. That seems far lower than the price of a possible first-round pick, which has been spoken about in the Montreal media.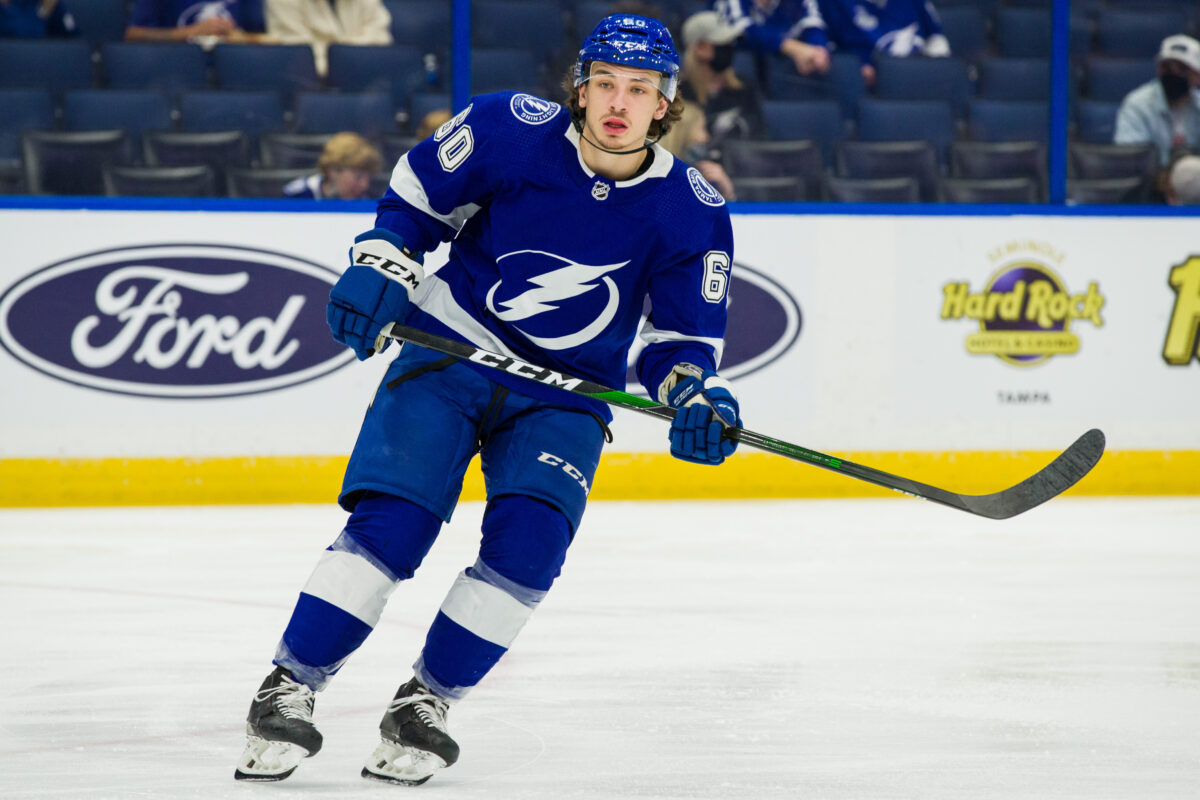 Barre-Boulet does make sense in that the Canadiens can take back a contract, and the 5-foot-9 Quebec-born center can be a major addition to the American Hockey League (AHL)'s Laval Rocket as he has 18 goals and 64 points in 48 games played for the Syracuse Crunch. He has also shown himself capable of filling a bottom-six role in the NHL as well. But he's just a "nice to have" addition, there needs to be something more substantial than him and a second-round pick in 2025, which is the only top-60 selection Tampa owns heading into the trade deadline.
Canadiens' Needs
While a second-round pick in 2025 could be accepted, the Canadiens have a larger need for goaltending depth in their system, and Tampa has someone that could be interesting. That someone is 6-foot-3 goaltender Hugo Alnefelt who was Tampa Bay's third-round selection in 2019.  Alnefelt has a very strong pedigree that points to him having the potential to be an NHL starting goaltender. Back in the 2020 World Junior Championship, fans may remember the performances of Alexander Holtz or Nils Hoglander, but it was his stellar play in the goal that allowed him to help lead Team Sweden to a bronze medal. Alnefelt is still a very raw talent. He is in his first season in North America and needs time, something a rebuilding club like Montreal can provide. He will also need the opportunity to earn a starting role, and with Andrei Vasilevskiy continuing a Hall of Fame career in the Lightning net, that is less likely in his current organization. 
He has had an impressive season so far in Syracuse. As a rookie playing in a tandem with veteran Max Lagace, he has earned a 14-8-1 record with a .919 save percentage and 2.38 goals-against average in 24 starts this season. While there are some positives to Alnefelt's game, he has been guilty of allowing a few goals that should have been saved, but for a goaltender his age, that should be expected.  
If Tampa Bay is willing to up the payment to one that can help the Canadiens going forward with a solid prospect such as a top goaltending prospect, the rumored deal could happen, especially if Tampa expects Hughes to retain some salary for another full season. The pressure is on Tampa, not Montreal as it is the Lightning that need to make a deal to keep up with the Boston Bruins or the Toronto Maple Leafs.  
---
---