There is perhaps no stranger sight than seeing someone going through grief during a time of celebration. On Thursday afternoon, Dylan Larkin was that someone.
Larkin, who is entering the final quarter of his eighth season with the Detroit Red Wings, found himself in front of reporters the day after he signed a new eight-year extension with the team, ending months of speculation and questions about what the future would look like if the two sides ever went their separate ways.
When given the opportunity, Larkin was always forthright about his intention to stay in Detroit; Larkin told reporters at the All-Star Game that he "sees himself as a Red Wing." To that point, he told reporters on Thursday that, "at certain times, my agent was probably saying to stop saying that I wanted to be there."
"But it was truthful," he added.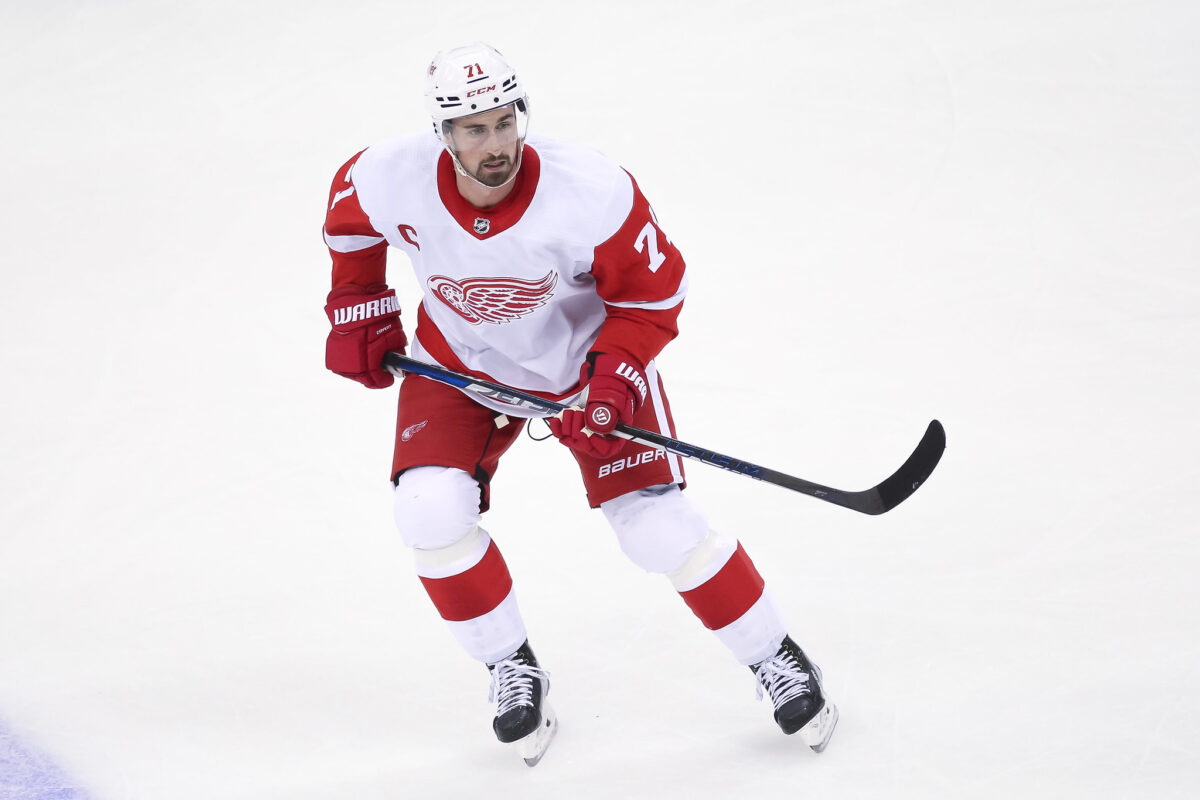 And yet, in a moment that was arranged for Larkin to share his excitement about re-signing with the team he captains, his eyes welled up with emotion as he gathered his thoughts on news that wasn't about him, at least not specifically. You see, in the 24 hours after he put pen to paper on his new deal, the Red Wings made a pair of moves that will change the foundation of this roster for years to come.
Larkin's time in Detroit may not be over, but a new era in Hockeytown has certainly begun.
Bertuzzi, Hronek Represent Different Era
When the Red Wings' playoff streak came to its conclusion, the team was in the process of overturning its roster to the next generation. Pavel Datsyuk moved back to Russia in the summer of 2016, and the duo of Henrik Zetterberg and Niklas Kronwall were in the twilight of their careers as well. The next generation, meanwhile, was headlined by the likes of Tomas Tatar, Petr Mrazek, Anthony Mantha, Andreas Athanasiou, Tyler Bertuzzi and, of course, Larkin. That summer, the Red Wings traded back from the 16th pick in return for the 20th and 53rd picks – the latter of which produced defenseman Filip Hronek.
And here we are on March 3, 2023, and only one of those players still plays their home games at Little Caesars Arena.
Related: Grading the Bruins' Trade for Tyler Bertuzzi
---
Latest News & Highlights
---
The most recent departures are Bertuzzi, who made his Red Wings debut during the 2016-17 season, and Hronek, who made his debut during the 2018-19 season. Bertuzzi was a pending free agent this season and contract talks never sounded as optimistic as they did with Larkin's. Hronek had another year on the three-year deal he signed with Detroit back in September of 2021.
"The trade with [Hronek] going to Vancouver was surprising," Larkin said, "the one with [Bertuzzi] not truthfully as surprising, just the way it happened this morning."
Larkin was there when both players made their debut with the Red Wings. Both players were there when he was named the 37th captain of the Red Wings. Bertuzzi, specifically, is one of Larkin's best friends; Larkin and his fiancé are part of the wedding party for Bertuzzi's wedding, set for this summer.
But in the grand scheme of the NHL, Bertuzzi and Hronek are just players, and the trade deadline is when players are sent off to find new homes as teams like the Red Wings set themselves up for future success.
Hronek is off to Vancouver to play for the Canucks, a team that is in the midst of a retool and has some talented players that he should thrive with. Bertuzzi heads out to Boston to play for the Bruins, a team that is on pace to post the most dominant regular season in NHL history. Larkin, meanwhile, just re-signed with his hometown team and now looks to take on a new role with his beloved Red Wings.
Larkin & the Kids
After the Hronek and Bertuzzi trades, Michael Rasmussen becomes the second-longest tenured player on the Red Wings' roster. Rasmussen was drafted ninth overall in 2017 and was the team's first official pick of their rebuild. By the time Rasmussen made his NHL debut, Larkin had already scored over 50 goals and 130 points in the NHL.
The vast majority of players on the Red Wings' roster have spent four years or less with the team. Some are young players that were drafted and developed by the Red Wings, others are veterans, such as David Perron and Ben Chiarot, that signed with Detroit based on the promise that this team's future holds. That future is represented by Moritz Seider, Lucas Raymond, and the many exciting prospects that have yet to make their mark on Hockeytown.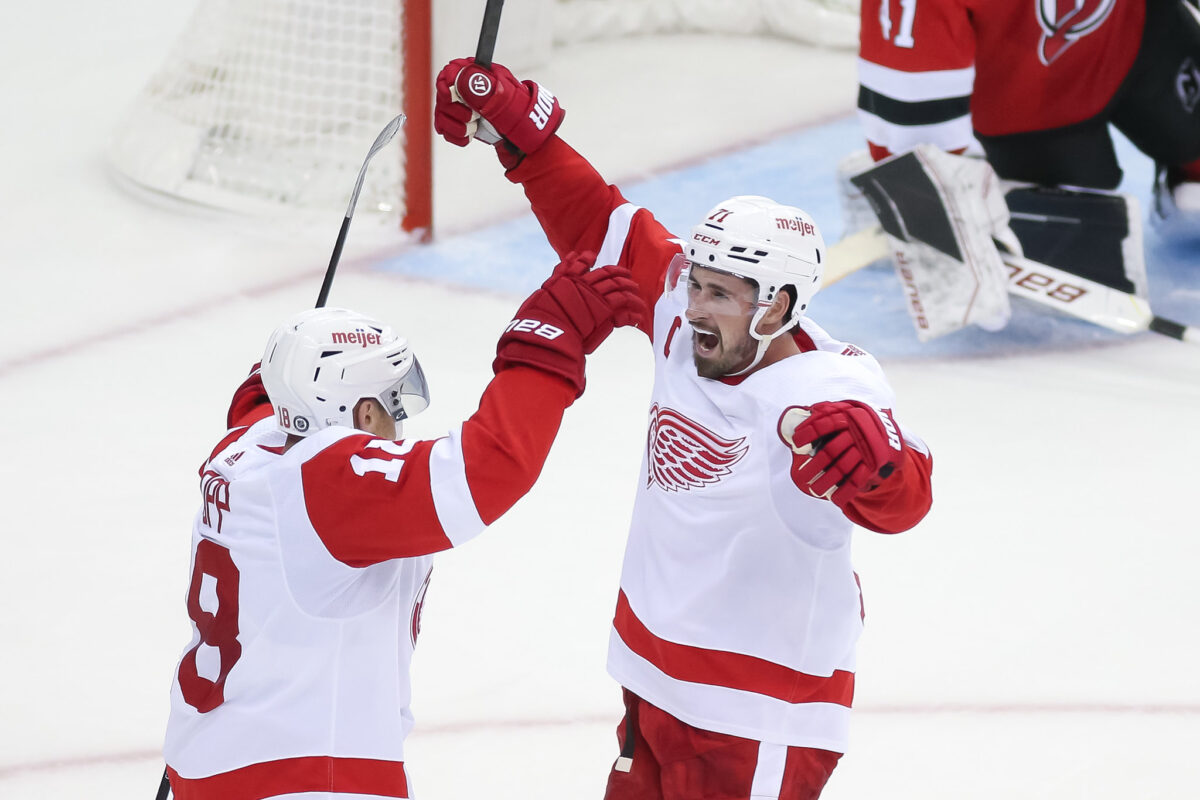 Armed with his new contract and the 'C' on his sweater, Larkin now embarks on the task of sheepherding this next generation along, with the end goal being a return to the playoffs and, eventually, Stanley Cup glory. With his 27th birthday coming up this summer, the Red Wings' timeline suggests that he will be into his 30's when he, his teammates, and fans can start talking about deep playoff runs. Those runs will be powered by the next generation, but he will be there as their leader, the heartbeat of the team.
By re-signing with the Red Wings, he has signaled that he believes those days are coming. He believes that this all leads to commissioner Gary Bettman handing him the Stanley Cup. And when the end of this contract arrives, he hopes to keep the good times rolling and extend his time with the Red Wings even further.
"I hope this isn't my last contract in my career or in Detroit," Larkin said. "I hope at the end of it I'm taking significant pay cuts because we're adding guys at times like this."
And as he said that, a smile reappeared on his face. After all, it was a day to celebrate the future, even if a detour to mourn the past had to be made.
---