The Montreal Canadiens furthered their announced new era of transparency this week as captain Max Pacioretty joined Chris Nilan and Sean Campbell on TSN 690 to talk about the season that was. In a frank conversation, Pacioretty was forthcoming and offered fans few surprises about how he sees the league and the future of the Canadiens.
Canadiens owner and president Geoff Molson described his new focus on transparency at the post-mortem news conference earlier this week. The shift is a new development for an organization not known for being transparent with its fans and the media. Has the era of greater transparency in the NHL finally made its way to Montreal? For Molson, transparency means "…understanding that we can communicate better and bring in a fresh way of us communicating with our fans that they're going to appreciate."
Pacioretty on Locker Cleanout Day
The interview on TSN 690 built on his media availability earlier this week as players gathered for the last time before the offseason. The captain is entering the final season of a six-year US$27-million contract. The Canadiens must sign him to a new deal or risk losing him for nothing at the end of next season. If they don't intend to sign him, they are almost certain to deal him to another club. This could happen as early as the draft. Pacioretty doesn't want to go. 
"I love playing in Montreal," Pacioretty said. "I haven't played with another player who loves playing here as much as I do."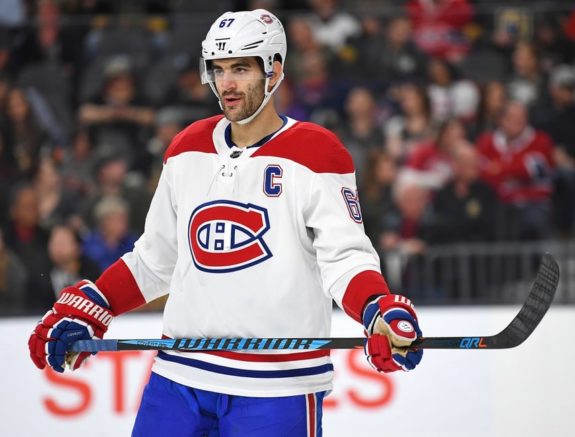 After scoring at least 30 goals in the last five complete NHL seasons, and 15 in the lockout-shortened, 48-game 2012-13 campaign, he plunged to 17 goals and 20 assists in 64 games. He had two fewer points than he did in 44 games in the lockout year. At times, the interactions were tense.
"I know where I stood this year. I had a very down year and it's never happened to me before statistically," Pacioretty said. "So I'll own that and I'll live with it, but to say I got a lot of heat outside of this circle — I disagree with that statement."
Overall, throughout the interviews, Max proclaimed his love for Montreal.
"I love it here. I'll probably always live in the city one way or another. I love everything about this city and I love playing hockey here, and my family loves it here. We're just so comfortable with the way people live their lives here." -Pacioretty➡️ https://t.co/4QRYdR15b2.

— Canadiens Montréal (@CanadiensMTL) April 10, 2018
Pacioretty Opens Up
In a frank conversation the next day that touched on a variety of challenges that the team faced this season, Pacioretty opened up to former Montreal Canadien Chris "Knuckles" Nilan on TSN 690's "Off the Cuff" program.
Max was forthcoming about the challenge of scoring goals, the Habs' need for a number-one center, and the difficulty of winning with big, tough, defensive teams.
One thing I see in the league is that it seems like teams are winning using offense. I saw Pittsburgh do it and Chicago started that. A lot of that starts down the middle. A lot of offense gets generated down the middle…
He also suggested that the focus of teams in the league is changing away from defensive hockey and toward more offensively-minded approaches.
It used to be that big strong bullying teams…it seems to me that teams are focusing less and less on putting everything on the net and hoping it goes in. Teams are focusing on making plays. It doesn't take 20 shots to score a goal…all it takes is one shot to score a goal…The league is trending toward offense…making plays is what is going to win hockey games.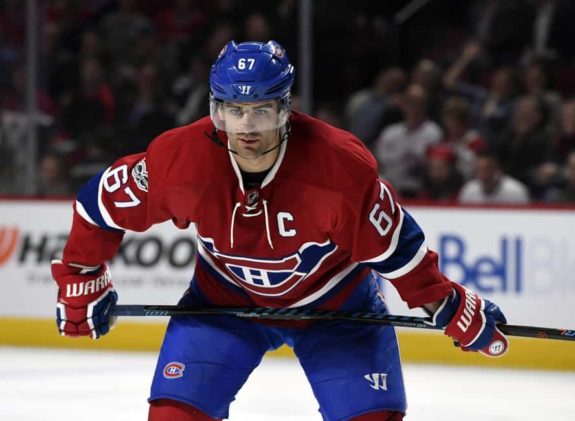 On Attitude
During the year-end post-mortem press conference, Bergevin irked many by invoking his latest buzz word: attitude. Bergevin stated:
The overall attitude of our team needs to change….Regardless who we bring in, if the team's attitude doesn't change, the results won't….I believe that with a better or different attitude, we don't have 40 losses.
Bergevin has been criticized for blaming this season on the attitude of his players as opposed to the poor construction of the team. Pacioretty, unsurprisingly, wouldn't directly challenge Bergevin.
I don't feel that there is one reason this team didn't click this year…maybe attitude is part of the problem but there is a lot of things that went wrong this year…we worked extremely hard even when we were out of the playoffs. This team worked hard…I can't speak for him [Bergevin].
When pressed, Pacioretty said while it is tough for him to speak for Bergevin, "the team had an attitude of wanting to do the right thing for the team."
Will He Stay or Will He go?
When asked if there were any talks on a new contract, Pacioretty said there have not been any contract talks to date. He went further than most Habs fans expected when he suggested that signing in Montreal has to be the right thing for the team and for him.
I'm not saying that if they came to me with a contract that I wouldn't sign it or that I would sign it, but I want to see the Montreal Canadiens be where I think we deserve to be. We have to find answers, players, coaches, management, as to make sure this never happens again….we are hoping things we turn around…Things on the ice have to change for it to make sense to be here.
While no one knows the plan for Pacioretty, it is increasingly hard to see how he stays next season. Fans will have to wait to see what the promised changes in Montreal mean for him.
Max Pacioretty, once again, expressed his desire to stay, how much he and his family love it here, how he lives here year round. But he also clearly knows it is out of his hands, and he doesn't know management's intentions in terms of his contract.

— Аrpon Basu (@ArponBasu) April 9, 2018