Montreal Canadiens general manager Kent Hughes may not have many unrestricted free agents to sign. That doesn't mean he has an easy summer ahead, though. In fact, he's got many tough decisions to make with a roster that's still very much in flux.
Related: Who's Likely Playing Their Last Season With the Canadiens in 2022-23?
There are at least several non-UFAs on the outs of the depth chart and conceivably headed on their way out of town, one way or another, which really only bodes well for the team overall. In only means the team has younger, hopefully better players ready to take their spots. Here's hoping Hughes finds a way for other teams to take them:
5. Mike Hoffman
Forward Mike Hoffman is entering the last season of his contract. So, compared to, say, the much-maligned Joel Armia, Hughes should have an easier time trading him away, but not so easy that Hoffman places any higher than fifth on this list.
---
---
Ideally, Hughes will trade Hoffman, who hasn't really delivered on the promise to improve the power play since he signed back in 2021, this offseason. However, it's more likely than not that, if Hoffman does get traded, it's at the trade deadline.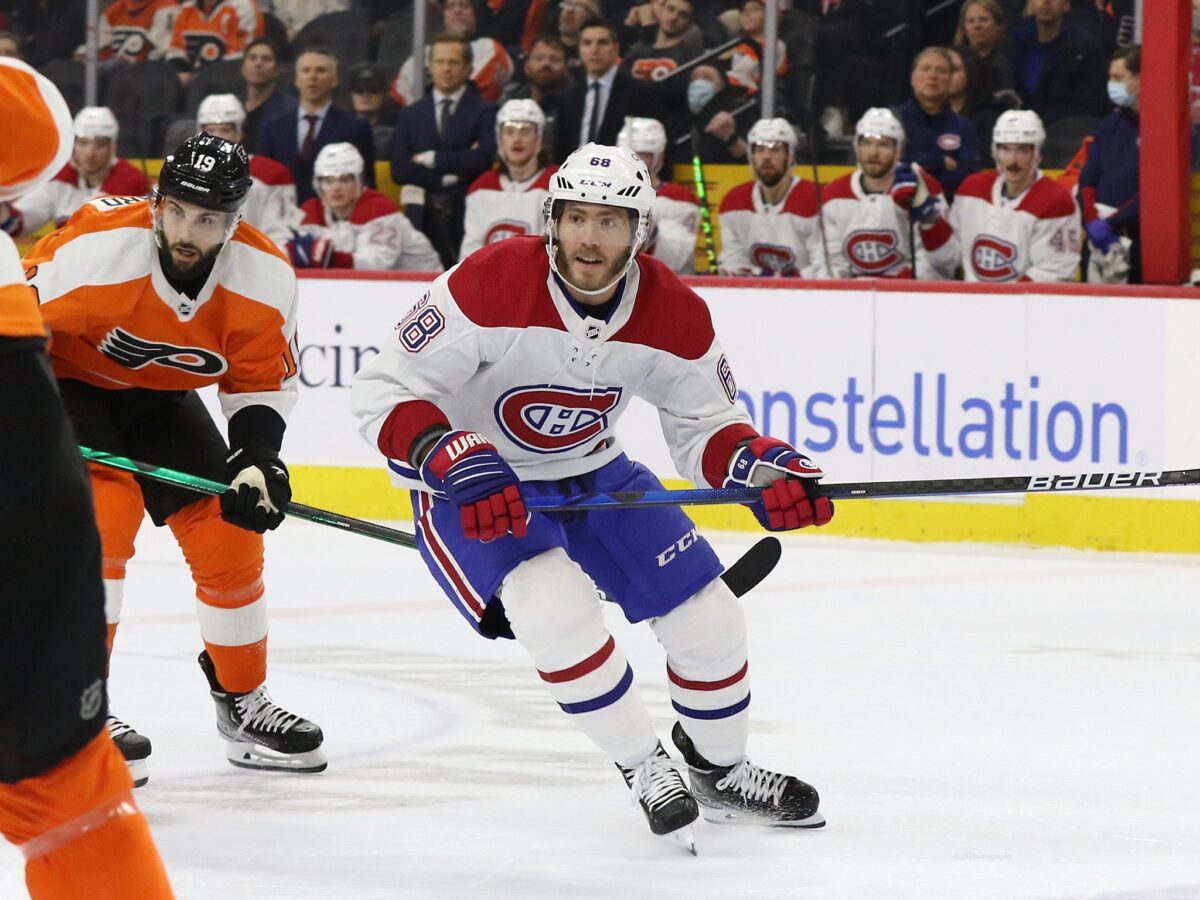 Remember, Hoffman was signed more as a complementary piece anyway. This was back when Hughes' predecessor, Marc Bergevin, had envisioned the Canadiens following up their Stanley Cup Final appearance with, well, something other than the last-place finish with which they ended up in 2021-22. 
All alone, Hoffman is far from a difference-maker, but he can provide depth scoring in the right situation. Everyone now knows a rebuilding Canadiens team isn't it. As long as Hughes keeps his expectations low in terms of a return, he'll realistically be able to find a trade partner of some sort. For the sake of opening up a roster spot for someone with an actual future with the Habs, it's imperative he does, the sooner the better.
4. Chris Wideman
Unlike Hoffman, defenseman Chris Wideman probably isn't on his way out of the organization, at least not altogether. As a depth defenseman, he's simply fallen out of a regular roster spot with the emergence of fellow-righties Johnathan Kovacevic and Justin Barron. With David Savard projected to round out the right side, there shouldn't be any room for Wideman.
Granted, there's a possibility the Canadiens keep him on as a seventh defenseman, for his (relative) veteran leadership. However, the Canadiens also have a stacked left side, featuring Joel Edmundson (for now, which we in the business call "foreshadowing"), Mike Matheson and rookie regulars Kaiden Guhle, Jordan Harris and Arber Xhekaj.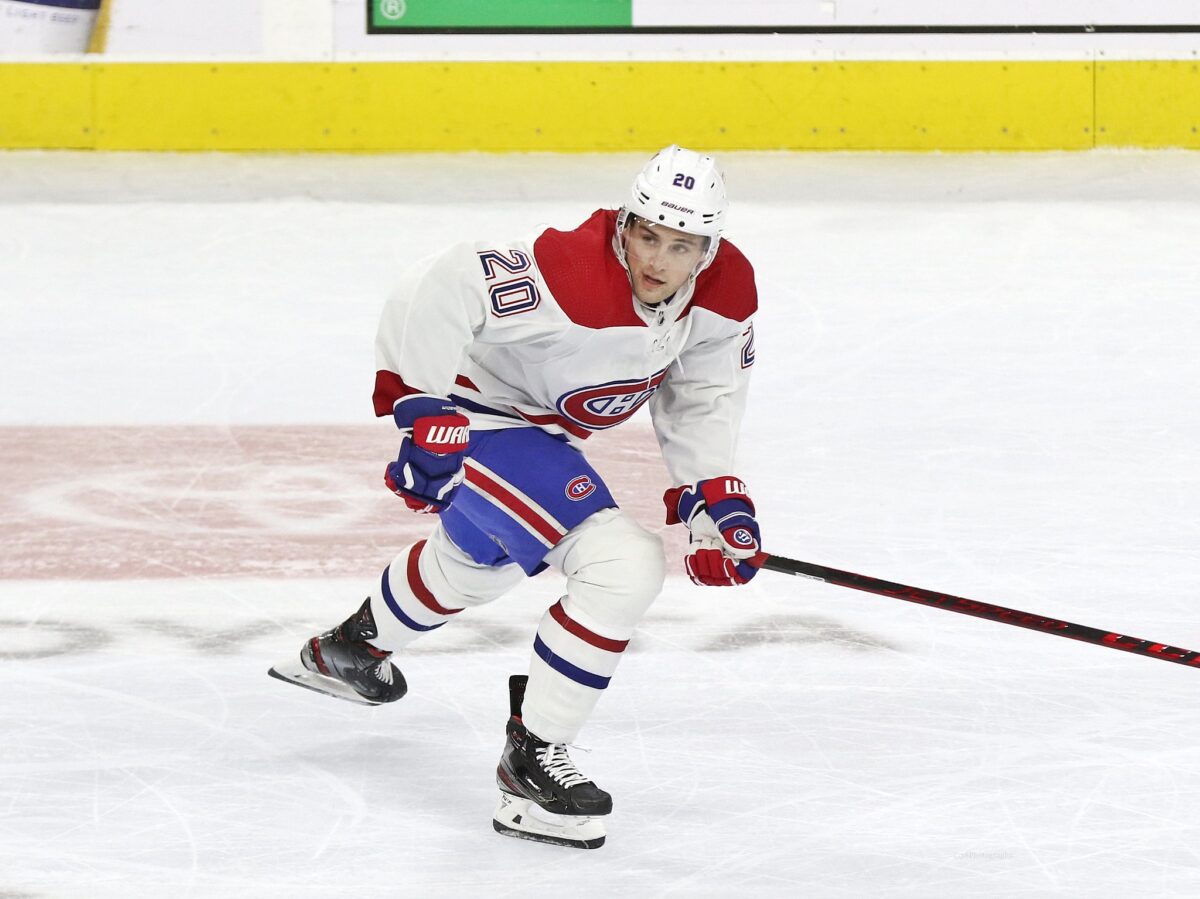 All in all, it's more likely the Canadiens choose to keep all their younger defensemen in the fold and enact a similar rotation in and out of the lineup like they did in 2022-23. So, Wideman, whose $762,500 cap hit can easily be buried, is better served as a veteran presence in the American Hockey League.
---
Latest News & Highlights
---
The only reason Wideman doesn't take the top spot on this list is because he'll almost certainly make an appearance due to injuries. You have to believe the Canadiens won't run into the same issues as they have the last two seasons, but, even if they enjoy a relatively healthy season, there's a good chance Wideman gets called up out of necessity. So, he does hold value, even if he shouldn't hold a roster spot out of training camp, all else being equal.
3. Jake Allen
For what it's worth, goalie Jake Allen expects to still play in net for the Canadiens come 2023-24. Unfortunately, he's not in charge.
Furthermore, Allen unfortunately isn't as young as he once was. True, that can work in his favor, as far as Hughes' eventual decision goes. The GM may value his leadership. However, he should logically value the upside Samuel Montembeault displayed this past season, effectively earning the No. 1 job away from Allen, and the potential Cayden Primeau still holds, more.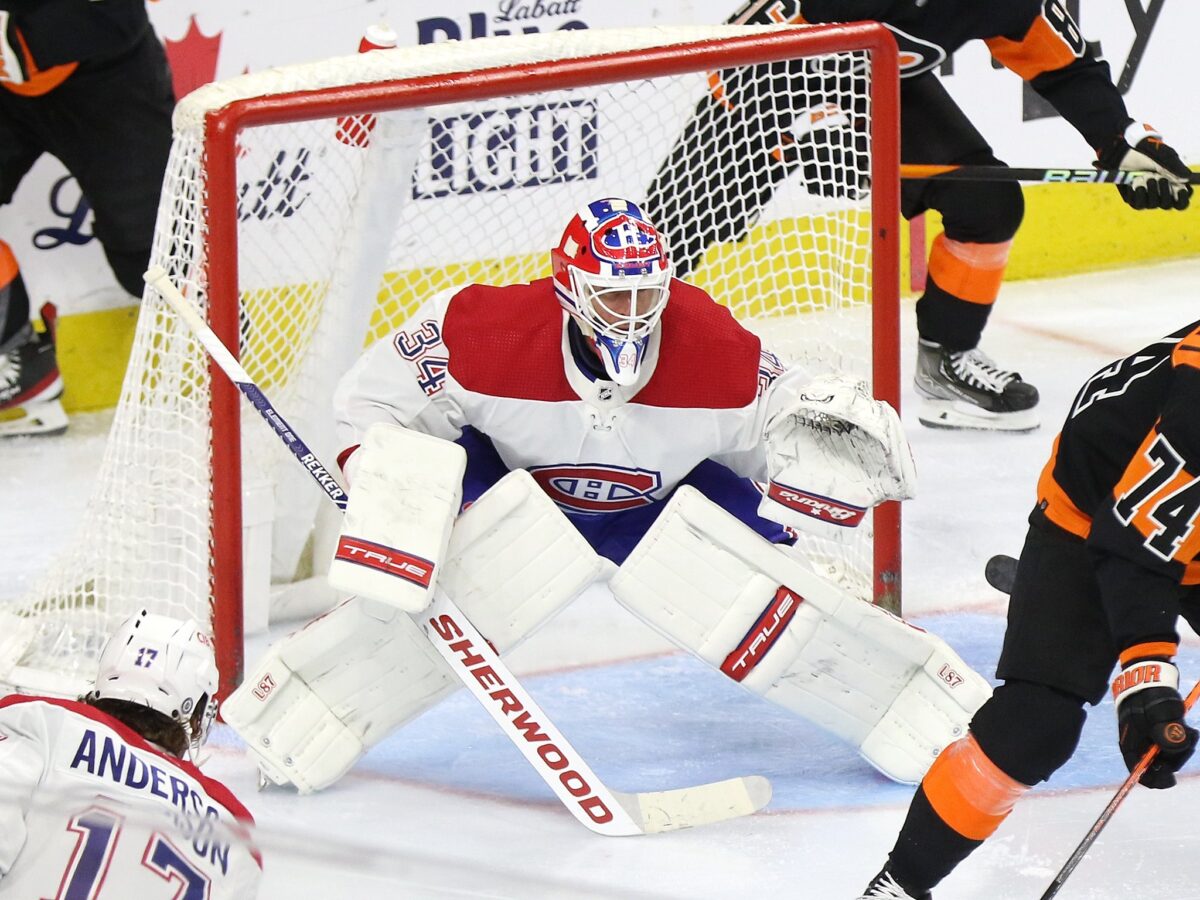 With Primeau no longer waiver-exempt, Hughes is either going to have to risk sneaking him through or trade (or bury) Allen. There is of course the option to carry three goalies, but it's incredibly unrealistic considering how few roster spots are up for grabs. There are so few, Hughes can actually afford not to re-sign specific restricted free agents. In some instances, it's probably even preferable he doesn't (more foreshadowing).
2. Denis Gurianov
Almost needless to say, that last line is in reference to forward Denis Gurianov. It certainly isn't regarding Cole Caufield. In any case, Gurianov obviously disappointed after coming over in a trade-deadline deal with the Dallas Stars for Evgeny Dadonov.
Gurianov scored just eight points in 23 games with the Canadiens, which is a mediocre 29-point pace and especially underwhelming considering Gurianov's status as a 2015 first-round pick. However, what's more depressing is he outperformed his production while with the Stars before the trade (nine points in 43 games).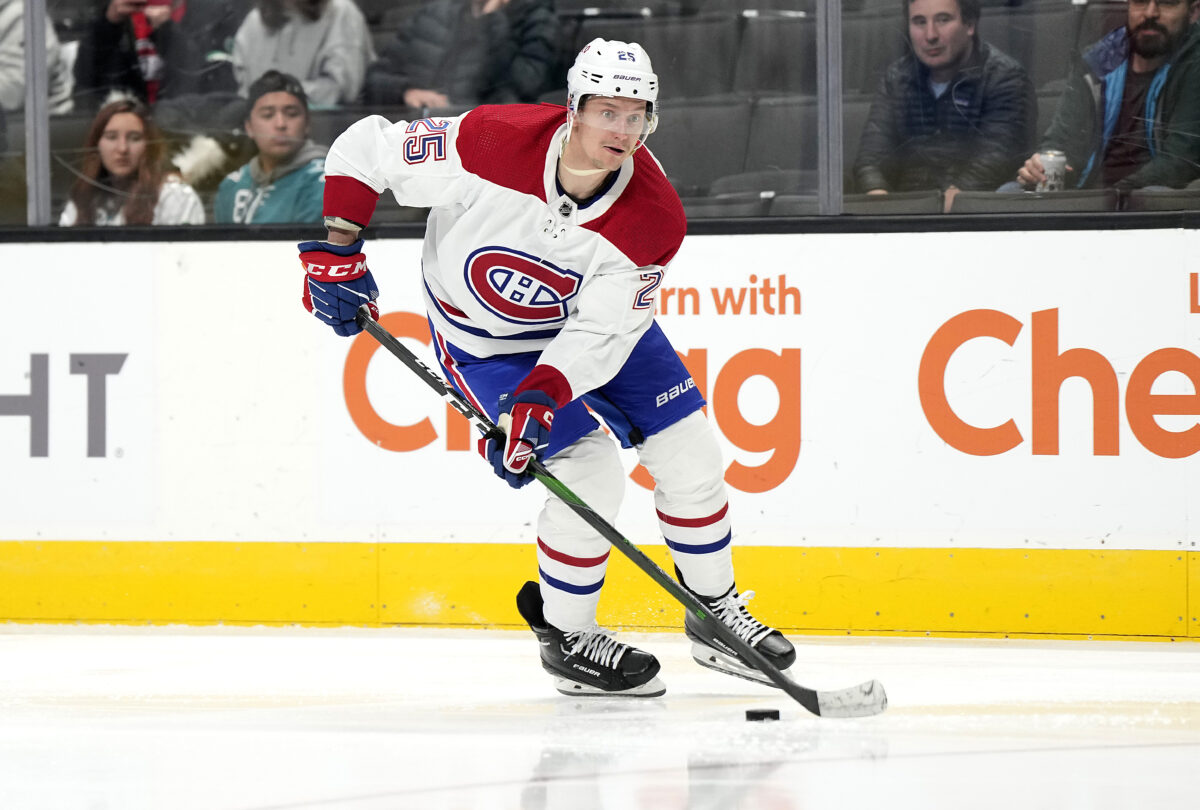 Hughes has to face the very real possibility Gurianov, who only once has scored 20 goals, but never more than 31 points, won't live up to his talent. If the Canadiens re-sign him, he'll only be useful in a top-six role as an offense-only forward. Then, he'll be taking away ice time from other forwards, with potential themselves (but with more of a chance of it getting realized).
So, Hughes should take the less-beaten path and walk away from Gurianov. It may not be what's usually done under these circumstances, cutting bait with a 26-year-old 12th-overall pick, but it's what needs to happen.
1. Joel Edmundson
It's not just that there isn't room for Edmundson on the roster (see Point 4), but also that he reportedly almost got dealt at the trade deadline. If there was interest then, there's sure to be interest in the summer, and, even though the Canadiens might not have been able to convince other teams to pay what they wanted, reality must be setting in for Hughes.
Edmundson may hold value from a leadership standpoint, but it isn't more than the value the Canadiens would be gaining from a developmental one, opening up a roster spot and enabling their young defensemen to get more ice time. That's especially true with veterans like Matheson and Savard likely staying put.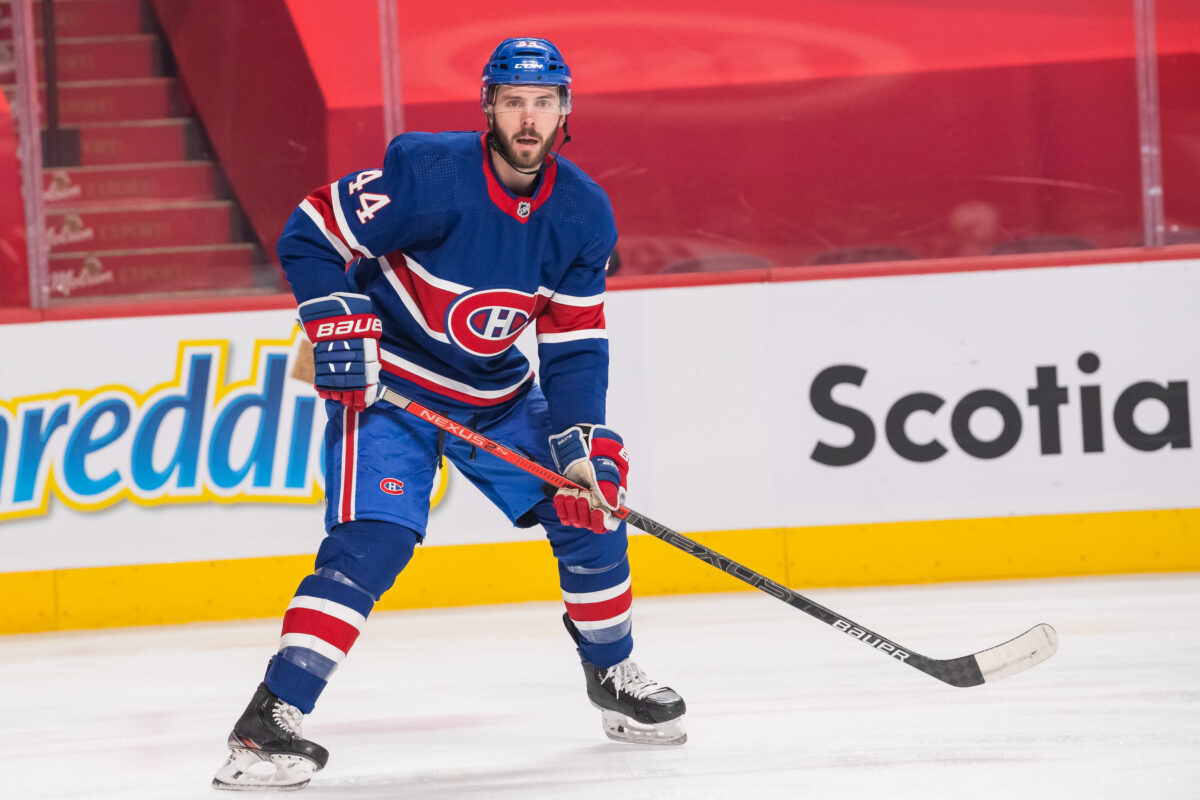 Like Hoffman, Edmundson is entering the last year of his deal. So, one way or another, he's certainly gone by the next deadline, regardless of what teams are willing to pay. However, unlike Hoffman, Edmundson has a very good chance of not returning at all.
Holding out hope that a team will pony up a high pick (or what have you) the longer you wait is one way to go, but it could end up just being a fool's errand, while, in the meantime, you devote valuable ice time to an oft-injured defenseman who's only proven himself a shell of the player he was just a few seasons ago… when the Canadiens are logically looking to be more competitive than in recent seasons. The smart money is on Hughes not being a fool.