Few analysts truthfully expected the Montreal Canadiens to be as competitive as they've been in 2022-23. Admittedly, that's in part a reflection of how badly 2021-22 went for the Habs to the point that the Canadiens, now a modest 12-10-1 a quarter of the way through the season, have pleasantly surprised just about everyone.
---
TicketIQ is the go-to marketplace for NHL tickets. If you'd like to see an NHL game without paying any of those pesky checkout fees, go to the TicketIQ website NOW and save 10-20% versus other sites like StubHub.
.
DOWNLOAD THE TICKETIQ APP —> https://bit.ly/TicketIQ_app
---
Even those calling for a full-scale rebuild must admit the Canadiens are a fairly hot ticket in town. After all, win or lose, they're for the most part in games start to finish, largely thanks to the culture instilled by head coach Martin St. Louis.
Even if that's arguably the most important takeaway, the undeniable fact is the Canadiens are winning games more often than anticipated. It's perhaps yet another sign of the generally low expectations entering this season, how the Habs' potential playoff push ranks last on this list of the top five pleasant surprises surrounding them this season so far:
---
Latest News & Highlights
---
5. Canadiens Two Points out of Playoffs
It's not just because a large portion of the Canadiens' fan base is on board with the idea of the team suffering through a second straight losing season for the sake of securing a high draft pick. The primary reason the Canadiens' relative success ranks as low as it does on this list is because, even though the Habs are just two points out of a playoff spot heading into Friday night action, they're also just four points out of 14th spot in the Eastern Conference.
---
---
Perhaps more to the point, the 18th-ranked Canadiens are indeed just five points out of 27th place overall. Throw the NHL Entry Draft ramifications out the window for a second. The Canadiens face a razor-think margin of error down the stretch. As a result, sticking to the plan, i.e., a rebuild instead of going for it, is simply the practical course of action.
The fact is, when you start the season with as many holes in the lineup as the Canadiens did, their success so far likely isn't a Cinderella story in the making. With all the signs pointing to a regression, it's likelier the same old one Habs fans have grown accustomed to, where they finish in no man's land, just outside of the playoff spot. It's a harsh truth, but a truth nevertheless.
Related: 5 Signs Canadiens Are in Fact Still Rebuilding in 2022-23
4. Samuel Montembeault in Net
Everyone knew heading in what Jake Allen was at least capable of on any given night, even if overall his career trajectory suggests his ceiling is that of an above-average backup. Coming off an impressive 45-save win over the Calgary Flames on Dec. 1, Allen was a difference-maker yet again, even if his 7-8 record, 3.40 goals-against average (GAA) and .898 save percentage (SV%) leave something to be desired (namely more consistency in front of him).
On the opposite end of the spectrum, his backup, Samuel Montembeault has impressed through and through, even if it's been in limited action. He's 5-2, with a 2.48 GAA and .924 SV%, far and away the best numbers he's ever posted. While Montembeault was the team's most used goalie last season, it was due to the injury situation in net, with Allen missing large stretches and Price only dressing to end the campaign. In comparison, Montembeault was 8-18-6, with a 3.77 GAA and .891 SV%. Overall, even with his success this season, he only has an .896 SV% in his career, further illustrating how far out of left field this is coming.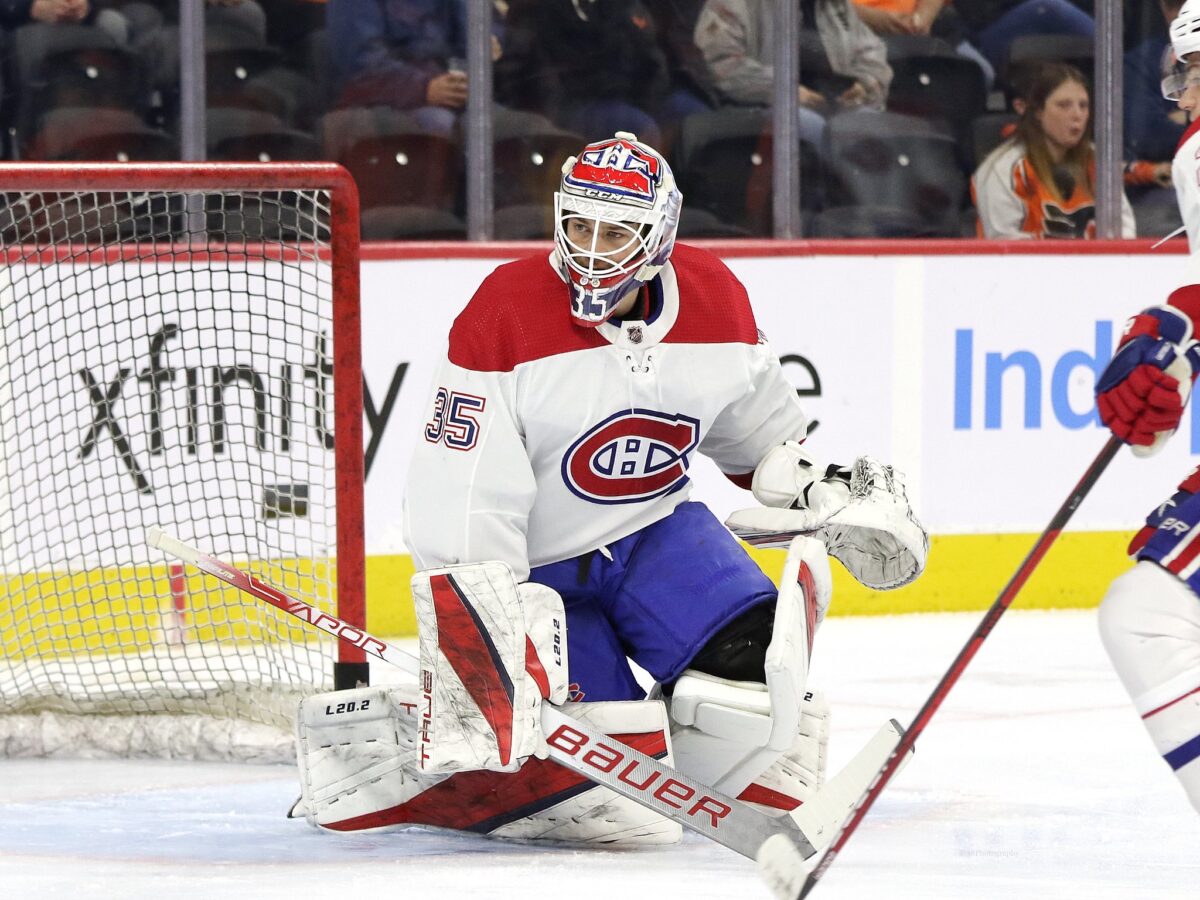 Even so, it's hard to read too much into it, unless Montembeault keeps it up the length of the season. The arguable idea would be for him to get more starts at Allen's expense, even if only for the Canadiens to see what exactly they have in Montembeault, because right now their eyes are seemingly deceiving them.
3. Cole Caufield, Nick Suzuki and Kirby Dach on Top Line
To a degree, forwards Cole Caufield and Nick Suzuki leading the charge up front is hardly a surprise based on their track records, justifying just the third spot here. Nevertheless, the degree to which they've been scoring has been impressive, with Caufield having scored a team-leading 13 goals (and 22 points) in 23 games. Meanwhile Suzuki's scored a team-leading 25 points (12 goals, albeit on an unsustainably high 25.5 shooting percentage).
What's been a greater surprise, again of the pleasant variety, is the newly acquired Kirby Dach joining in as their primary linemate, with four goals and 13 assists so far. Together, the three set a franchise record, each at 23 years of age or younger with at least 17 points over the Habs' first 20 games.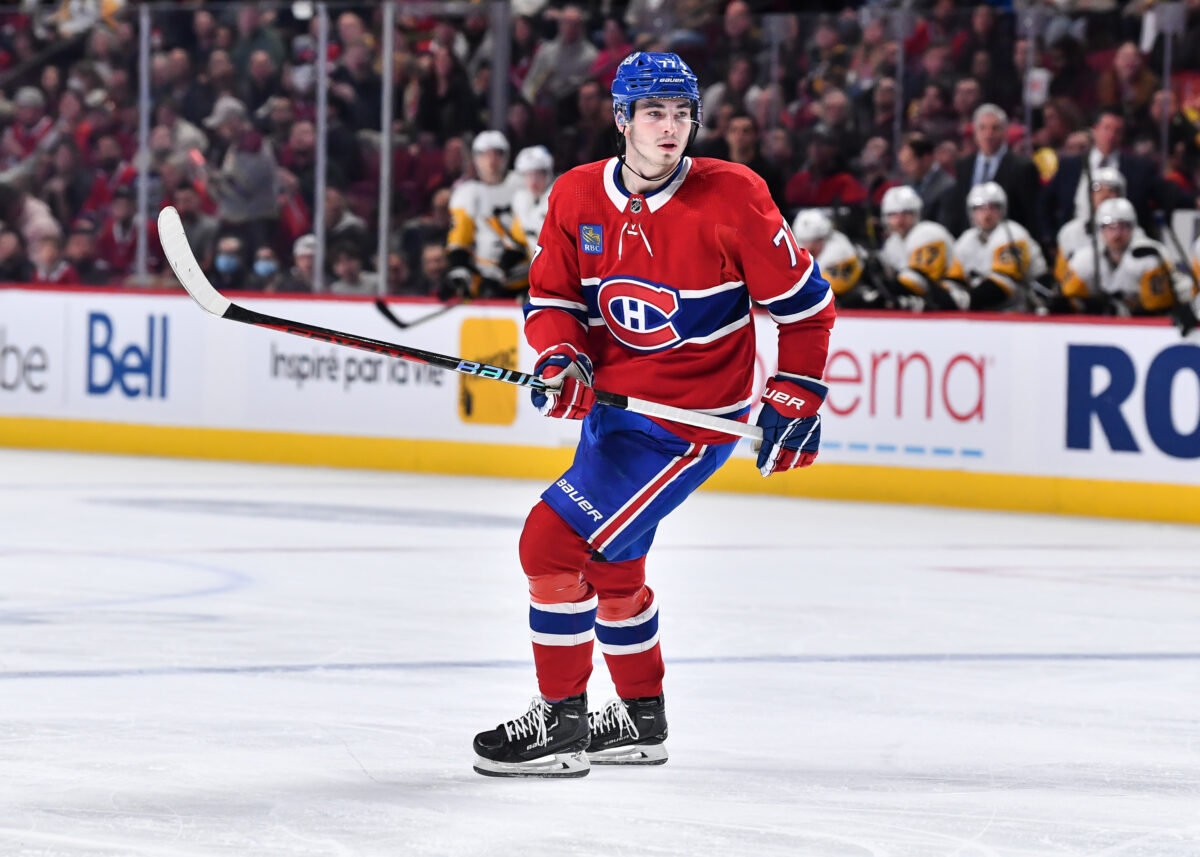 It all bodes well for the team's long-term prospects, especially as the Habs are projected to spread the wealth over multiple lines. Remember: Dach, a former third-overall pick who was acquired after a disappointing start to his career with the Chicago Blackhawks, was brought in at the 2022 NHL Entry Draft to center the second line, at least eventually.
2. Sean Monahan up Front
That's in part the beauty of the trade to acquire fellow-center Sean Monahan last summer. It gave the Canadiens the chance to insulate Dach. Instead of throwing him into the deep end right away, they could throw a proven veteran in down the middle instead and slowly bring him along.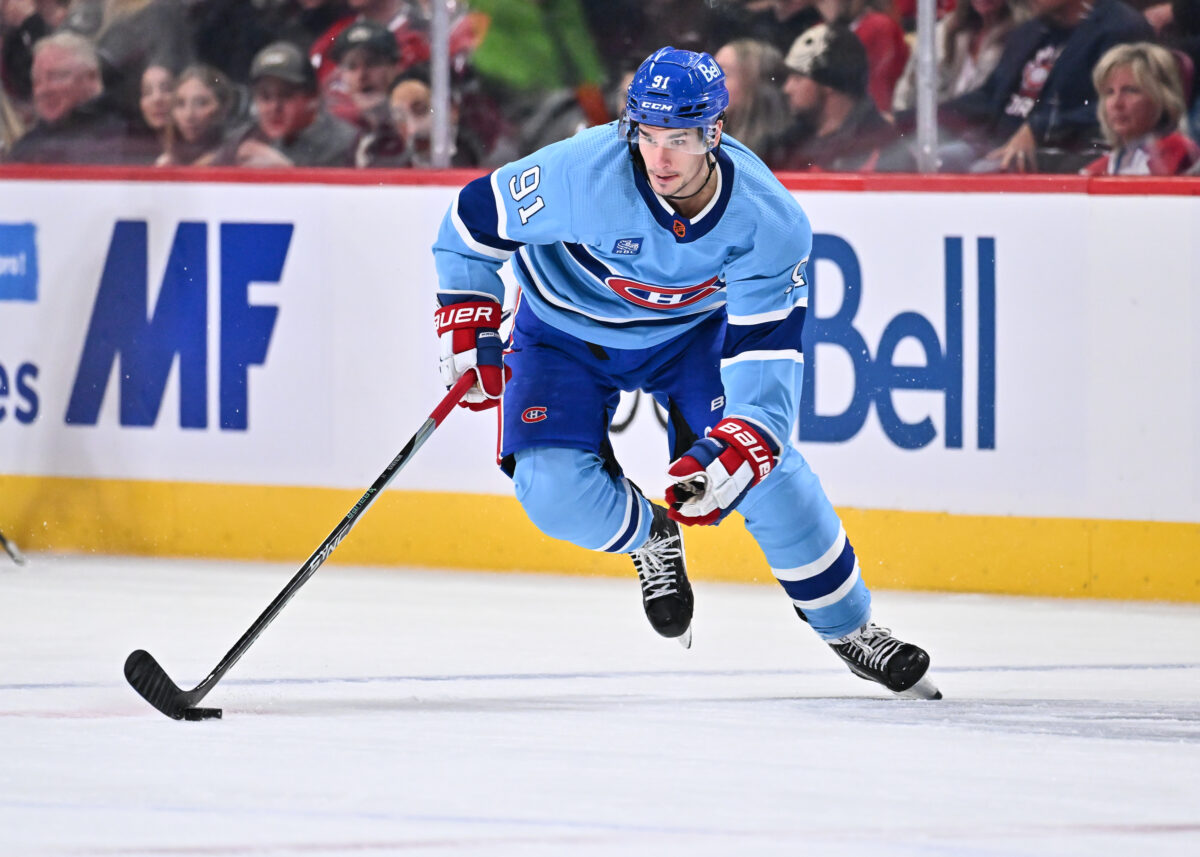 Still, few knew how effective Monahan would be, as he was coming off a second hip surgery in as many years, having scored just 99 points in 185 games since the 2019-20 season. Nevertheless, it was a low-risk acquisition for the simple reason Monahan has a solitary year left under contract.
Considering the Canadiens got a first-round pick from the Calgary Flames just to take on his contract (so they'd have space to sign Nazem Kadri) at no extra cost, it made sense to, especially in the context of a rebuild. That meant little to no pressure on either Dach or Monahan to perform, even if the hope was to flip the latter at the next trade deadline.
In fact, it was a quasi-realistic hope the Canadiens would be able to get yet another first-round pick for Monahan. Now that Monahan actually has more points (16) than Kadri (15) through 23 games, it's becoming abundantly clear that should be the expectation at this point.
1. Kaiden Guhle, Jordan Harris and Arber Xhekaj on Defense
On defense, the hypothetical plan heading into this season had probably been to implement a rotation on defense, to acclimate the Canadiens' top defensive prospects to NHL life. That plan, at least temporarily, went out the window with injuries to start the season to both Joel Edmundson and Mike Matheson on the left side, which gave the Canadiens little option but to give fellow-lefties Kaiden Guhle, Jordan Harris and Arber Xhekaj regular ice time.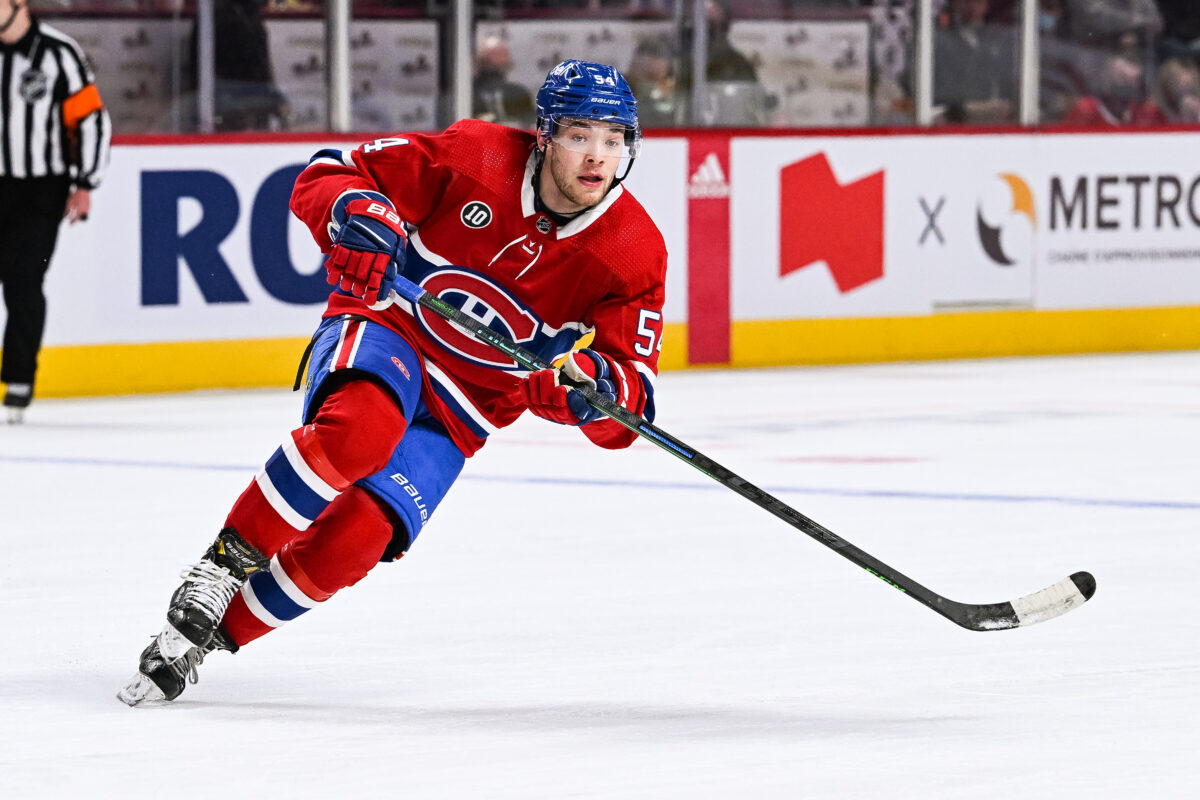 There have admittedly been growing pains in that the underlying numbers suggest only Harris (specifically beside Johnathan Kovacevic) is playing like a veteran. Furthermore, Xhekaj tends to get sheltered minutes. It's still important to acknowledge how none of the three have looked out of place, even if largely due to quality goaltending. As a result, they've stuck on the roster even with Edmundson and Matheson long having since returned.
Granted, that means that initially planned rotation in and out of the lineup is taking shape as we speak. However, the fact that the Canadiens haven't taken the opportunity to send any of the three down is a vote of confidence both in their quality of play right now and how the defense, specifically the left side, is taking shape for the future.
No, the future may not be now for the Canadiens. At least it shouldn't be by all rational accounts, but it is clearly closer than many people thought at the start of the season. That's a pleasant surprise in and of itself.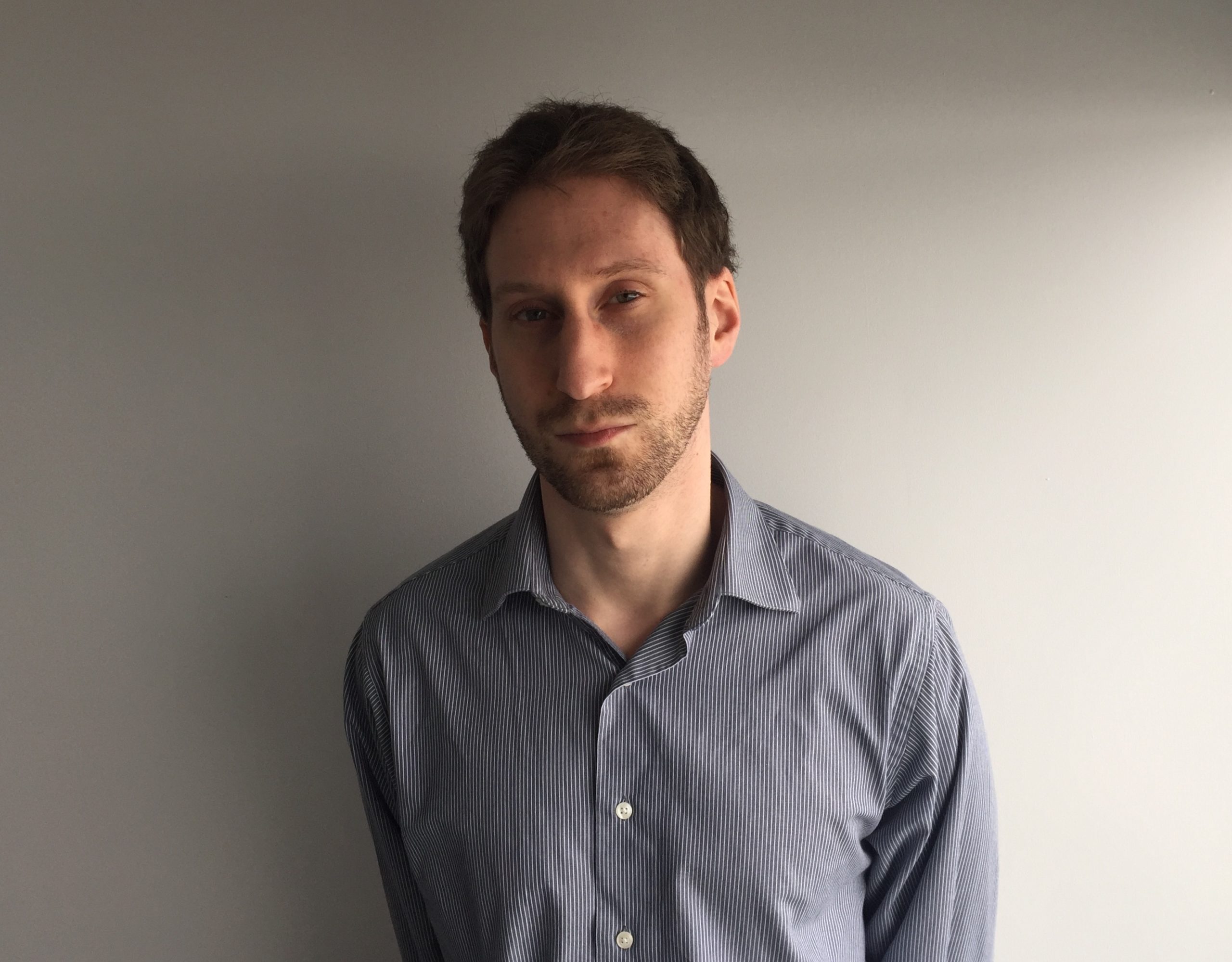 After 10 years of writing hockey, Ryan decided it was as good a time as any to actually join The Hockey Writers for the 2014-15 season. Having appeared as a guest on such programs as CBC Radio One's Daybreak, Ryan has also written for the Montreal Gazette and Bleacher Report and worked for the NHL itself and his hometown Montreal Canadiens. He currently writes about all things Habs for THW, with it being a career highlight for him to have covered the 2021 Stanley Cup Final as a credentialed member of the press.