The March 3 trade deadline has come and gone with Montreal Canadiens general manager (GM) Kent Hughes making only a couple of deals amounting to the addition of a depth defender, a mid-round draft pick, and a reclamation project in Denis Gurianov. By all accounts, a much more subdued deadline than the fan base had been hoping for. Unfortunately, the injuries sustained by several veterans that were expected to be trade chips for Hughes undercut any deals he was likely to attempt. 
---
---
Now, with the trade deadline over, Hughes will need to focus on the next step, which is the 2023 NHL Entry Draft. That two-day event is more than just a day where teams add promising prospects, it has also become a time for GMs to meet and make trades. For Montreal, that means that the work Hughes was hoping to do at the deadline is likely to continue. But now, if he wants to add any significant assets, he will need to sacrifice players he values.
Canadiens' Best Assets 
The Canadiens still have some very good trade assets that contending teams will want to add to their rosters in the offseason. They still hold one more – of the three allowed per team – option to retain salary until July 1. At that time, the two salary retentions (Evgenii Dadonov 50%, Nick Bonino 50%) will be off the books and Hughes will have three available to him again. Because of this, they have the option to retain salary in trades made at the NHL Entry Draft. Yet, by far their two best assets to trade are Josh Anderson and Joel Edmundson. 
"There were other players where we said we may, or we may not. We don't have to do this. If the situation presents itself where we think we can be advancing our objectives here, we'll do it. If not, we won't, but (my) door's open. Obviously, Eddy's name's been out a lot. Josh's name's out all the time, it seems like, at least since I've been here. So, I met with both of them, just to say that I'm watching some of this stuff on TV. It's not necessarily accurate, I can't really control speculation so if you have questions or you're uptight about anything, just come see me and I'll just try to tell you what I can tell you, without lying." 

-Kent Hughes (Arpon Basu, Canadiens trade deadline: If Josh Anderson is truly in demand, a deal now makes sense, The Athletic, 10 Feb 2023) 
This comment tells us three things. First, Hughes includes the players in the process as much as possible, giving them the peace of mind to allow them to focus on the game and not the business. Second, the demand for these two players is high, even in mid-season. Salary is not easy to move in-season, so the fact teams have the desire to discuss it points to a market for both players. Finally, they aren't "untouchables" to the Canadiens. Hughes is willing to deal them, as long as his set price is met. 
Canadiens' Power Horse  
Josh Anderson, also known as "Power Horse" by Habs fans, was a target of conversation at the trade deadline. However, the talk surrounding him didn't materialize into a trade, so for now the 28-year-old right-winger will be looked to maintain his top-six role and play his power-forward style. With 18 goals to his credit so far, putting him on pace for 23, on a weak Canadiens lineup, he is showing he has significant value.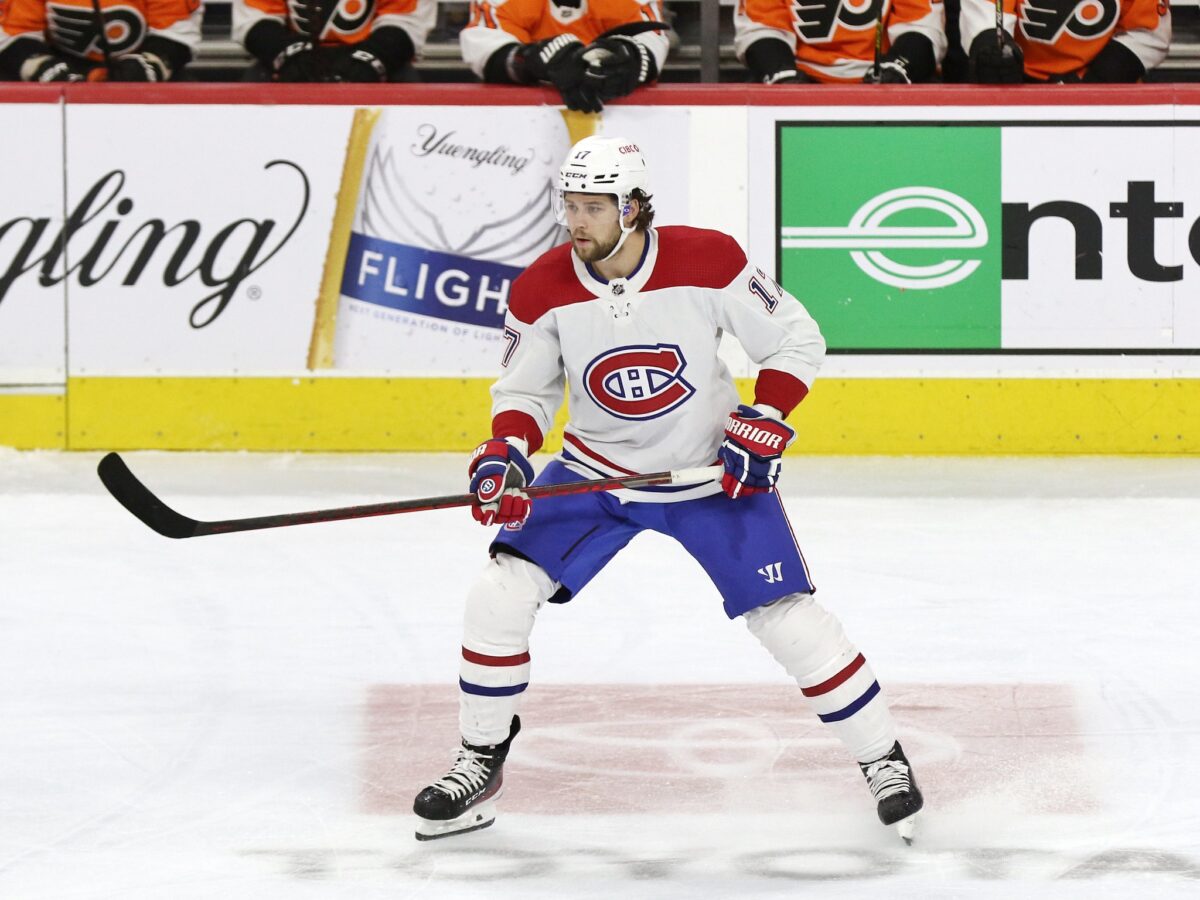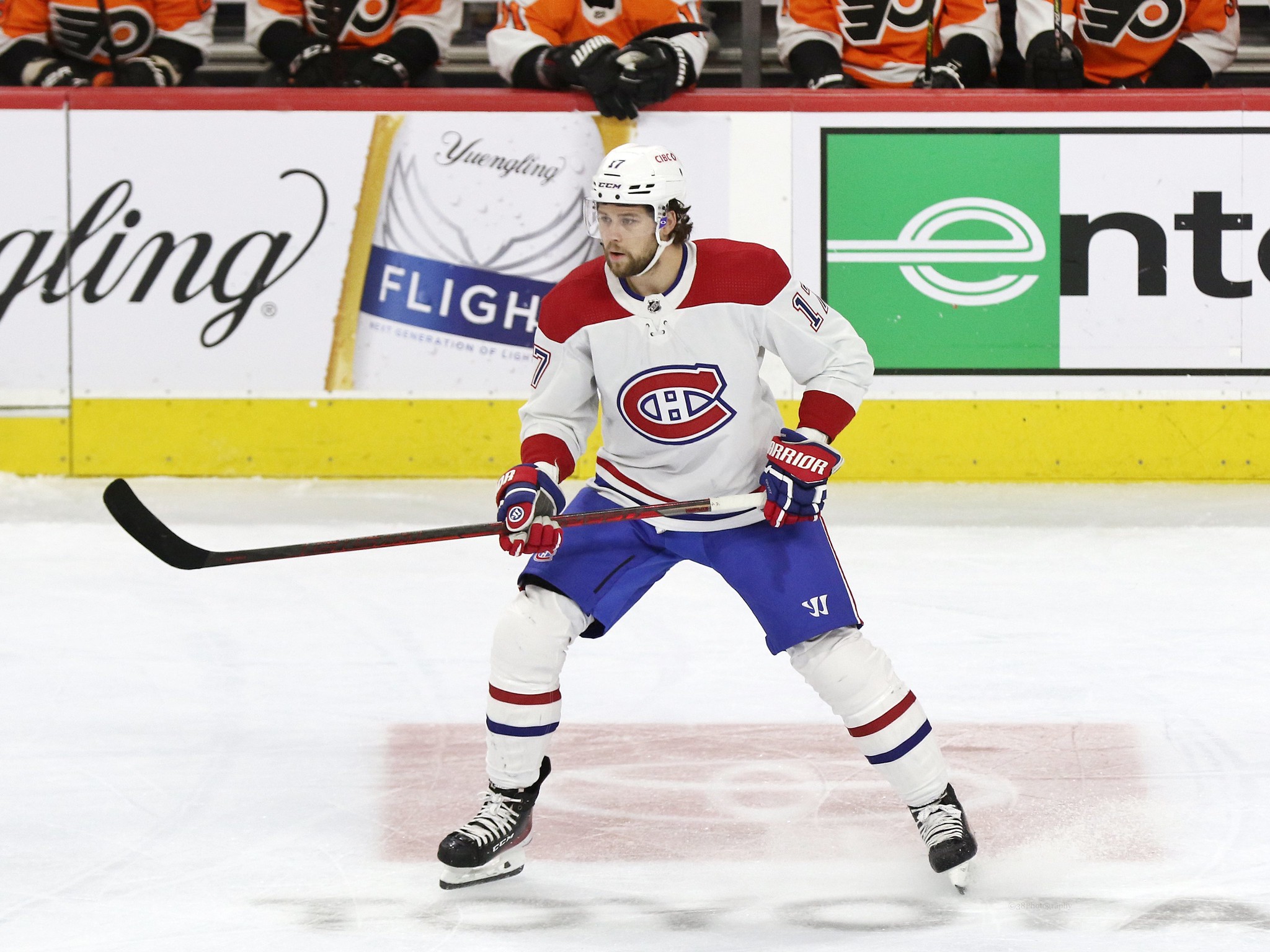 The ability to add around 25 goals per year is a good asset, especially when he carries a salary-cap hit of $5.5 million until 2027. But his bigger asset is his impact in the playoffs. He's physical, he has speed, and the two combined in a seven-game playoff series can have a significant effect on opposing defenses who need to deal with the constant physical punishment he dishes out on the forecheck. That wears down opponents, allowing him to use his 6-foot-3, 238-pound frame to gain and keep possession in the offensive zone, playing a cycle game, then attacking the net. Doing all that, with that size and having the ability as a legit top-six forward is a rare combination in the NHL. 
Related: Canadiens' Kaiden Guhle Exceeds Expectations 
---
Latest News & Highlights
---
It's clear Hughes likes Anderson and what he brings to the team. However, at 28 years old, he is in his prime productive years now, which fits a contender but not a rebuilding team. He is likely to be on the decline once Montreal is ready to contend. Moving him out this summer for a return that would likely include a 2023 first-round pick and/or a top prospect would have a better chance of advancing the Habs' objectives than keeping him. Look to teams that want to compete for a deep playoff run in 2024 such as the Toronto Maple Leafs, Calgary Flames, Edmonton Oilers, and Carolina Hurricanes to have interest in adding that gritty, physical element to their lineups. 
Canadiens' Backbone 
With the trade deadline in the past, Joel Edmundson has the means and the motivation to showcase himself. While he wants to stay with and play for the Canadiens, at 29 years old and a veteran defenseman with only one more year on his contract paying him $3.5 million, he is aware that hockey is a business. The way the Canadiens' rookie defensemen have played this season with Edmundson out injured has to be proof that they can thrive without him. Even more so because his absence on the left side of the blue line allowed Kaiden Guhle, Jordan Harris, and Arber Xhekaj more ice time and larger roles to show they belong. 
Hughes has also made it clear that the development of the younger players is a priority and that if one is playing well and challenging a veteran in the last year of a deal, that veteran could be sacrificed for the team's long-term goals. It would seem that Edmundson is aware of that and that his time in Montreal may be coming to an end this summer as he is resigned to focusing on the remaining day-to-day grind of the season. 
"So just jumping up in the play and creating some offense. I just want to be a leader to these young guys. That's kind of my main focus. Someone they can look up to for the remaining 20-some games."

– Joel Edmundson (Stu Cowen, Canadiens put up a valiant effort, but lose 4-3 in Las Vegas, Montreal Gazette, 5 Mar 2023) 
Edmundson not getting moved at the deadline wasn't for a lack of interest, it was more to do with uncertainty surrounding the status of his back injury. 
While he has good mobility, solid transitional play, a large frame, and an ability to play physically, the importance of Edmundson's health over the remaining schedule of the 2022-23 season can't be understated if the Canadiens hope to maximize any trade return.  
Hughes had the luxury of time as there's another year on his contract and two more prime windows (the draft and the 2024 Trade Deadline) for the Habs to build interest. The ideal window for Montreal to make a deal is at the draft. If Edmundson can remain healthy over the final 20 or so games of the regular season playing a meaningful role, Hughes may be able to get the high price he has set for the defenseman, and that price is likely the same as the one he got in the Ben Chiarot trade. 
While Canadiens fans had hoped for more than the quiet deadline they witnessed, they should be relieved that their GM didn't panic and take just any offer he was given. Going into the summer, the Habs have cap space, the ability to retain salary on a deal, and veteran assets that contending teams value. Now, fans will get a better understanding of the time frame Hughes has in place for his plan. Moving out players he values such as Edmundson and Anderson, and what he demands in return will provide fans the clues to decipher if he wants to contend in less than three years or not. If the future is his main focus, the best time to move these veterans with term will be at the 2023 Draft, and the returns will likely provide significant assets to support the young core moving forward.