The Montreal Canadiens prospect pool is bursting with talent. Many of the 28 draft picks since the 2020 NHL Entry Draft have provided performances that gathered significant attention from the Montreal fanbase, while some others have not received much attention. This list of Habs' prospects is those who remain in the Canadian Hockey League (CHL) Playoffs as members of teams that have won the championship in each of their respective leagues and are now moving on to the Memorial Cup tournament for junior hockey supremacy. 
Related: QMJHL Final – Remparts End 47-Year Championship Drought 
There are now only two Canadiens prospects still playing junior hockey this spring and on their way to Kamloops, BC. This is a look at the path the two remaining Habs prospects have had in the playoffs, and what they provide to their respective teams.
Jared Davidson – C, Seattle Thunderbirds (WHL)   
When Jared Davidson's name was called at the 2022 NHL Entry Draft, very few people outside of the scouting community knew much about the Western Hockey League (WHL) product. The Canadiens took a chance selecting the left-handed center in the fifth round in his second season of eligibility.
Davidson had an excellent regular season with 38 goals and 82 points in 60 games played, making him the leading scorer for the Seattle Thunderbirds and 16th in the WHL in scoring. In the playoffs, as the Thunderbirds' top center, he continued his high level of offensive production scoring 11 goals and 23 points in 19 playoff games on the way to winning the WHL Championship. He now also holds the Thunderbirds' franchise record for playoff goals.
Davidson's natural style as a gritty, physical player with a non-stop work ethic and the determination of a junkyard dog make him an ideal candidate to play an important middle-six role for the American Hockey League (AHL)'s Laval Rocket next season. He has consistently been a frustrating player to play against because of his consistent puck pursuit. Canadiens fans may recognize that style, as Brendan Gallagher has played that way for a decade in the Bleu, Blanc et Rouge.
---
Latest News & Highlights
---
Hardworking, determined, and intense players with character are what the Canadiens have been looking to add to their system, and Davidson meets all of those requirements. He has leadership skills too, as he was the first one that was handed the Ed Chynoweth Cup which points to his impact in the dressing room and the respect he has earned from his peers. He is now going to play in the Memorial Cup tournament for the first time in his career. 
Owen Beck – C, Peterborough Petes (OHL)   
It can be argued that Owen Beck is now the Canadiens' top prospect at center. He was an alternate captain of the Ontario Hockey League's (OHL) Mississauga Steelheads before his trade to the Peterborough Petes. Since his arrival there, he has slowly gained momentum offensively. In the playoffs, he has eight goals and 16 points in 20 games played.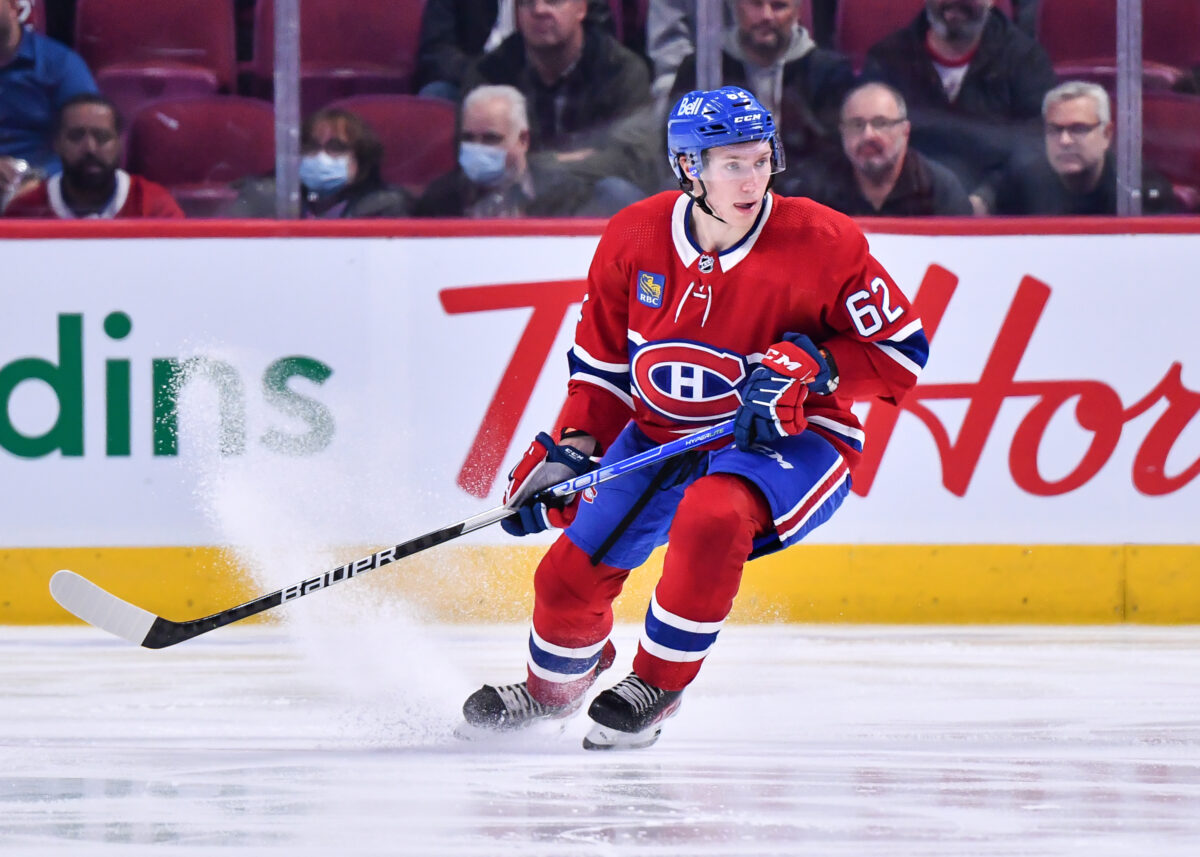 Beck can read and anticipate plays over the entire 200 feet of the ice surface. His hockey IQ, mobility, speed, and vision also help him to play an effective penalty-killing and shutdown center role. He is more than just a reliable two-way pivot and energy player; he can fill a top center role and has shown he is an elite two-way center at the OHL level. 
Selected in the second round of the 2022 NHL Entry Draft, Beck has proven his worth again and again providing the Petes with a shutdown center who can also provide offense, similar to what Canadiens fans saw from Phillip Danault in his time in Montreal. He was not only head coach Rob Wilson's go-to center in every defensive situation but he was also trusted to take nearly every faceoff in key moments or late in the game. This may explain why Peterborough made a blockbuster trade to acquire him from the Mississauga Steelheads. This move, adding one of the OHL's top centers and faceoff men, may have been the most important of the OHL Trade Deadline.
"Owen is a strong two-way center who is very good on faceoffs, plays hard in all three zones and is known for being one of the hardest workers in each game" 

–Michael Oke, Peterborough Petes general manager 
Before he was suspended after Game 5 for the remainder of the OHL season (which was one game), Beck had started to thrive and especially so as the checking became tighter and the games grew in importance. He showed an ability to provide clutch performances in big moments. 
Beck has proven that he is not just a shutdown center, he has shown he can play an intense and physical brand of hockey under intense pressure, and deliver. The Petes won the J. Ross Robertson Cup as OHL champions, but if Beck wasn't on the roster, it is highly unlikely they hoist that Cup. That is how impactful he has been, not just on the scoreboard, but his ability to shut down some of the best offensive lines in the league.  
---
---
With the Memorial Cup to be held in Kamloops and scheduled for May 26 to June 4, Canadiens' fans will have a vested interest in watching the games unfold as they get an opportunity to see both Davidson and Beck play key roles on the national stage against the best teams that the CHL can provide.