The Seattle Kraken enter the 2023 NHL Entry Draft holding the 20th overall selection. Historically, this pick has produced some strong NHL talent, including Scott Laughton, Nick Schmaltz and Robert Thomas.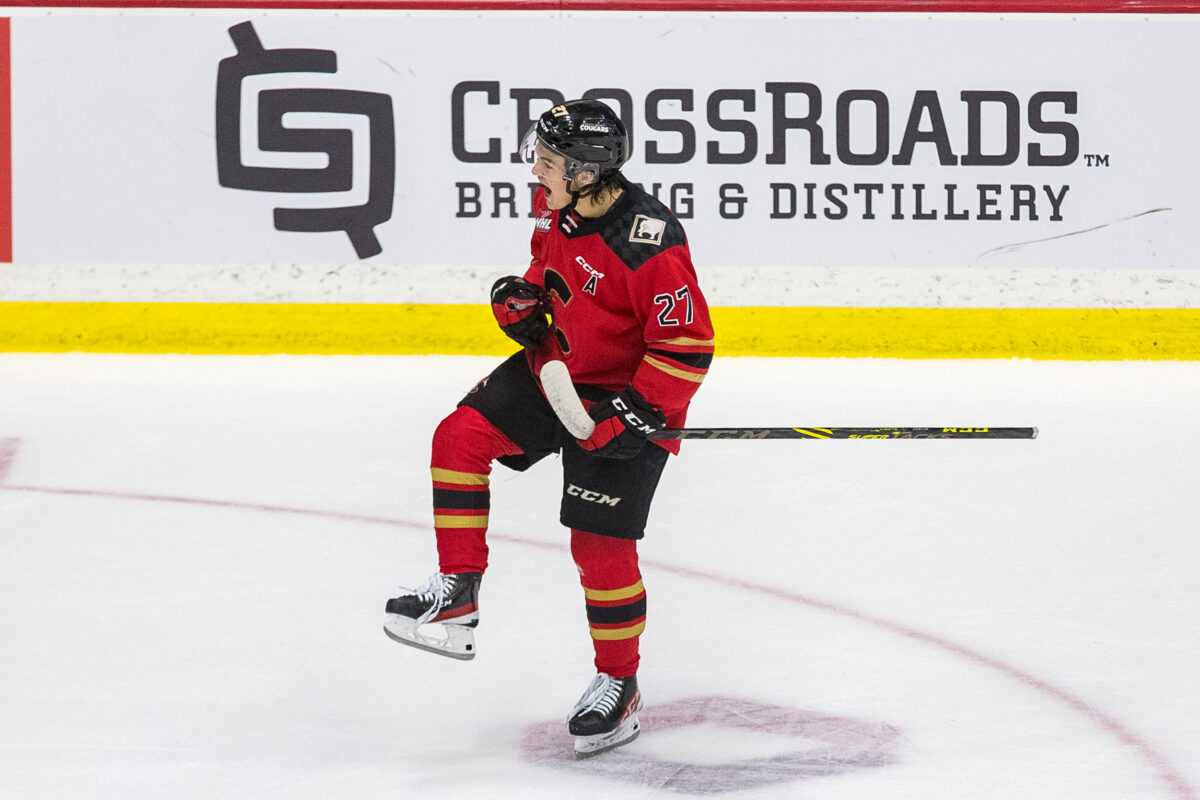 The hope is whoever Seattle selects can become an impact player for the foreseeable future, with one of those possibilities being Prince George Cougars center Riley Heidt.
Heidt's Scouting Report
Few players in this draft class are better playmakers than Heidt. In 68 regular season games this season, he finished tied with Connor Bedard for the Western Hockey League (WHL) lead in assists with 72 while adding an additional six in nine playoff games. He also has a dangerous shot that helped him hit the 25-goal mark for the first time in his career. Overall, he is a very versatile player that coaches can feel confident playing in any situation.
Related: 2023 NHL Draft Guide
One of Heidt's underrated traits is his skating. He has a smooth stride and can maintain puck control even at full speed. Where his skating is on full display is in the offensive zone, as he is a player that likes to move around and create openings for himself and his teammates. He is also great on the forecheck, as he can beat out the opposition to loose pucks and is strong enough on his skates that he doesn't get knocked down often. These are all traits that should help him as he progresses to the pro level.
After a strong end to the season which saw him post a ten-game point streak heading into the playoffs, Hedit finished ranked 21st among North American Skaters on NHL's Central Scouting list. This was a slight bump for his midseason rank of 26th, showing that as the year progressed, he did enough from a development standpoint to impress scouts from around the league. He is a can't-miss prospect and, if available at 20th overall, would be an excellent selection by the Kraken.
Heidt's Statistics
Why The Kraken Should Be Interested
If Heidt is available, Seattle should jump at the opportunity to draft him, as they do not have an elite playmaker like him in their system. The Kraken have done a great job of drafting players who can score; now they need to select someone that can get them the puck. Heidt fits that need as not only is he one of the best passers in the draft, but one of the best in the entire WHL.
Related: Riley Heidt – 2023 NHL Draft Prospect Profile
---
Latest News & Highlights
---
The other reason Seattle should be interested in Heidt is his skating. He demonstrated throughout the season just how dangerous he is in the transition game and also how strong of a forechecker he is. These are traits that match up well with how the Kraken like to play, which could make his transition to the NHL team easier when the time comes.
Why the Kraken May Stay Away
The main reason the Kraken may stay away is Heidt's size. He is currently listed at 5-foot-11, 179 pounds which doesn't match with how Seattle has built their team. Over the past two seasons, the Kraken have made 18 draft selections, with only two of those players being 5-foot-11 or shorter and 179 pounds or lighter. Both those picks came in the 2022 Draft in Jagger Firkus and David Goyette. It is clear Seattle likes to draft bigger players, which could lead them to pass on him at the draft.
One other reason is that the Kraken may choose to focus on their defence core with their first-round pick rather than add another forward. Seattle has only drafted four defencemen over the past two drafts and need to add more depth to this group. While Heidt may be the best player available, adding a strong defender may be the better choice based on their current prospect pool.
Verdict
While there are some risks to drafting Heidt, he is talented enough that the Kraken may regret passing on him if he is available. It is not often a player like him is available past the midway point of the first round, but he may slip based on how deep this draft class is. If Seattle has the opportunity to select him at 20th overall, they should jump at the chance to add him to their organization.
---
---