The Chicago Blackhawks won the 2023 NHL Draft Lottery, and with that, they will have the right to select Connor Bedard at the top of the draft. Bedard has been one of the best prospects since Connor McDavid, and while it is tough to project his true NHL ceiling, he looks as promising as could be.
The term "generational talent" is thrown around too loosely, as that title only applies to players like McDavid and Sidney Crosby, but Bedard is on track to be the next name on that list. He is going to completely change the course of the Blackhawks' rebuild, but what if the Blackhawks are looking to contend next season and decide to trade the pick?
Related: 2023 NHL Draft Guide
It would take a lot more than a 1-for-1 swap with another player, but if it were to happen in this hypothetical world, there are only four players in the NHL that would be too much to offer straight up for the first pick.
A Few Words From THW's Brooke LoFurno
Brooke LoFurno is one of the writers for the Chicago Blackhawks here at The Hockey Writers, so I asked for some of her input on this topic from the organizations' perspective.
"With the NHL, I don't think you can take trading a first overall pick off the table because anyone could be moved at the right price…"
We have seen this before. Most notably when Brian Burke maneuvered his way into selecting the Sedin twins with the second- and third-overall picks, which took a lot of work, including acquiring then dealing the 1999 first-overall selection.
"The thing that is getting me is that the 'Hawks need someone like Bedard to lead them for the next 15-plus years since Kane and Toews left, so age is a factor here. Anyone pushing 30 would probably be a no-go and they have to match Bedard's skill set with scoring, skating, IQ, etc."
Brooke is bang-on with this analysis. With Jonathan Toews and Patrick Kane's era coming to an end, they are set to select their next franchise-altering cornerstone piece that will (hopefully, for them) lead them to another decade or more of team success.
Connor McDavid
The most talented player the NHL has ever seen would certainly be off the table in any trade, and while Bedard has had pre-draft seasons on par with McDavid's, the odds that Bedard develops into a 150-point player are low. McDavid is constantly in the highlight reels around the league, and at an annual average value (AAV) of $12.5 million, he is the most underpaid player in the league. He should be getting the league maximum.
It has been near three decades since we have seen a season as good as the one McDavid had in 2022-23, and at just 26 years old, he is still in his golden years. McDavid is making his case better with each passing season that he should be talked about as one of the NHL's all-time greats, and by the end of his career, could be challenging for a top-three player in the league's history.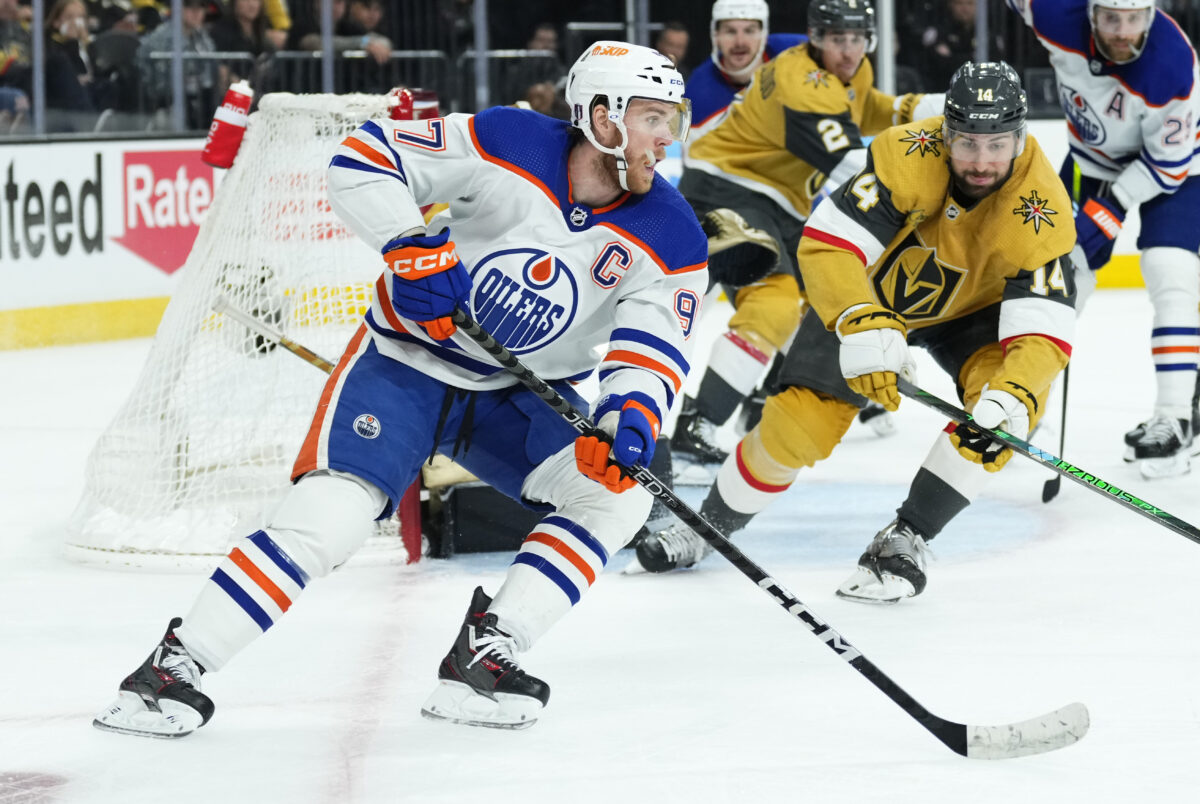 There is no player or draft pick anywhere close to McDavid's value. Even with all of the projected hype around Bedard, anything can happen. A bad injury, mismanaged development, or even an underwhelming transition to the NHL. Nothing is ever guaranteed, especially in a prospect.
Leon Draisaitl
Leon Draisaitl is the second Edmonton Oiler to appear here. Draisaitl has been one of the league's best playmakers, and is still a 50-goal scorer. He is the second best player in the NHL, and has been contending for that spot each season on a consistent basis. If you aren't sold on him being better that some of the other players in that conversation, look no further than his playoff production and dedication.
Draisaitl is third in NHL history in playoff points-per-game. In his 32-point performance in just 16 games in 2021-22, he played half of those games on just one foot. Even without the ability to skate near an NHL level, he was still producing. He would fight to get to the bench after every shift. This is just a snippet into how good he is. What makes his goal-scoring ability especially unique and effective is his stick blade and utilization. He has a giant blade, and regardless of whether he is approaching with an open or closed-faced blade, he can release it at any point.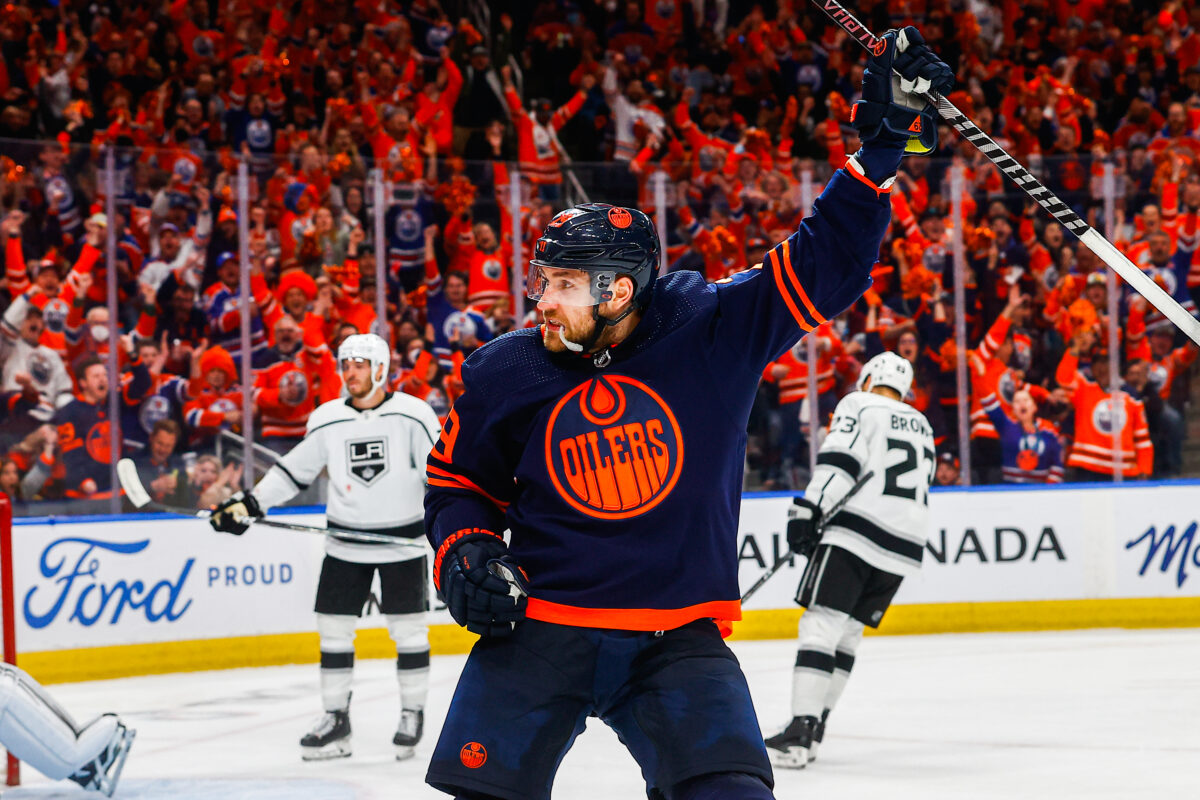 He is extremely dedicated to winning, and while the Oilers have been failed by Ken Holland's roster construction, he and McDavid have done more than their fair share and proven that playoff success isn't a two-man job. At just $8 million per season, Draisaitl has one of the best value deals. The German superstar will be due a big raise in two seasons, but regardless of his price tag, all of the same things can be said about him as McDavid. You don't trade a talent like this, especially due to his playoff performances, for a bet in a prospect.
Nathan MacKinnon
The highest paid player in the NHL earned that contract for a reason. Coming in at just $100,000 more than McDavid's AAV, it was clear that MacKinnon's intention was to earn that title when negotiating his contract. Most of the same things said about Draisatil can be said about MacKinnon. It took a while for the Colorado Avalanche to find themselves in playoff contention after drafting MacKinnon in 2013, but once they built a strong roster, they are constantly in the Stanley Cup contender conversation, and that is because he is leading the way.
Just barely trailing Draisaitl's career playoff points per game, MacKinnon sits sixth all-time in the category. What makes him extra special is that he isn't just a point producer, but he is also a tank on the ice. He can explode with speed unlike most can in the NHL, and his size and power makes him impossible to strip the puck off of. While McDavid's skating and stick-handling abilities are unmatched, watching MacKinnon play with his skillset makes you wonder who is more effective at carrying the puck.
With another eight years under contract, and the Avalanche in a prime contention window, trading the Nova Scotian superstar would be foolish. Sure, you might look at the ceiling of Bedard as higher than MacKinnon, but, like Mackinnon, sometimes it takes a little bit to establish yourself as a true superstar in the NHL, even with lots of hype and pre-draft success.
Cale Makar
This may be a controversial take, but Cale Makar is the final player to join this list. There hasn't been many defensemen to come through the NHL in the past 40 years like Makar. He has already set Avalanche franchise records including single-season point production with 86 points in 2021-22. Not to mention that four seasons into his NHL career, he is over a point-per-game player.
What makes Makar even more valuable is his two-way game. You may look at his stats and compare him to the likes of Erik Karlsson, which could be a fair comparison offensively, but it is worth noting that before Karlsson's 100-point season this year, Makar had a higher single-season point total than Karlsson ever had. What makes the comparison even more tilted in Makar's favor is that he is one of the best defenders in the league, which is a conversation Karlsson was never a part of.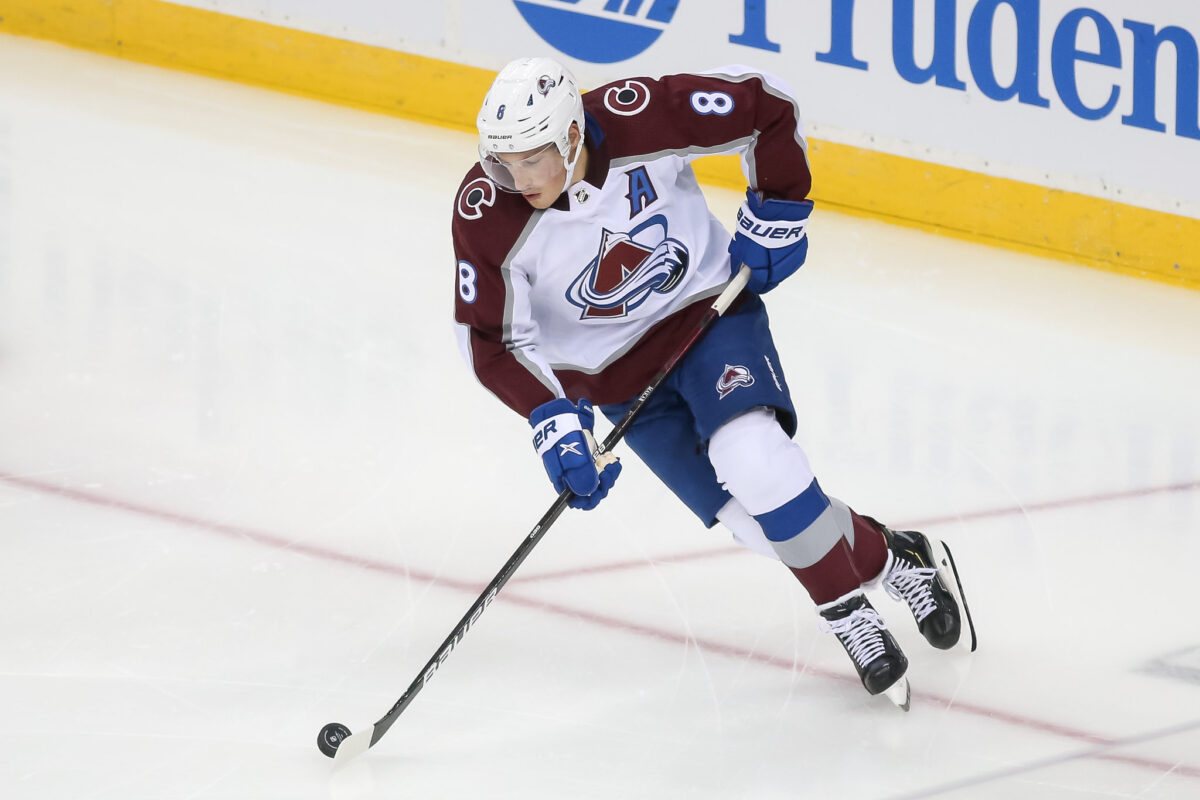 I talked a lot about Karlsson, not just to compare their offensive abilities, but in 2017, Karlsson was regarded as the second-best player in the league behind Crosby, and Makar is even better. Just because you may not picture Makar as one of the top two or three players doesn't mean he isn't as valuable, there is just a lot more league-wide talent.
---
Latest News & Highlights
---
In the 2022-23 season, Makar was a Norris Trophy nominee with only 60 games, and that isn't just a name-value nomination. Sure, you could argue that Josh Morrissey, Miro Heiskanen or Rasmus Dahlin should have been in there instead, but the impact Makar made in 60 games is on par with all of the other who played plenty more. Makar is an extremely special type of defenseman.
Maybe… But Probably Not
There are a few other players around the league that deserve to be part of the conversation, but just don't quite get there for me for their own specific reasons.
Auston Matthews
Auston Matthews not being on this list may upset a few, but bear with me. He in an incredible goal scorer, and with 141 goals in his last 199 games, you don't find production like that very easily. Part of what sets me back from that is his current contract situation, as he is eligible for unrestricted free agency after next season and can choose his destination. The other part is his playoff performances. I don't want to add to the piling-on that Toronto Maple Leafs fans may have received after a disappointing loss to the Florida Panthers, but going without a goal in the second round is unacceptable for a player of his level. His point-per-game performance was fine in general, but he is missing that "It-Factor" in the playoffs.
Nikita Kucherov
Nikita Kucherov has had some immaculate seasons, including a 128-point campaign in 2018-19, and his 99 points over the past four playoffs leads the NHL in that span with a 28-point gap on second place. He has been one of the league's top point scorers, but his age of 29 might turn many away from swapping a potential generational 18-year-old talent. Again, these players here are certainly in the conversation, but just miss for me.
David Pastrnak
A 2023 Hart Trophy candidate, 60-goal scorer and locked up for eight years? There is not much to complain about with David Pastrnak. He is one of the league's top players, but just doesn't match the potential that Bedard is projected to bring. There isn't anything to knock on Pastrnak's game; he is an excellent player, hence why he made it into this category. There isn't much more he could improve on, but he just doesn't sit among the top players in the NHL quite yet.
More Arguments to be Made for Other Superstars
There is certainly an argument to be made for the three honorable mentions, and I could even hear the conversation from some on Adam Fox, Mitch Marner or Matthew Tkachuk, but the four initially mentioned are the only ones that would truly be off the table for me.
Bedard is going to be an extremely exciting player to watch for many years to come. Even if he doesn't end up playing to his full potential that many are projecting, his skills alone will make watching Blackhawks games extremely entertaining.
---
---