Welcome to the Vancouver Canucks 2022-23 report card series. In this series, we at The Hockey Writers look back at each Canucks player from the past season, break down how their campaign went and assign a letter grade reflective of their overall performance. This edition will focus on center Elias Pettersson.
Pettersson Vaults Into Superstar Status
The 2022-23 campaign will be remembered as the season Pettersson took the next step in his development and became a superstar. He recorded the seventh 100-point season in Canucks history, recording 102 in 80 games, while also establishing career highs in goals with 39 and assists with 63. During the season, he also jumped into the top-25 for all-time scoring in Vancouver's history, finishing ranked 22nd with 323 points. Maybe the most important part of this season, however, was that he became a leader for this team, as he was given an "A" near the end of the year, signifying just how important he is to this franchise right now and in the future.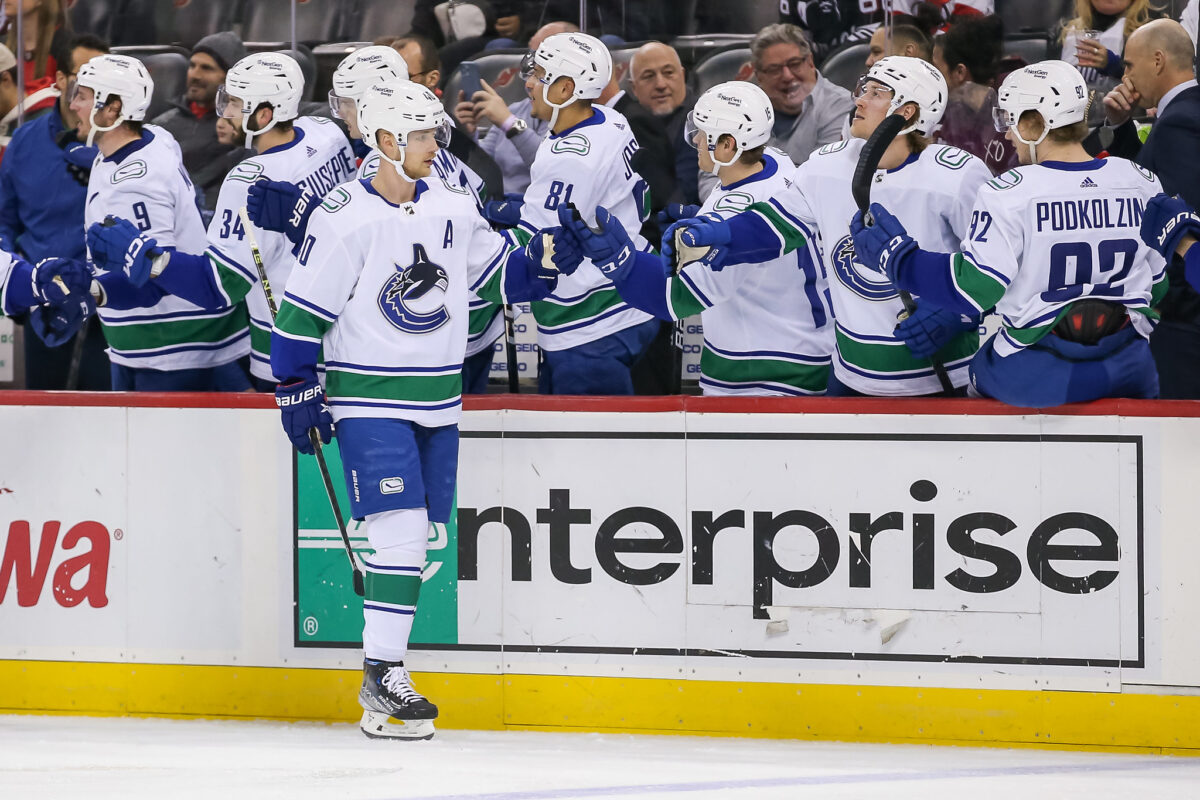 From an offensive perspective, the biggest positive to come out of Pettersson's play was his ability to generate offence at even strength. He finished the season with 68 even strength points which ranked tied for sixth across the league with Mikko Rantanen, Jason Robertson and Jack Hughes, while also finishing the year in the top-15 for even strength goals, primary assists, and total assists. Lastly, his individual points percentage (IPP) of 85% was the highest of the 317 players that played at least 1,000 minutes of even-strength ice time this season. If this year was any indication of what is to come in the future, the Canucks may have one of the best even-strength point producers in the league for a long time.
Related: Canucks 2022-23 Report Cards: J.T. Miller
---
Latest News & Highlights
---
The one area where Pettersson did see a decline this season is power play goals. While he did set a new career high in shots with 66 and individual high-danger scoring chances with 13, he only recorded six goals with the man advantage, which was the second-lowest total of his career. The good news, though, is that he set new career highs in primary assists, secondary assists and total assists, showing that despite his poor luck putting the puck in the net, he was still contributing on the power play.
Pettersson's Consistency Something To Marvel At
When breaking down Pettersson's offensive numbers, one thing that stood out was how consistent he was throughout the season. He never went more than two games without registering a point and failed to record a shot on goal in just two of his 80 games. During the year, he also recorded multiple point streaks of five or more games, including a 14-game point streak late in the season. It also didn't seem to matter who he was playing against, as he recorded above a point per game against non-playoff and playoff teams and recorded at least one point against 29 of the 31 teams in the league. Here is a breakdown of his point totals for non-playoff teams vs playoff teams for the season.
| | |
| --- | --- |
| Non-Playoff Teams | Playoff Teams |
| 39 Games – 24 Goals – 36 Assists – 60 Points – 1.54 Points Per Game | 41 Games – 15 Goals – 27 Assists – 41 Points – 1.02 Points Per Game |
The best players in the league know how to deliver regardless of the opponent, and that is what Pettersson was able to demonstrate this past season. It did not matter if he was on the road, at home, or which division he was facing; he constantly found a way to end up on the scoresheet at the end of the night. If he can consistently put up points as he did in 2022-23, it will go a long way in the Canucks breaking their playoff drought next year.
Strong Defensive Play Puts Him In Selke Conversation
While he wasn't a finalist this season, do not be surprised if Pettersson is high up on the Selke Trophy voting list at the end of the year. He finished second among all forwards with 89 blocked shots and was tied with teammate J.T. Miller for the league lead in shorthanded goals with five and points with nine. At even strength, he also recorded his lowest expected goals against per 60 (xGA/60) since his rookie campaign at 2.8 while posting his lowest shots against per 60 of his career at 27.3. Vancouver had problems all throughout the season when it came to how they played in their own zone, so it is frightening to think how bad the Canucks would have been if not for his strong defensive play this year.
Like most of Vancouver's roster, Pettersson's play on the penalty kill improved after the coaching change. A great example of this is comparing xGA/60 under each coach. When Bruce Boudreau was in charge, he recorded an xGA/60 of 10.04, while after Rick Tocchet took over, that number dropped to 7.47 despite playing more minutes shorthanded. He also recorded eight of his nine shorthanded points under the new coaching staff and was on the ice for three fewer goals against. If he continues to perform at the same level defensively next season, not only should he be a finalist for the Selke, but could help the Canucks re-establish themselves as one of the best penalty-killing groups in the league.
Final Grade for Elias Pettersson: A+
Giving Pettersson an A+ was an easy choice, as not only was he the best player on Vancouver's roster, he was one of the best forwards in the entire league. He continues to improve year after year, and if he takes another step forward, could be in the Hart Trophy discussion by the end of the 2023-24 season. The Canucks need to ensure they sign their Swedish superstar as soon as possible, as he has become the face of the franchise and one of the most exciting players to ever play for Vancouver.
---
---