Welcome to the THW's 2022-23 Selke Trophy Tracker, an ever-shifting list looking at the top defensive forwards that will be updated every month throughout the regular season. With the NHL season hitting its midpoint, there is enough data to properly judge who will walk away with the Frank J. Selke Trophy at the season's end. As always, these are subjective rankings meant to initiate discussion, so feel free to disagree (civilly) in the comments and offer your own picks.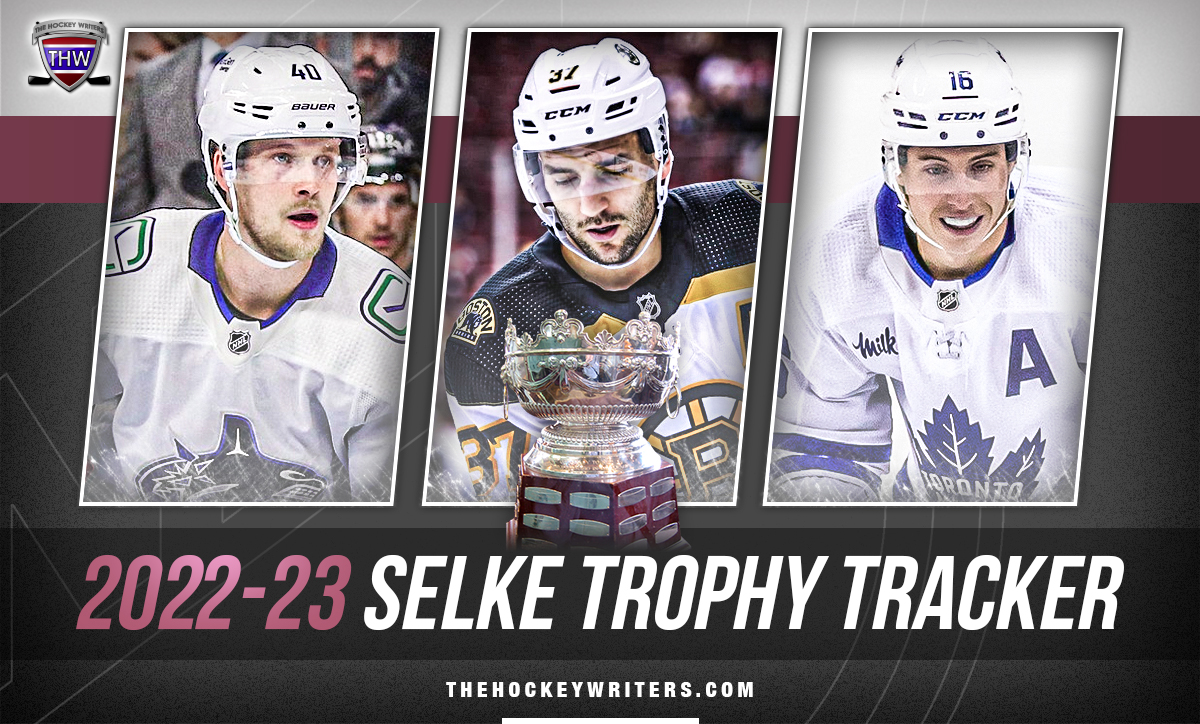 Last season, Patrice Bergeron ran away with the trophy after receiving 161 first-place votes. In the process, he set the record for most wins in franchise history, collecting his fifth Selke Trophy. This award is voted on by members of the Professional Hockey Writers Association. It causes a lot of debate as some may have different opinions on how to measure which forward best excels in the defensive aspects of the game. With that being said, here is a breakdown of the top five Selke contenders as of the end of November.
---
Latest News & Highlights
---
All statistics as of the end of games on Jan. 28, 2022. All advanced metrics are based on five-on-five play and are provided by Evolving-Hockey.
November's Rankings: 1) Patrice Bergeron 2) Elias Pettersson 3) Nico Hischier 4) Mitch Marner 5) Anže Kopitar
December's Rankings: 1) Patrice Bergeron 2) Nico Hischier 3) Mark Stone 4) Elias Pettersson 5) Mitch Marner
5) Jordan Staal
2022-23 Stats: 47 Games Played (GP), 24 Blocked Shots (BkS), 21 Takeaways (TkA), 16:28 Time On Ice (TOI)
Jordan Staal is a player that isn't talked about enough. The Carolina Hurricanes captain continues to be one of the strongest two-way centermen in the league and has helped the Hurricanes into second place in the standings. He fits into Rod Brind'Amour's system perfectly, which has allowed Carolina to get the most out of the 17-year veteran.
Related: Expectations on the Hurricanes at an All-Time High in 2023
Looking at Staal's metrics, one stands out, showing just how strong he has been in his own zone. Amongst players who have played at least 400 minutes of ice time at five on five this season, he ranks seventh in expected goals against per 60 (XGA/60) at 1.98. He is also just one of four players to have an XGA/60 below 2.0 and an expected goals for per 60 (XGF/60) above 3.0. Lastly, his shots against per 60 (SA/60) rank second among those that meet the criteria coming in at 21.36. When he is on the ice, not only is it difficult for the opposition to score goals but also get shots on the net, showing just how effective he is at shutting down his opponent.
4) Mitch Marner
2022-23 Stats: 50 GP, 31 BkS, 57 TkA, 21:16 TOI
Mitch Marner continues to show why he is one of the top two-way wingers in the game. Not only is he lighting it up offensively at over a point per game, but he also is showing off his ability to steal the puck, ranking second in the league with 57 takeaways. One of the most dangerous players on the penalty kill, the Toronto Maple Leafs forward deserves Selke votes this season.
When Marner is on the ice, the Leafs have been very good at preventing shots and goals. He has a 25.95 SA/60 and an XGA/60 of 2.4. As mentioned, he is also dangerous while playing shorthanded scoring two shorthanded goals already this season. If he can cut down on the turnovers, a top-five finish in Selke voting could be in his future.
3) Elias Pettersson
2022-23 Stats: 47 GP, 55 BkS, 33 TkA, 19:51 TOI
The case surrounding Elias Pettersson is complicated. Based on his overall play, he deserves to be in the Selke Trophy race, but because the Vancouver Canucks are virtually eliminated from the playoffs, some voters may use that factor against him. Regardless of team results, it is hard to argue that the former 2017 fifth-overall pick hasn't developed into one of the elite two-way centers in the game.
Related: Canucks Midseason Awards 2022-23
To properly break down Pettersson's play, his 2.68 XGA/60 is the best metric to use. The reason is that when he is on the ice, the Canucks have a team save percentage of 89.43%, which is a major factor as to why his GA/60 is currently at 3.24. With Rick Tocchet now behind the bench in Vancouver and a more defensively-minded system being put into place, it should highlight just how strong he is in his own zone.
2) Nico Hischier
2022-23 Stats: 48 GP, 31 BkS, 32 TkA, 19:19 TOI
The New Jersey Devils are one of the best teams in the NHL in large part to the play of Nico Hischier. On a team with Jack Hughes, Doughie Hamilton and Jesper Bratt, the Devils captain is often missed and is one of the most underrated players across the league. While his development into an elite two-way center took some time, he is showing New Jersey that they made the right choice selecting him first overall in 2017.
This season, The Devils have held the opposition to 27.65 SA/60 with Hischier on the ice. New Jersey has also given up just 1.91 goal against per 60 (GA/60) with him on the ice which is ahead of Staal, Marner and Pettersson. The Devils are one of the top defensive teams across the league and a big reason is because of their captains play.
1) Patrice Bergeron
2022-23 Stats: 49 GP, 40 BkS, 30 TkA, 17:54 TOI
It is no surprise that, once again, Bergeron leads the race for the Selke Trophy. At the age of 37, the Boston Bruins captain is putting on a show in what very well could be his final year in the NHL. He is a major reason why Boston is running away in the Presidents Trophy race and has his Bruins as Stanley Cup favourites.
Related: Bruins: Odds That Pending 2023 UFAs Get a Contract Extension
When Bergeron is on the ice, not only does the opposition have issues generating goals, but also shots on the net. Of all 316 players to have played at least 400 minutes this season, he ranks first in GA/60 with 1.03 and 32nd with 25.75 SA/60. He is also just one of two players who meet the criteria with an XGA/60 below 2.0 and an expected goals for per 60 (XGF/60) above 3.5. One of, if not the greatest two-way centers of all time, the pride of  L'Ancienne-Lorette, Quebec, looks to be on his way to Selke number six.
Honourable Mentions
Anže Kopitar (L.A. Kings)
Brad Marchand (Boston Bruins)
Yanni Gourde (Seattle Kraken)
Mikael Backlund (Calgary Flames)
Sam Reinhart (Florida Panthers)
Make sure to check back monthly for updates to this list. Let us know who you think will win the Selke in the comments below.
Adam is excited to be joining The Hockey Writers as part of the Seattle Kraken and Vancouver Canucks team. His work can also be found at area51sportsnet.com where he covers the Vancouver Giants of the Western Hockey League.