The Montreal Canadiens have injuries piling up as they head into the All-Star Break and their bye week. The hope is that, with the extra time off, some or most of their players will return by the end of the break. With ten players currently on injured reserve (IR), long-term injury reserve (LTIR), or listed as day-to-day, the Habs have been short on the bench for the past few games. During this time, several prospects have been able to play with the big club, show their stuff, and possibly earn permanent time with the team.
Justin Barron
Justin Barron was acquired in the Artturi Lehkonen trade and was thought to be a shoo-in to make the Canadiens during training camp. Still, the right-handed defenceman struggled during camp and the preseason, prompting general manager (GM) Kent Hughes to send him to the Laval Rocket of the American Hockey League (AHL). He started slow with the Rocket but quickly caught on, scoring seven goals and 16 points in 25 games with five goals on the power play (PP). In fact, he became a mainstay on the Laval PP and top pairing before being called up by Montreal.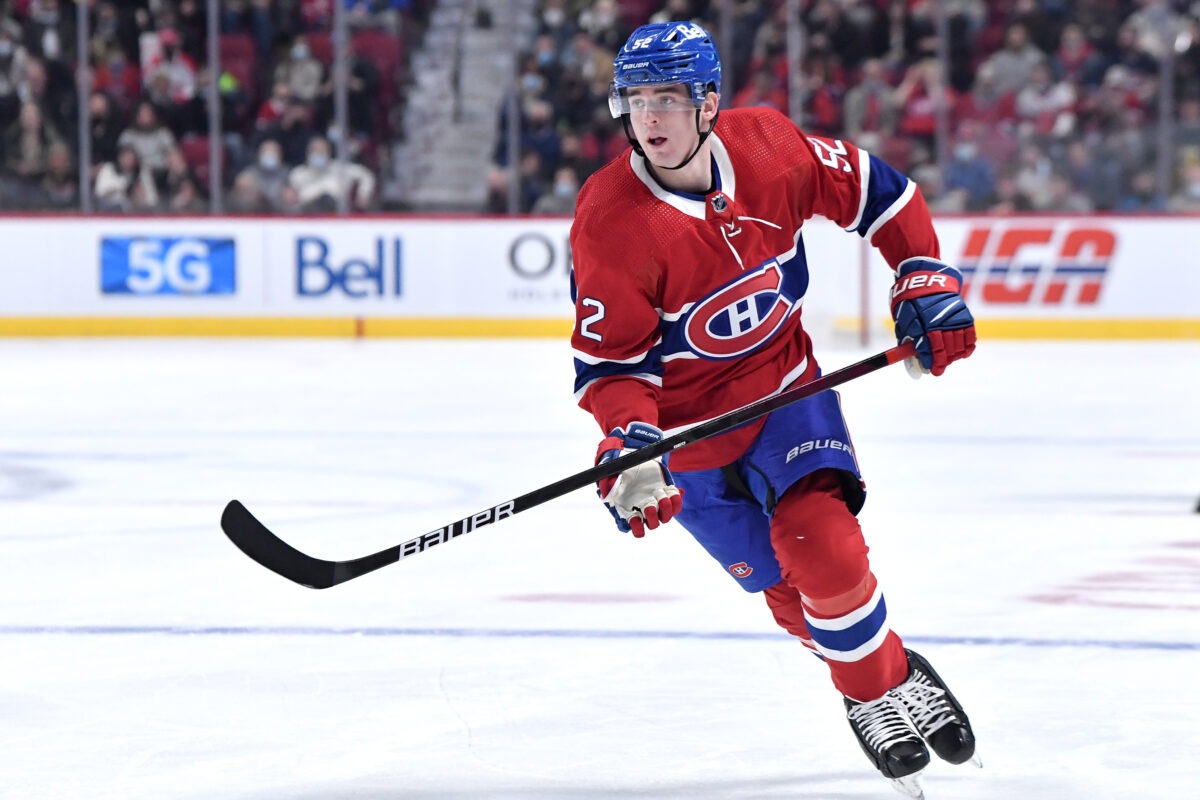 With Joel Edmundson and Mike Matheson battling injuries, Barron was called up by the Canadiens and has remained with the team for the past 14 games. In those 14 games, he's proven that he is starting to take the next step in being a responsible NHL defender; like most rookies, he does make mistakes and can put himself out of position at times, but that will work itself out with more playing time. He looks much better with Montreal since the preseason, and with the possibility of Edmundson being traded, he may have played well enough to earn a permanent spot on the Habs' roster for the rest of this season and beyond. Barron has four points while averaging over 16 minutes of ice time, mainly playing 5v5 and on the third pairing.
Jesse Ylonen
Jesse Ylonen is a second-round pick from the 2018 Draft and has been developing in the AHL since 2020-21. In three seasons with the Rocket, he scored 31 goals and 80 points in 118 games. He scored 17 PP goals and was a mainstay on Laval's top PP unit. The Canadiens have one of the worst power plays in the league and could use a player with Ylonen's talent. With Cole Caufield out for the rest of the season, Ylonen could be a good filler on the PP because he has a great shot. While it is not as good as Caufield's, it's better than most other wingers currently on the Habs.
Related: Canadiens' Prospect Harvey-Pinard Earning his Role
---
Latest News & Highlights
---
Ylonen has only two assists in 10 games since being called up to Montreal but has the potential to be a much better scoring forward. Last season in 14 games with the Canadiens, he had five points, scoring twice; this season, he is rounding out his game as an effective two-way forward and even though his point total isn't high, he is proving he is a solid player at the NHL level. Averaging just under 13 minutes a game, he could get the chance to increase that and play in more critical offensive roles; he could break out and start being the offensive player he was drafted to be while also being responsible defensively.
Raphael Harvey-Pinard
Raphael Harvey-Pinard is the feel-good story of the season this year, bringing excitement to the fans despite so much disappointing news and results. With Caufield being gone for the season, along with the hope of him maybe scoring 40 goals for the Canadiens, most fans felt like there was nothing else to bother watching the games for. The team is rebuilding and not winning many games, their star player and only hope to achieve something special this season is now gone, and their main bargaining chip at the trade deadline, Sean Monahan, could be injured longer and not be traded at all. Disappointment after disappointment piled on the team and its fans, until recently with the latest call-up of Harvey-Pinard.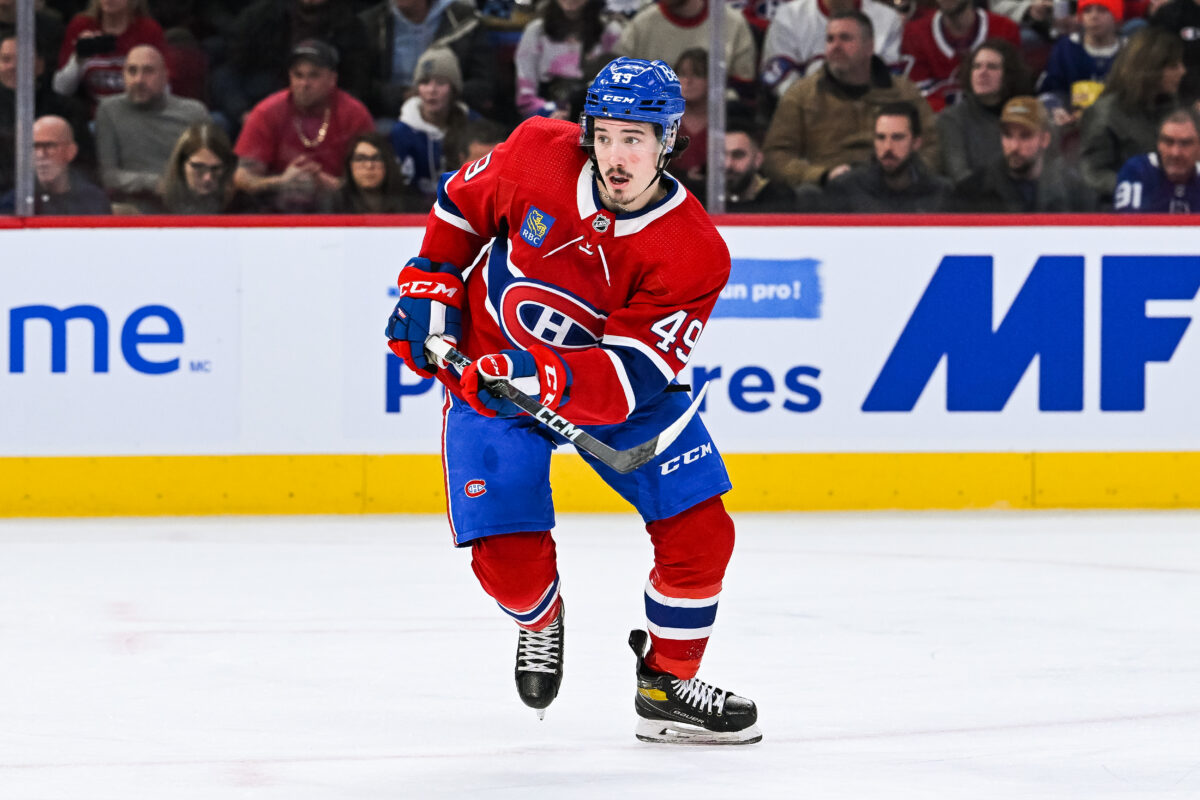 Harvey-Pinard is a huge fan favourite in Laval, the seventh-round pick in the 2019 Draft, known fondly as 'Lavallagher' for his style of play, resembling Habs forward Brendan Gallagher. Harvey-Pinard is a tough, hardnose net-front presence who gives 110 percent every shift. With the Rocket, he scored 15 goals and 25 points in 37 games; last season, he was called up to Montreal and played four games, scoring one goal. This season with the Canadiens, he has exploded and scored six points in seven games, including five goals, reviving the excitement for Habs fans. If Harvey-Pinard can continue with his hot streak, he could be the new story of the second half of the season and be entertaining enough to keep fans watching.
Owen Beck is another player who recently got a chance to play with the Canadiens this season, but it's hard to determine if he earned a spot next season or later this season from only one game. We'll have to keep an eye on him and the other prospects as we approach the trade deadline in March. Barron, Ylonen, and Harvey-Pinard should be prime candidates to be on the starting roster next season unless Hughes and management make drastic changes between now in then. When the Canadiens return from the bye week and All-Star Game, it will be closer to the trade deadline, and the call-ups will likely stay as players are moved out.