The Montreal Canadiens have had yet another season filled with injuries to their lineup, many of which have come in clusters. The team currently has six players on the injured reserve (IR) and three more on long-term injured reserve (LTIR). This helped the Canadiens in choosing to proceed with an emergency recall of center Owen Beck of the Ontario Hockey League (OHL) Peterborough Petes. 
On Friday, Jan. 27, three centers, Nick Suzuki, Kirby Dach, and Christian Dvorak missed practice for therapy sessions adding to the injury concerns. Of the three, Dvorak may be the one that will be out of the lineup for a short period as he was in pain in the game on Jan. 26 vs. the Detroit Red Wings and also missed part of that game.  
Canadiens Emergency 
The Canadiens only have 22 players on the NHL roster, take away the nine on IR or LTIR, one or more of the team's top-nine centers, and the likely loss of Joel Edmundson off the roster as well. There is very little remaining to fill the gaps, especially since they had already called up Jesse Ylonen, Rem Pitlick, and Rafael Harvey-Pinard
Related: Canadiens' Player Development Changes Having a Big Impact 
That allowed them to ice a roster of just 11 forwards, forcing head coach Martin St. Louis to dress seven defensemen just to have someone play shifts on the wing as well.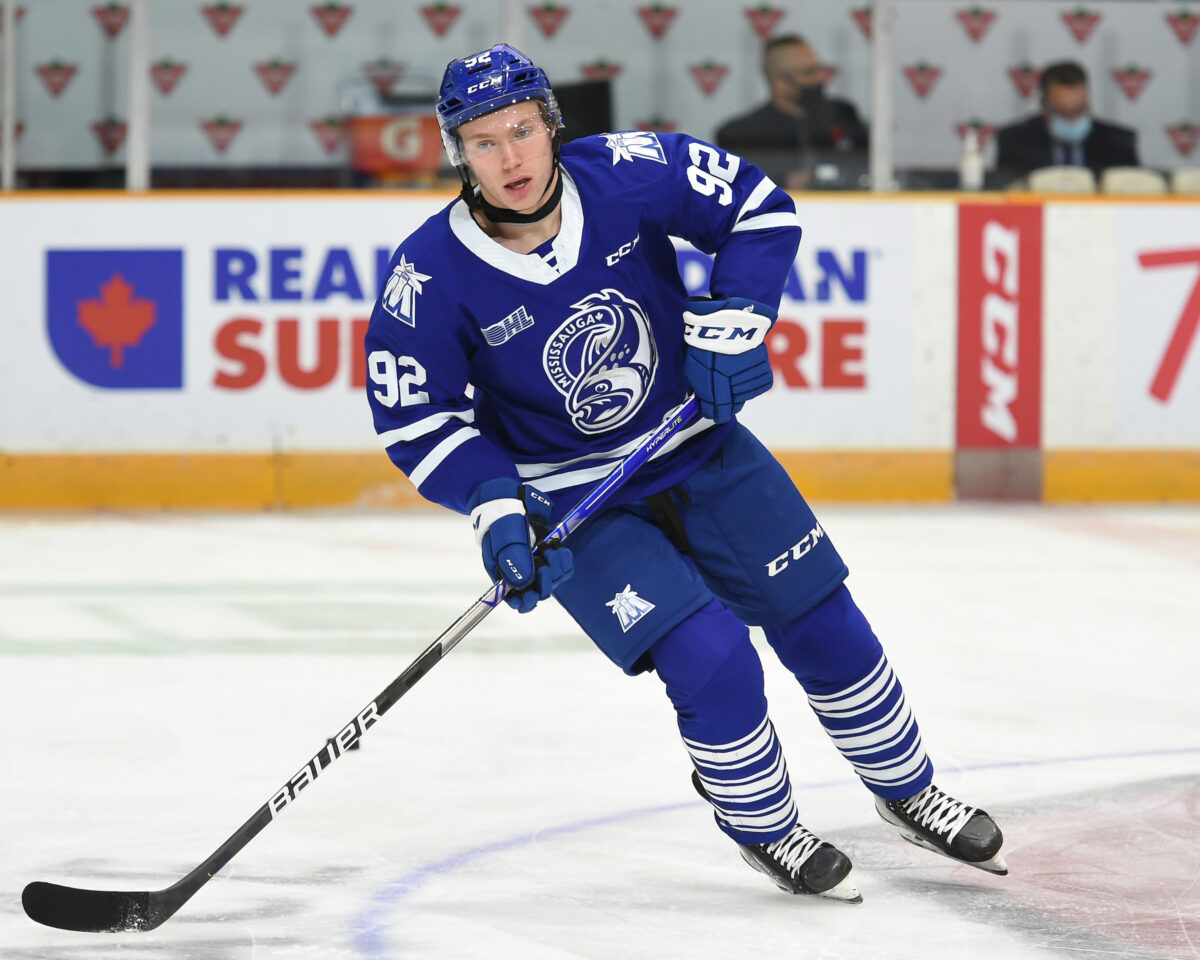 With five of the nine injured players being forwards, this provides a general manager (GM) Kent Hughes the opportunity to use the emergency recall rule to help him fill the gap on the roster.  
"Emergency conditions shall be established when the playing strength of the Loaning Club, because of incapacitating injury or illness or by League suspension to its Players is reduced below the level of two (2) goalkeepers, six (6) defensemen and twelve (12) forwards. Proof of the existence of the emergency conditions including the incapacity shall be furnished to the Commissioner of the League upon request made by him." 
The fact that the Habs had already used several emergency recalls from their American Hockey League (AHL) affiliate, Laval Rocket, meant they could take advantage of the opportunity to dip into the Canadian Hockey League (CHL) for one of their top prospects. Because there was a large need for centers, it made sense that Beck would be the one tapped for the opportunity. Yet, he will only be able to play a maximum of five games on this recall, which may not be needed as the All-Star break will provide the team a chance of activating one or more players from IR as they heal up. 
Owen Beck is the Ideal Candidate
Beck, the Canadiens' first second-round pick in 2022, has split the 2022-23 OHL season between the Mississauga Steelheads and the Petes, earning 19 goals and 44 points in 37 games played. In his three WJC games for Canada, he earned one assist and was over 50 percent in defensive zone faceoffs with very limited ice time.  
---
Latest News & Highlights
---
Beck's style of play is ideally suited for the professional game. His inexperience may cause him to be slightly out of place at times if he dresses in the Hockey Night in Canada game on Jan. 28 in Ottawa. That being said, he did have a standout NHL training camp, followed by a stellar OHL season thus far. The fact that Beck currently has a 58.9 percent success rate in faceoffs and is also one of the top faceoff centers in CHL can only help his cause. He is also an excellent transitional player, capable of making controlled zone exits and entries, which fits into the style St. Louis wants the team to play. 
He is not a stranger to emergency call-ups either. He was called up to replace Colton Dach on Team Canada at the World Junior Championships (WJC) and helped that team win a gold medal. When asked what he would provide that team at the time of his call-up is more than likely what will be expected of him if he suits up for Montreal. 
"Some physicality, some energy, put pucks deep and generate some momentum for the guys and make an impact where I can."

– Owen Beck 
If one thing has been demonstrated this season, it's that Beck can step up his game and take advantage of every opportunity he receives. In training camp, he stepped up when there were injuries to Sean Monahan and Suzuki, showcasing himself and earning an entry-level contract (ELC), then a gold medal at the WJC. Now, he has a chance to show he is capable of playing a significant role in the NHL.  
While this recall will be short-lived, it is a golden opportunity to raise his value in the Canadiens' depth chart and a good showing could provide Hughes the ammunition he needs to proceed with trades that could affect the roster in the 2023-24 season, especially if Beck shows he can play reliably against top-six NHL forwards. At the very least, Beck finally reaches a childhood dream: playing in the NHL. 
 
---
---