At the beginning of the 2017-18 season, the Montreal Canadiens placed Victor Mete with Shea Weber on the top defensive pairing. Mete, a left-shot defenceman, was an ideal fit to play alongside Weber, a right-hand shot. Also, Mete's speed and ability to move the puck suited Weber's shutdown, defensive-minded game.
The two had good chemistry. However, as the season progressed, it became evident that Mete simply was not ready to play close to 22 minutes a night on the top pair. It's hard enough as a rookie defenceman to crack the starting lineup, let alone the top pair.
Stepping up for the Team
Mete's play in the preseason impressed the coaching staff enough to reward him with some big minutes alongside Weber early in the season. After Weber was injured and shut down for the season in mid-December, Mete and Jeff Petry were relied on by the Canadiens' coaches to play against their opponent's top players every night.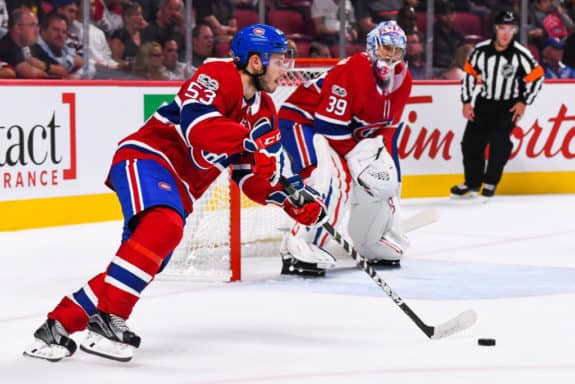 Mete struggled to produce numbers but managed to tally seven assists in 49 games before he too was injured at the start of March. However, Petry was noticeable in Weber's absence and was arguably the best Canadien for most of the season. He would have a career-best season, putting up 42 points in 82 games
The Habs need a top defenceman to play with Weber. While Mete and Weber were a good pairing for a few weeks, it is time for management to think long term. Ideally, they would find a left-shot defenceman who can move the puck and is able to skate well without being caught out of position. This year's free-agent class includes some very talented defencemen, one of which is Calvin de Haan of the New York Islanders.
De Man They've Been Looking For
de Haan is 27 years old, coming off a one year, $3.3-million contract with the Islanders. He missed the last 49 games after suffering a season-ending shoulder injury last season. He has played the last five seasons in Long Island after being drafted 12th overall in 2009.
A reliable, second-pairing defenceman for most of his career, de Haan had his best season two years ago when he registered 25 points in 82 regular season games. Regarded as a strong, two-way defenceman, he is capable of playing against and shutting down the top players on the opposition as well as having a well-rounded offensive game.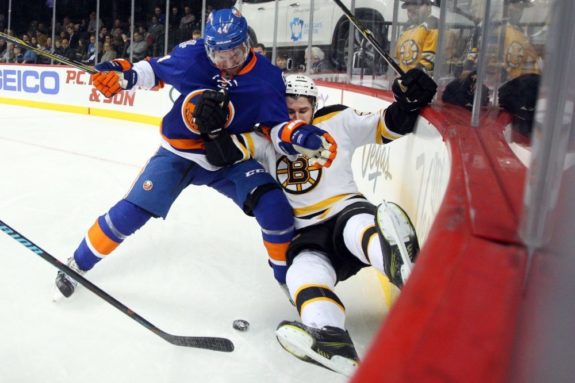 A career 0.27-point-per-game player, he has put up good numbers offensively for most of his career despite having a higher defensive zone start percentage at 50.7 percent. From 2015-16 to 2017-18, de Haan's DZS% has been 50.1, 52.9, and 54.8 respectively, compared to his offensive zone start percentages of 49.9, 47.1, and 45.2.
He has been used mostly as a shutdown player in his own end and has a respectable career Corsi-for percentage of 50.4 percent (CF% above 50 means that the team was generating more shot attempts than it was allowing, a proxy to indicate that the team was controlling the puck more often than not with de Haan on the ice).
A Team Player
A player willing to lay it all out for his team, de Haan led the Islanders in blocked shots for two straight seasons in 2015-16, and 2016-17. He was used on the Islanders' top penalty kill unit for the past three seasons, averaging roughly two shorthanded minutes a night. He has a career time on ice per game of just under twenty minutes.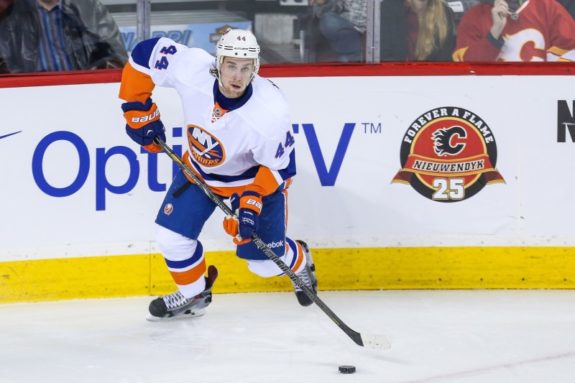 With good numbers both offensively and defensively, as well as respectable advanced stats, de Haan should be a free agent the Habs consider. He has proven over the past five seasons that he is capable of handling a heavy workload and can play a lot of minutes. He would be the ideal fit for Weber's partner. His quiet yet consistent style of play would be a nice bonus to the team's blue line.
How Much Will He Cost?
De Haan made $3.3 million last season with the Islanders. He will be looking for something between $3.5 and $4.5 million with a new team, and at only 27 years of age, he will be looking for term as well. With over $18 million in cap space, the Habs have plenty of money to spend and should offer him somewhere between $4 million and  $4.75 million over five years.
Habs should target Calvin De Haan. Plus player on a pathetic defensive team last season. When he got injured, Isles fell apart. One of top +- on Isles. Was 12th overall pick. Good pedigree. Left side D. 27 years of age only.

Pay the man. Overpay even. He can play beside Weber.

— Brian Wilde (@BWildeMTL) June 24, 2018
A five year, $20 million contract would make sense for a team looking for a top-four defenceman to play with Weber. De Haan brings the tangibles and the intangibles. Signing him will allow the younger players, like Mete and Noah Juulsen, more time to develop and with a much lighter workload than last season. De Haan also fills a big hole on the left side which has been weak since the departure of long-time Hab, Andrei Markov.
If the Canadiens sign him, the 2018-19 opening lineup defence pairs might look something like this:
de Haan – Weber
Mete – Petry
Mike Reilly – Karl Alzner
Noah Juulsen, David Schlemko, and Jordie Benn would be the spares. Just as THW's Ryan Szporer noted, there are certain UFAs general manager Marc Bergevin should stay away from, but de Haan is not one of them. He provides an immediate boost to the blue line and would be a wise signing before next season.
Tim McKinnon is a sports writer covering prospects and junior players for The Hockey Writers. Tim is a 4th year BBA student studying at Saint Francis Xavier University. For any questions on current or future NHL prospects, send Tim an e-mail at tmckinnon59@gmail.com and follow him on Twitter @TimmyMcKinnon.