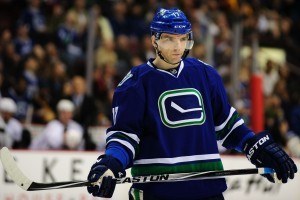 The Vancouver Canucks had a pleasant turnaround year in terms of offense this regular season, with 242 goals compared to 196 a year earlier (mind you, they set an NHL record with 21 empty net goals). But past the trio of Henrik Sedin, Daniel Sedin and Radim Vrbata, the Canucks were inconsistent all year in terms of secondary scoring. Their second line in particular, which was Chris Higgins, Alex Burrows and Nick Bonino for much of the year, had scoring numbers that were far from impressive. The Canucks need to prioritize this glaring issue in their lineup – and they may have just the pieces they need looming in their system already.
Big Three Carried the Load this Year in Vancouver
The Sedin twins and Vrbata combined for 79 goals, or about 33% of Canucks' goals, and had a respectable 212 points between the three of them. In comparison, Higgins, Burrows and Bonino combined for 45 goals (19% of Canucks' goals) and 108 points. And for offensive production for players with 50 or more games played, in terms of points in relation to amount of ice time (points per minute), Daniel Sedin (19:48), Radim Vrbata (20:49), and Henrik Sedin (20:54), ranked 13th, 18th, and 19th in the league, respectably. Meanwhile, Bonino (32:32), Burrows (32:49) and Higgins (33:46), were 157th, 159th, and 170th respectably in this category. These numbers make it clear that for a Canucks team that finished eighth in league scoring with 2.88 goals per game, they were too reliant on their top unit for production.
What Needs to Change?
Even if the Canucks second line doesn't get played like top six forwards in the future, Higgins, Burrows and Bonino are essentially getting paid like they are.
Alex Burrows, who had 18 goals and 33 points in 70 games this year, as well as a 0.43 point per game average over the last three years, will have a cap hit of $4.5 million for the next two seasons. Chris Higgins has a cap hit of $2.5 million for the final two years of a four year term, and the winger has 138 points in his 281 games with Vancouver since being acquired from Florida. Nick Bonino will only cost the Canucks $1.9 million for the next two seasons, but let's not forget he was a key piece coming back in the Ryan Kesler trade. After a breakout 22 goal and 49 point campaign with the Anaheim Ducks, Bonino put up only 15 goals for Vancouver this year and had several prolonged scoring droughts, including a streak of 1 goal in 23 games.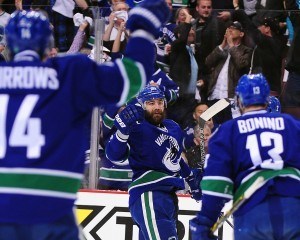 Canucks coach Willie Desjardins needed to move Vrbata to the second line at times during the season in order to spread out the scoring, especially down the stretch and into the playoffs. However, the effectiveness of this didn't last, and didn't in the playoffs in particular, when virtually all the Canucks production came from the Sedin's line.
At this point, Desjardins and company don't have lots to work with on paper to fill the secondary scoring void, but what they do have is potential. The Canucks are best off keeping Vrbata on the wing to play with Henrik and Daniel, as together they give Vancouver an offensive weapon that few NHL teams can match.
A player like Bo Horvat may be ready for a top-six forward role at center for Vancouver next season, and Sven Baertschi clearly has the potential to fill a scoring line role for the Canucks in the near future. GM Jim Benning also hinted that Jake Virtanen could get a crack at the pro roster next year, and he would likely be suited best in a top six role based on his skill set.
Vancouver could test the free agent waters this summer for a top six forward, and fill the void temporarily by pursuing pending UFA's like Matt Beleskey, Mike Ribeiro or Joel Ward. But with just over $3 million in cap space available, the Canucks don't have much room to fit a player of this caliber in their plans. Fortunately, with all of Vancouver's young forwards on the verge of making the jump, and the organization's plans of infusing youth into the lineup, the Canucks should be able to weather the secondary-scoring-transformation storm.
Former Canucks head coach Marc Crawford thinks so anyways, according to his words on TSN Radio in Vancouver.
Crow: Canucks fans should be very excited about prospects. Not only Utica, but Cole Cassels is playing outstanding. The next wave is coming

— TSN Radio Vancouver (@TSN1040) May 27, 2015
Not to belittle the Canucks second line, because Burrows, Bonino and Higgins all serve eminent roles on this Vancouver squad. Alex Burrows and Chris Higgins are experienced leaders. Nick Bonino was probably the best penalty killing forward all year for the Canucks. But based on production from this season, it's questionable if these players can put up good enough numbers to be top-six forwards. We should see whether Jim Benning and the Canucks decide to revamp this part of the lineup with free agent players, trades, or from within their own organization.
Canucks contributor for The Hockey Writers. Maple Ridge, BC native. Contact: coltondavies95@gmail.com or @ColtonnDavies on Twitter.