Uncertainty In Vancouver
The Vancouver Canucks just finished their fifth game of the 2014-2015 season losing to the Dallas Stars 6-3 in a shocking blowout. The franchise made more changes this off-season than at any time in its previous history. A cloud of uncertainty hangs over Canucks as they've gone 3-2-0 in their first five games.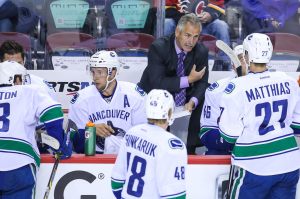 The Canucks won their first three games in convincing fashion while most of the team's off-season acquisitions looked to adjust to their new roles. However those wins came against two of the weakest teams in the league as the Canucks beat the Flames once and the Oilers twice.
The Canucks have decisively lost their last two games against playoff caliber teams. The losses have been especially ugly due to defensive miscues, glaring mistakes and outright fluky goals.
The vibe of uncertainty among the Canucks' faithful stems from the team allowing ten goals in their last two games. The Canucks are built upon their defense and goaltending. But the team has been getting torched amid a run of bad luck on their back end.
Two Steps Forward, Two Steps Back
The Canucks are working through injuries to two of their defensemen. Stalwart defenseman Ryan Stanton was lost in game three to a lower body injury. Stanton has no time table to return at the moment. Top pairing defenseman Dan Hamhuis also suffered a nasty injury after taking a stick to the face in the same game. Hamhuis has been forced to wear a cage due to the injury and has had noticeable trouble adjusting.
24-year old defenseman Luca Sbisa was acquired by the Canucks in a controversial trade this off-season. New general manager Jim Benning as said that he sees Sbisa as a future top four defenseman and he was acquired largely for his potential. Sbisa has had difficulty fitting into the Canucks' backend with a string of defensive gaffs and ugly turnovers in his early games with the Canucks. However the young defenseman has shown promise and improved play when utilized on the bottom pairing.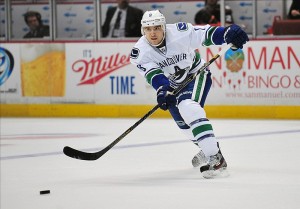 The standout blueliner in the early going of the season has been Chris Tanev who has displayed a new found offensive touch. The Canucks have flirted with using Tanev on the powerplay and in more offensive situations with good results. Tanev has netted three points in five games while displaying his usual intelligent play in all three zones.
The Missing Triplet Has Arrived
A major positive has been the rejuvenation of the Sedin line. The Sedins seem to have gotten their groove back as they've been used more effectively under new head coach Willie Desjardins. The off-season free agent signing of Radim Vrbata has also been a high point as the Sedins have finally been given an elite offensive winger that compliments their game. The 33-year old Vrbata has exploded on the top line scoring 4 goals in 5 games and clicking instantly with the elite playmaking Sedins. The Sedins and Vrbata have been largely carrying the Canucks' offense and are currently one of the best lines in the NHL.
Criticism has been leveled on the Canucks being a one line team. Secondary scoring behind the Sedins has been inconsistent as players are adjusting to a new system and new teammates. There has been criticism leveled upon new head coach Willie Desjardins about his ability to manage a NHL bench. Chiefly concerning is the lack of ice time or powerplay time for young Canucks power forward Zack Kassian and the lack of defenseman Chris Tanev consistently on the powerplay. The seeming misuse of players could stem from nothing more than a new coach and a new team getting acquainted.
99 Problems But A Goaltender Ain't 1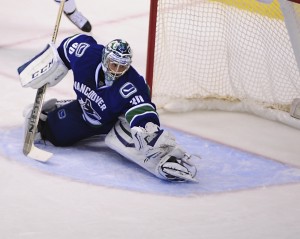 New Canucks' goaltender Ryan Miller has gone through hot and cold periods in his four games with the team. Miller looked good to great in his first three games against non-playoff teams but was shellacked for 5 goals on 13 shots tonight against the Dallas Stars. In Miller's defense the Canucks' managed to score two own goals and a third went in as a complete fluke. It's difficult as this point to get a read on how Ryan Miller will fit into the Canucks' organization but he has displayed exceptional focus and stability.
Canucks' backup Eddie Lack has had issues with consistency as he gave up four goals in his only start this season. Lack has shown flashes of brilliance and is thought to have number one potential. But he'll need to decisively own his opportunities this year if he's going to force more ice time away from veteran Ryan Miller.
The Canucks look to have a challenging week upcoming as they face three former playoff teams in the St. Louis Blues, Colorado Avalanche and Washington Capitals. These games will be a true test of this team's ability to gel together and for head coach Willie Desjardins to make winning adjustments.
Bubba Lackey enjoys writing about hockey. Bubba Lackey is a doctor of journalism and a master of the Anaconda Vice. You can read more of Bubba Lackey's ramblings at http://www.bubbalackey.com