The Ottawa Senators acquired Alex Burrows from the Vancouver Canucks in exchange for Jonathan Dahlen, Senators general manager Pierre Dorion announced on Monday.
No trade call done yet but the #Sens are expected to send prospect Johnathan Dahlen to Vancouver for Alex Burrows.

— Bruce Garrioch (@SunGarrioch) February 27, 2017
Burrows reportedly signed a two-year, $5 million contract with the Senators, per Sportsnet's Dan Murphy. The deal keeps the 35-year-old forward from reaching unrestricted free agency this offseason. As the Canucks approached the March 1 trade deadline nine points behind the St. Louis Blues for the final wild card spot, there was speculation about where the veteran forward may be headed. Burrows spent nearly 12 seasons with the Canucks after beginning his career in the ECHL as an undrafted free agent.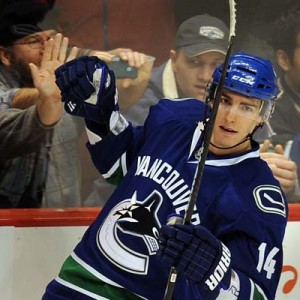 The Quebec native set career marks in the NHL during the 2009-10 season, when he tallied 35 goals and 32 assists in 82 contests. The next season he compiled 48 points in 72 games and helped the Canucks advance to the Stanley Cup Final where they lost to the Boston Bruins.
In the past two seasons, however, he's seen his offensive production decline, registering 33 points in 2014-15 and 22 points in 2015-16. This season has continued that trend, as he's tallied just nine goals and 11 assists in 55 games this season. Despite his struggles offensively, the Senators have added a veteran piece to their roster that they anticipate to be a valuable part of their team as they eye a playoff berth. The Senators are second in the Atlantic Division with 72 points — two less than the division-leading Montreal Canadiens.
Dahlen, 19, was selected by the Senators 42nd overall in the 2016 NHL Entry Draft and has been a productive center for Timra IK in Sweden. In 43 games this season, he's registered 24 goals and 17 assists.  He's a highly touted prospect that some consider a high price to pay for Burrows at this point in his career.
https://twitter.com/ryanbiech/status/836329028097208320
He's the son of former NHLer, Ulf Dahlen who scored 301 goals and 655 points in 966 games during his career. Here's a closer look at the younger Dahlen's highlights from the season leading up to his 2016 draft year.
For the Canucks, Dahlen provides them with a promising young prospect that figures to help their struggling offense when he makes his NHL debut in the not too distant future.
"Jonathan is a very skilled player with natural goal scoring instincts," said Canucks general manager Jim Benning, in a press release from the team. "He's had a terrific season playing in Sweden and was a big part of Sweden's offence at the World Juniors. His offensive upside combined with his willingness to go to difficult areas of the ice will make him a valuable player for our organization moving forward."
Benning also acknowledged Burrows for his long tenure with the franchise.
"We would also like to thank Alex, Nancy and their three children for their incredible commitment to this team and community for over a decade," Benning said. "Alex is a consummate professional and has been a leader for us throughout his career in Vancouver. We wish him and his family the very best."
Make sure to follow all of the NHL Trade Deadline action with our THW Deadline Deal Tracker.