Vitali Kravtsov is now a Vancouver Canuck as the 23-year-old winger moves to the West Coast after being traded by the New York Rangers. The 2018 ninth-overall pick has played 28 games this season with the Rangers but had fallen out of favour after scoring just three goals and recording six points in 2022-23. A pending restricted free agent this offseason, he is projected to make his Canucks debut Monday, Feb. 27 against the Dallas Stars.
What The Canucks Are Getting In Kravtsov
Based on previous comments from president of hockey operations Jim Rutherford and general manager Patrik Allvin, Kravtsov is exactly the type of player they want to add to this Canucks group. He is a young, NHL-ready winger who is a reclamation project based on his NHL career so far. An offensively-minded winger with good speed and size, he will have plenty of opportunities to impress coach Rick Tocchet with 23 games left in the season.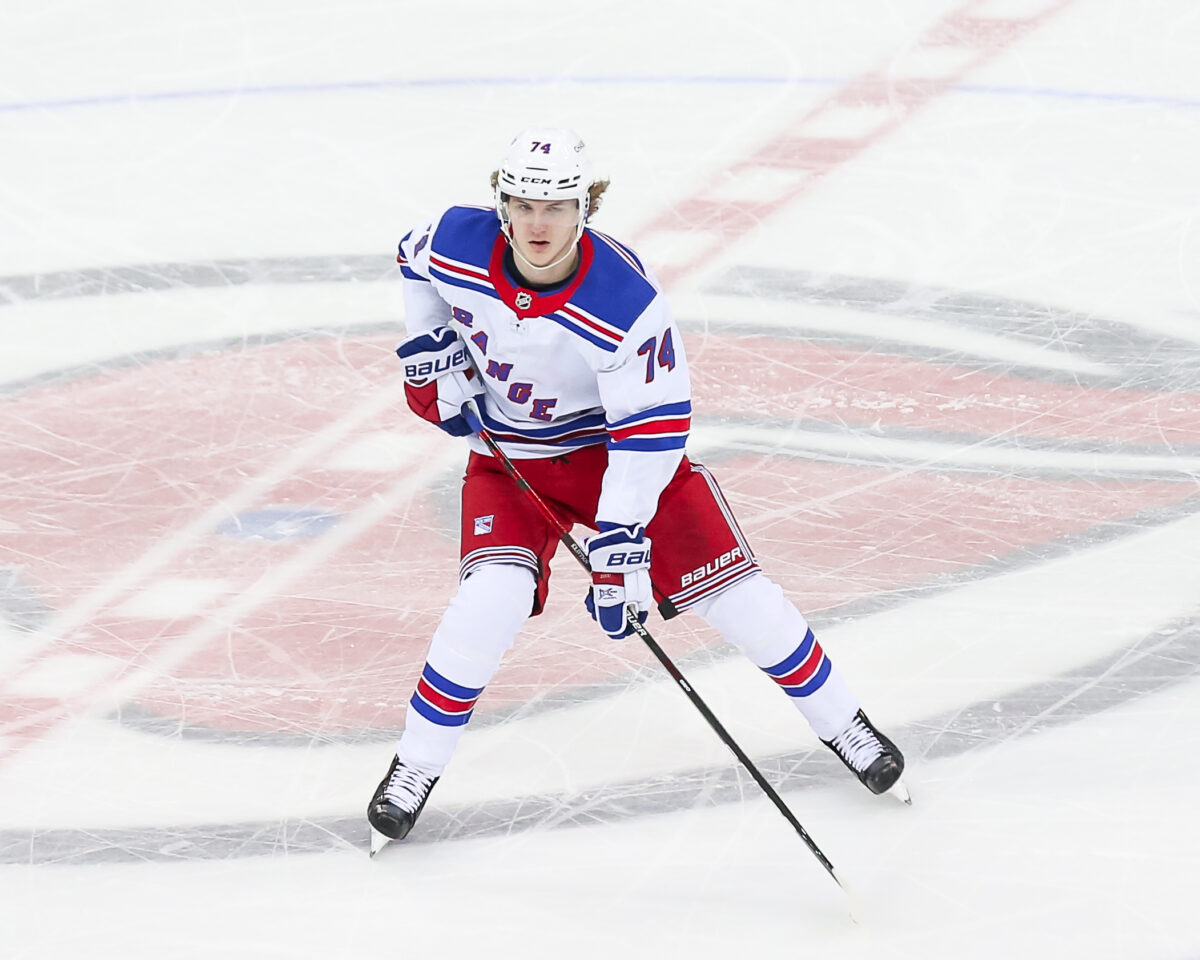 Due to the Rangers playing Kravtsov less than 11:30 a night this season, it is hard to tell exactly where his game is. When he was drafted, he was touted as a player with a lot of potential whose speed was one of his best attributes. While he could score and produce offence, the big question was whether he could backcheck properly and play a strong two-way game. Unfortunately, his play in the Kontinental Hockey League (KHL) hasn't translated to the NHL yet, but he has only played 48 games in his career, so there is plenty of time for him to develop into the top-six player the Rangers hoped for when they drafted him in 2018. The hope is he can work on his two-way game under head coach Rick Tocchet and be an effective player that plays with structure and is reliable in his own end.
Related: Rangers Trade Vitali Kravtsov to Canucks
---
Latest News & Highlights
---
Kravtsov's deployment with the Canucks will be something to monitor as the season comes to an end. A right winger, he could get an audition alongside Elias Pettersson which would allow Andrei Kuzmenko to move back to his natural left-winger spot. The other option is that he starts on the team's third line, which would allow him to ease himself into the lineup and alleviate some of the pressure. Watch for him to also get some power play time as the Canucks second unit could use an injection of offensive talent so the first unit isn't relied upon for the entire two minutes.
His addition could also be an indication that the Canucks intend to move out some wingers before the 2023 NHL Trade Deadline. Between Boeser, Conor Garland, Anthony Beauvillier, Vasily Podkolzin, Kuzmenko and now Kravtsov, the Canucks have too many natural wingers on the roster. This list doesn't even include Nils Höglander, Tanner Pearson and Ilya Mikheyev, who are either injured or in the American Hockey League (AHL) and are expected to be part of the opening night roster for the 2023-24 season. While having competition for roster spots is always a good thing, having this many wingers who can't play center is an issue Vancouver needs to fix for next season.
What The Canucks Gave Up
The Canucks had to part with two assets in order to get Kravtsov. The first is William Lockwood who has been a serviceable fourth-liner at the NHL level. Originally selected in the third round of the 2016 Draft, he played 28 games for Vancouver collecting one assist. He did have some success at the AHL level, with 54 points in 96 games. Signed through the end of this season, the Rangers will have to decide whether to qualify him or let him walk as an unrestricted free agent.
Related: Meet Canucks Prospect William Lockwood
The other asset given up was a 2026 seventh-round pick. The odds of this pick becoming an NHL player are slim as only 33 players who were drafted in the seventh round have played a game in the NHL this season. This is also a pick Vancouver could re-acquire later on as it won't be made for another three years.
Canucks Make Smart Bet With Kravtsov
In the end, these are the type of moves the Canucks should be making. Even if Kravtsov doesn't develop into an everyday NHLer or decides to head back to the KHL, they took advantage of the market and brought in a player with high potential for cheap. It is an encouraging sign and one that shows Vancouver is building for the future rather than focusing on trying to force their way into the playoff race this season.
---
---