The Detroit Red Wings have been trade partners with the Edmonton Oilers multiple times. Steve Yzerman replaced Ken Holland in Detroit before Holland took a general manager position with the Oilers. If the Red Wings and Oilers sign off on a deal together by this trade deadline, Yzerman needs to push for Philip Broberg. The 6-foot-3 199-pound defender is a great skater who plays a two-way game with untapped offensive potential.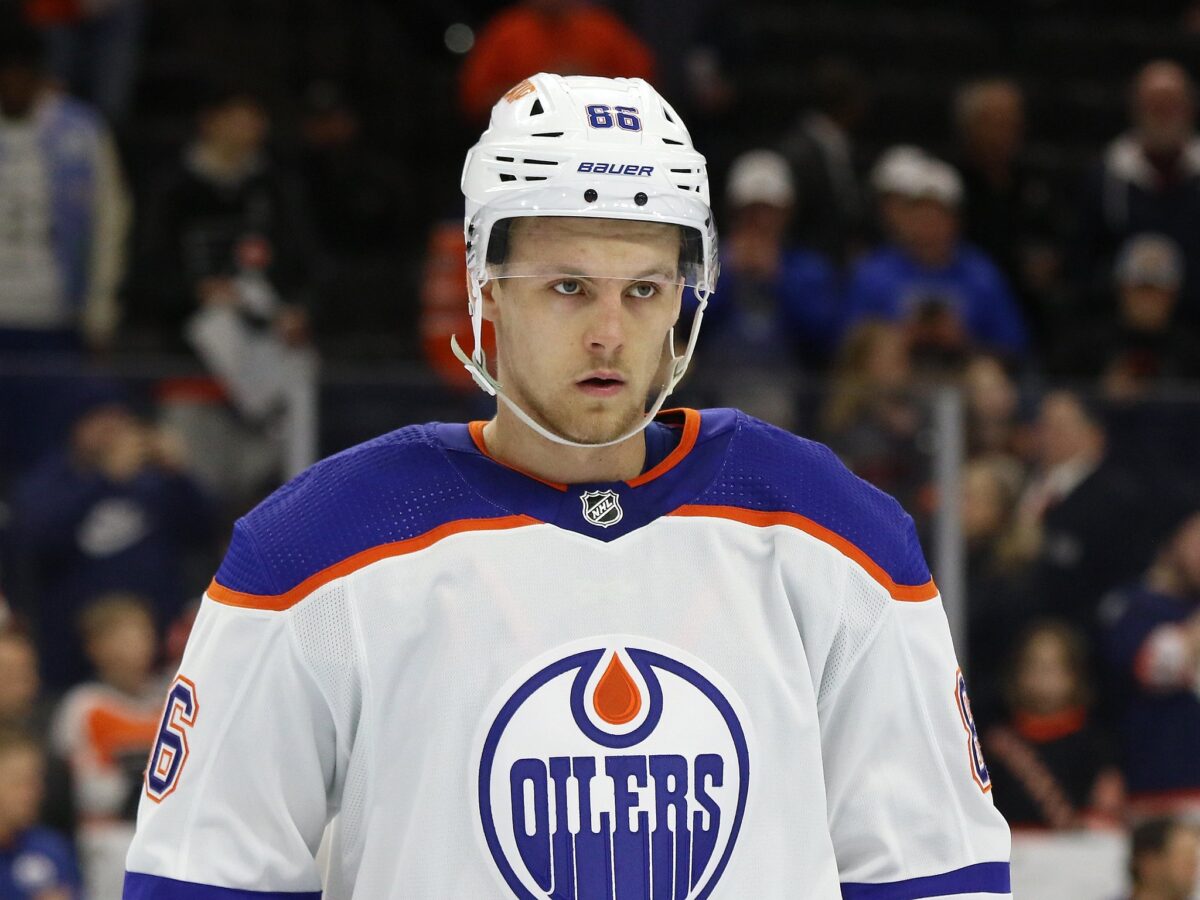 With the Oilers in the thick of the hunt for first overall in the Pacific Division, Holland is actively looking to improve his squad. The Red Wings could be the perfect landing spot for Broberg. He has performed extremely well in a third-pairing role. Broberg would bring great depth to the squad this year and he would continue to develop and get better.
Yzerman Loves Swedish Players
Yzerman has a fondness for Swedish-born players and prospects playing in Sweden. A list of some notable players who played in the Swedish Hockey League (SHL) in their draft year or within two years of being drafted includes Simon Edvinsson, William Wallinder, Lucas Raymond, Moritz Seider, Anton Johansson, Elmer Soderblom, Theodor Niederback, Liam Dower Nilsson and Marco Kasper. Two players to focus on are Seider and Edvinsson.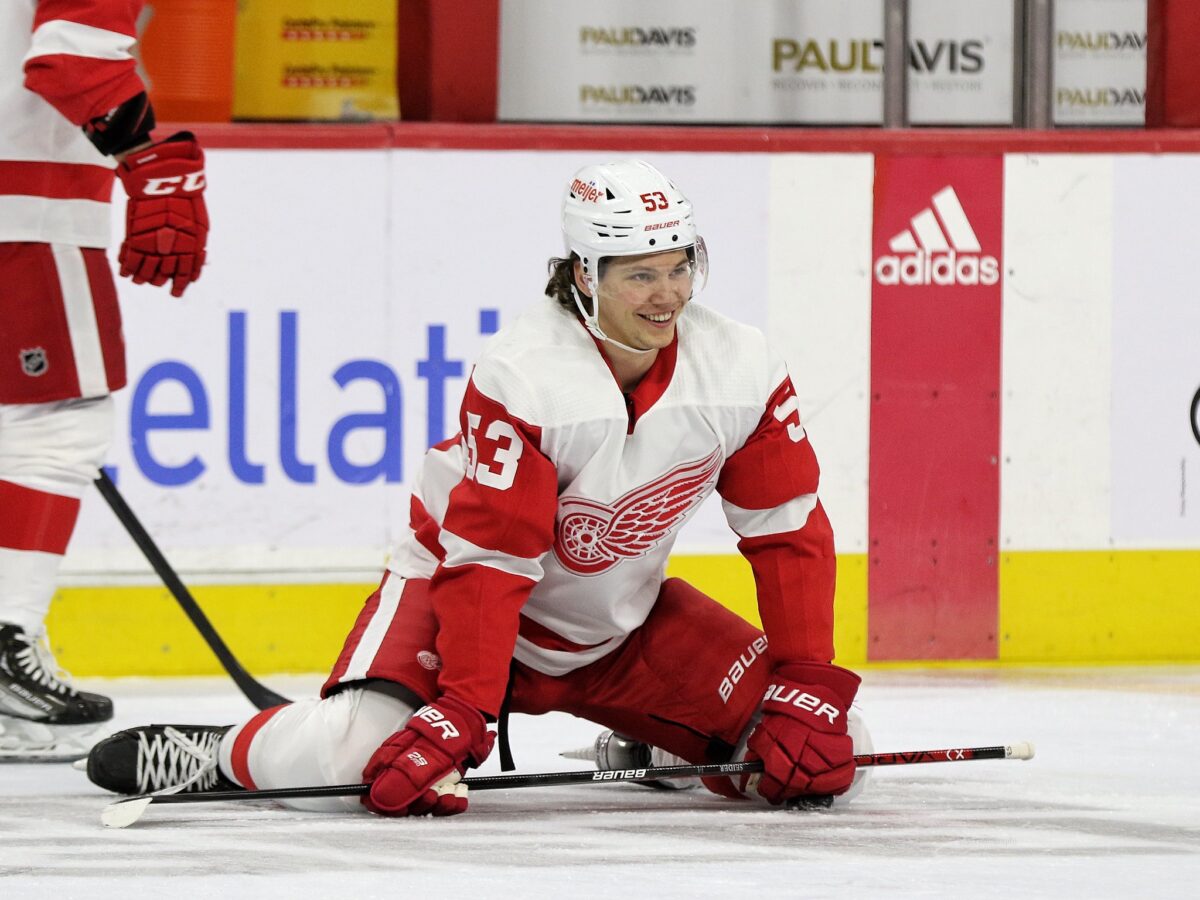 Seider was drafted out of the Deutsche Eishockey Liga (DEL), which is the top competitive league in Germany. He was asked to play a shutdown role with Adler Mannheim, resulting in only six points in 29 games played. He won DEL Rookie of the Year, a sign that his defensive prowess was already emerging. The following season he played in the AHL appearing in 49 games and collecting 22 points in the process. He was able to see what it took to become an NHLer and adjust to the NHL-sized ice rinks we have in North America.
Related: Detroit Red Wings Shuffle Defense Pairings to Unlock Seider
---
Latest News & Highlights
---
This no doubt helped him when he went over to the SHL for the 2020-21 season. He was loaned to Rogle BK and played fantastic on his way to being crowned the SHL's Defenceman of the Year. The cherry on top was the 28 points in 41 games he produced from the back end.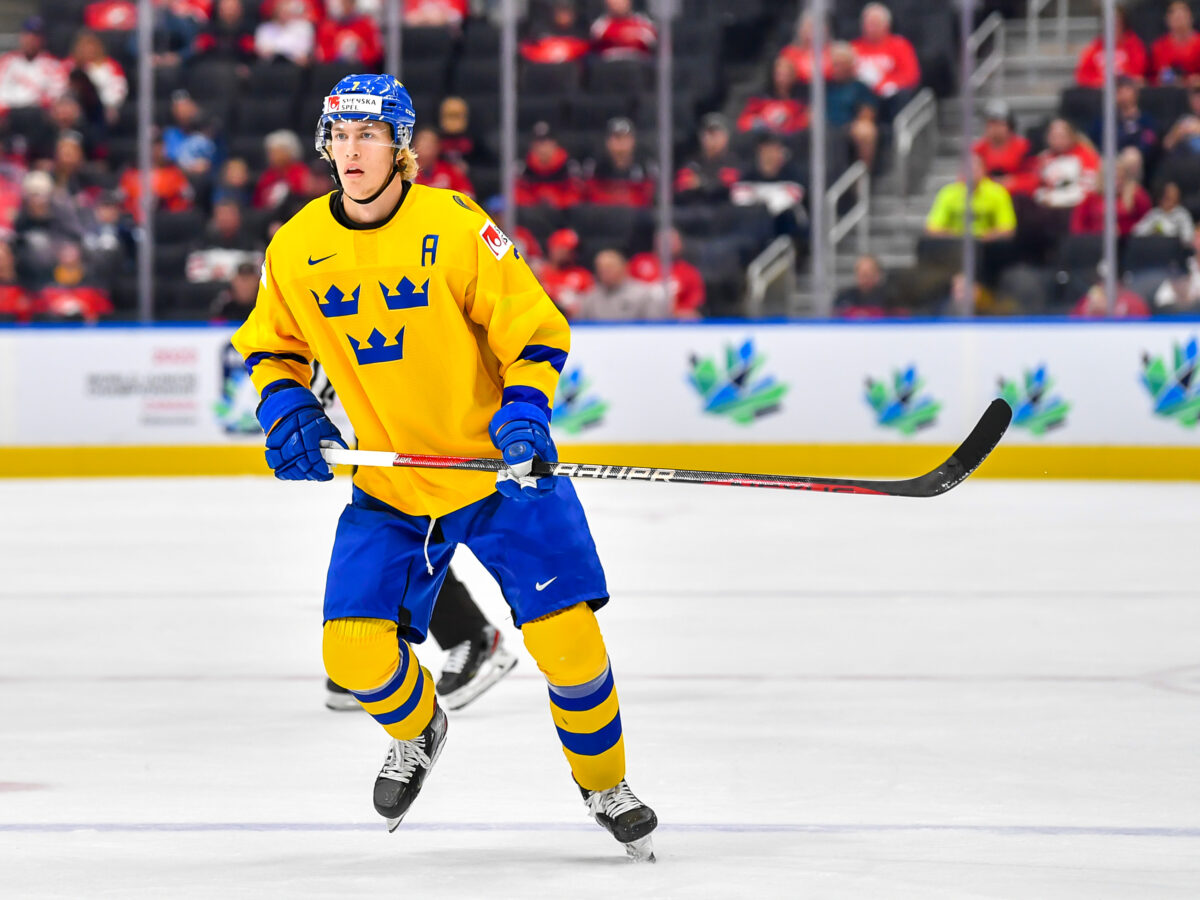 Edvinsson has had the more traditional path, in that he is presently playing in the AHL after spending last season in the SHL. His draft year was split almost evenly between the J20, Allsvenskan, and SHL. In the 2021-22 season, he found success playing for Frolunda's squad in the SHL, with 19 points in 44 games to show for it. This season, he has played 40 games for the AHL's Grand Rapids Griffins racking up 23 points and finding his groove.
What Would the Red Wings Get with Broberg?
Broberg has been known for his skating ability all the way back to when he was drafted. At 6-foot-3 and 199 pounds, he has the size that NHL general managers love to have on their teams. Broberg has great offensive tools that haven't been fully realized yet in his career. The Oilers haven't rushed him, which has been a good strategy as he has been an effective third-pairing defenceman for the club while in the lineup.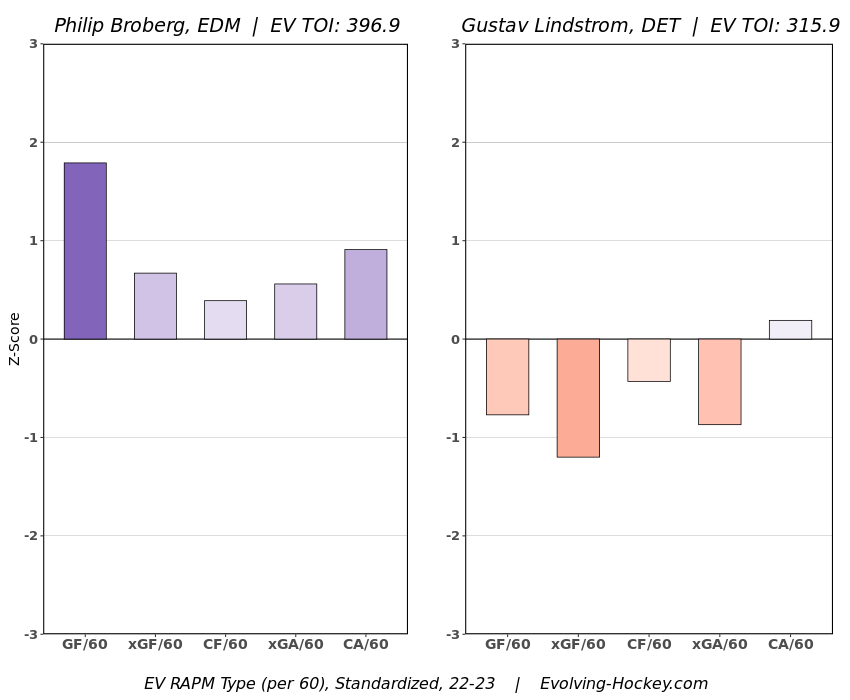 Broberg has played similar minutes to the Red Wings' Gustav Lindstrom. In those minutes, Broberg has performed above average in goals for per 60 (GF/60), expected goals for per 60 (xGF/60), Corsi for per 60 (CF/60), expected goals against per 60 (xGA/60), and Corsi against per 60 (CA/60).
Part of this equation is the player that Broberg has been predominately paired with. Evan Bouchard has been Broberg's most common defense partner, playing 307:30 together. Here is how they have faired in several on-ice metrics:
| | | | | | | | | |
| --- | --- | --- | --- | --- | --- | --- | --- | --- |
| | CF% | HDCF% | xGF | GF | xGA | GA | On-Ice SH% | On-Ice SV% |
| w/Bouchard | 57.35 | 58.33 | 16.05 | 18 | 11.45 | 14 | 10.78 | 89.55 |
Broberg's On Ice Metrics With Evan Bouchard
Broberg and Bouchard have outperformed their expected goals for while slightly underperforming in regard to their expected goals against. Aside from that hiccup, these are all very encouraging numbers. Broberg is making the most of his time and has a great teammate to help him. If he were to play in a Red Wings jersey, he'd more than likely be paired with Olli Maatta. Having a defense-first partner would give Broberg the freedom to explore his offensive instincts and generate more chances for his team.
Broberg's boxscore stats are not remarkable this season. Zero goals, seven assists, 22 shots, 20 hits, and 29 blocks in 32 games while playing 13:49 on average per game. Lindstrom's numbers are remarkably similar: 23 games played, one goal, three assists, 15 shots, 29 hits and 19 blocks with 13:52 of average ice time. Even though their boxscore numbers are similar, Broberg is the better player as far as the on-ice metrics are concerned.
What Could the Red Wings Pay to Acquire Broberg?
Tyler Bertuzzi could give the Oilers some depth on the wing and be a top-six forward option for them right away. They would need to add another major piece and probably a pick to make it work. Maybe Broberg, Jesse Puljujarvi and a third-round pick will be enough to pry away Bertuzzi from the Red Wings. Puljujarvi has had fantastic defensive metrics, which would allow him to play the kind of hockey that Derek Lalonde and the rest of the coaching staff are trying to implement with this team. A fresh start might be what Puljujarvi needs to unlock his scoring potential.
Another possibility to consider is sending a defenceman to the Oilers organization. Ben Chiarot's gritty play would be an asset for a deep playoff run, even if his on-ice metrics have not been good this year. Filip Hronek could be another option for the Oilers, but their right side already has Evan Bouchard, Tyson Barrie and Cody Ceci. They would need to move one of those three in a separate deal for Hronek to make sense. The Red Wings could probably send one of these defenders to the Oilers and look for at least another roster player, high pick, or prospect to finish off this potential deal. Something like Chiarot for Broberg, a 2023 second-round pick, and Luca Munzenberger might work, but would either team truly consider it?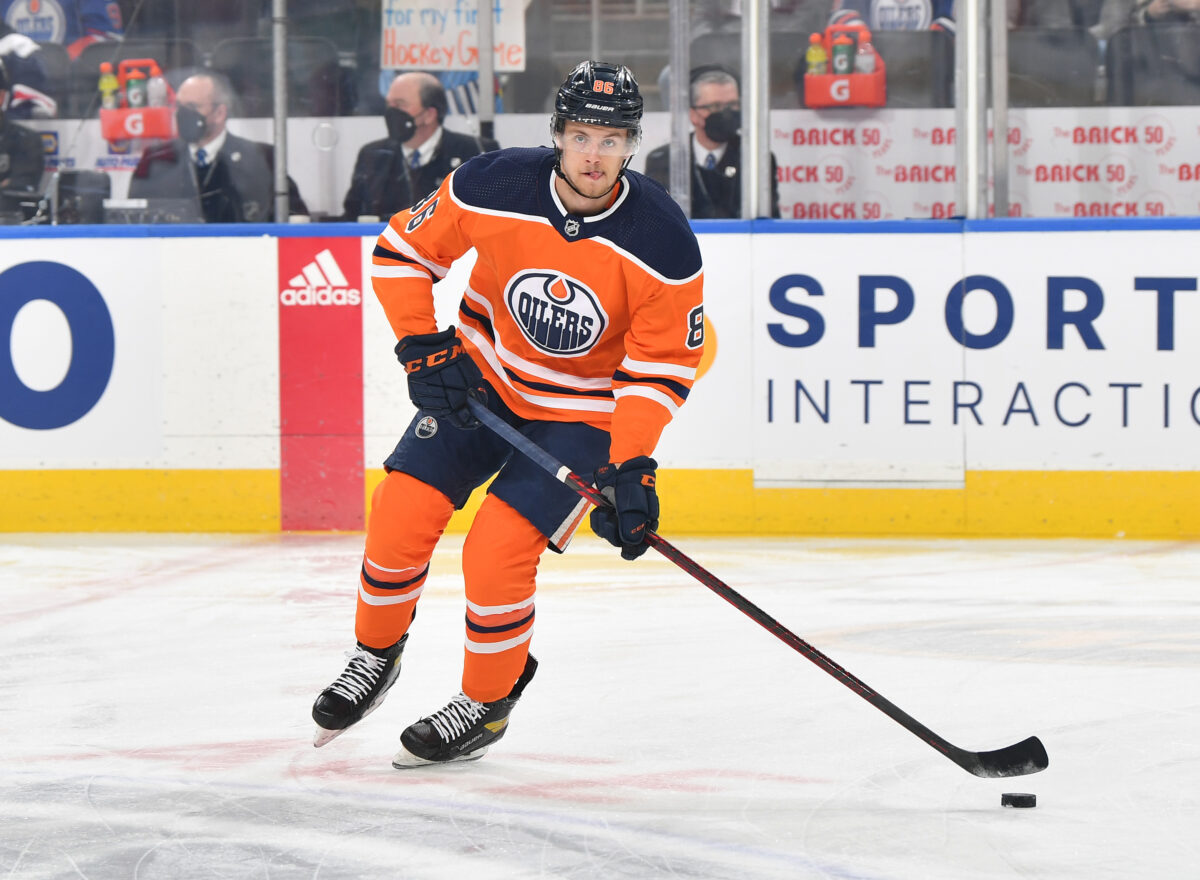 Broberg is the kind of long-term upside, short-term useful asset that the Red Wings could acquire to strengthen their defence. Right now, he's a smooth skating two-way third-pairing defender with great on-ice metrics. No matter if they are building for next year or making a run for the playoffs, they want this kind of player on their team.
---
---