Braden Holtby will be leaving the Washington Capitals as a pivotal asset in the team's only Stanley Cup championship just two seasons ago and leaves a lasting legacy off the ice attributed to his endless community involvement.
Though when you look back at the journey the small-town born Saskatchewan native took to become arguably the best goalie Washington has ever seen, it isn't at all surprising to see how the fourth-round selection became an NHL star. The fan-favourite goalie officially moved on to the Vancouver Canucks after signing a two-year contract on Friday.
Not So Easy Come Easy Go in Washington
With every offseason, hockey's business side plays a much larger role in a team's ability to be a consistent contender. In a non-capped salary structure, the Capitals would be reasonable to offer a short-term deal to their long-time starter for the money Holtby was looking to get on the open market. Unfortunately, the general manager needs to make tough decisions based not only on player performance, but also on the player's terms, length of contract, and how it affects his ability to keep a good core in the NHL salary cap system. Managing all contracts while allowing a continuance of progression for homegrown prospects is a priority.
This move caters to both these principles as 2015 first-round selection Ilya Samsonov has shown a readiness to begin taking on more of a workload in net while at a significantly lower cost. Scheduled to earn $925,000 per year through 2020-21, the Russian goalie just completed his rookie campaign last season and is in the midst of an entry-level deal. He was unavailable for the playoffs due to injury.
The club did sign former New York Ranger veteran Henrik Lundqvist to a one-year, $1.5 million deal to help continue the guidance Holtby had been providing Samsonov over the 2019-20 season. With Holtby receiving $4.3 million next season, the Capitals are able to save $2.8 million in cap space.
Moving On from Olie the Goalie
Since the loss of perennial starter Olaf Kolzig after the 2007-08 season, the Capitals saw a windmill of goaltenders looking for stability in the crease. From veterans like Jose Theodore, Jaroslav Halak and Tomas Vokoun to drafted prospects including Michal Neuvirth and Semyon Varlamov, Washington seemingly could not find a consistent force.
Enjoying a stellar Western Hockey League junior career with the Saskatoon Blades, including a final all-star season while playing in a league-leading 61 games with 40 wins and a club-record six shutouts, the Capitals chose Holtby in the fourth round with the 2008 Entry Draft with the 93rd-overall selection.
With nine goaltenders drafted ahead of the now Vezina Trophy winner at that draft, it's safe to say even the Capitals would have to consider themselves lucky to hit such a home run with the Holtby pick. Especially considering Jacob Markstrom (selected 31st by the Florida Panthers) has been the only other goalie selected ahead of Holtby to have tenured success at the NHL level. Ironic that Holtby is now taking over Markstrom's role in Vancouver.
Starting the Ride to a Stanley Cup
Beginning his pro career with Washington's AHL affiliate Hershey Bears for the 2009-10 season, Holtby saw some time with the South Carolina Stingrays in the ECHL.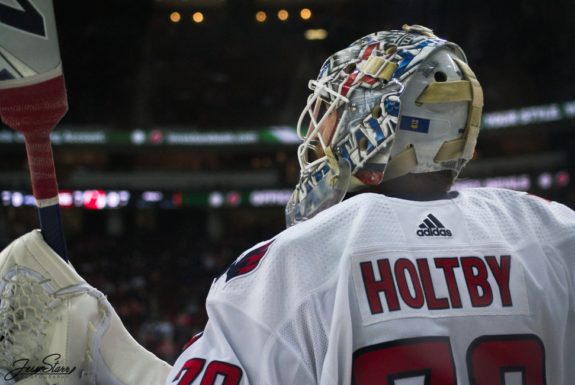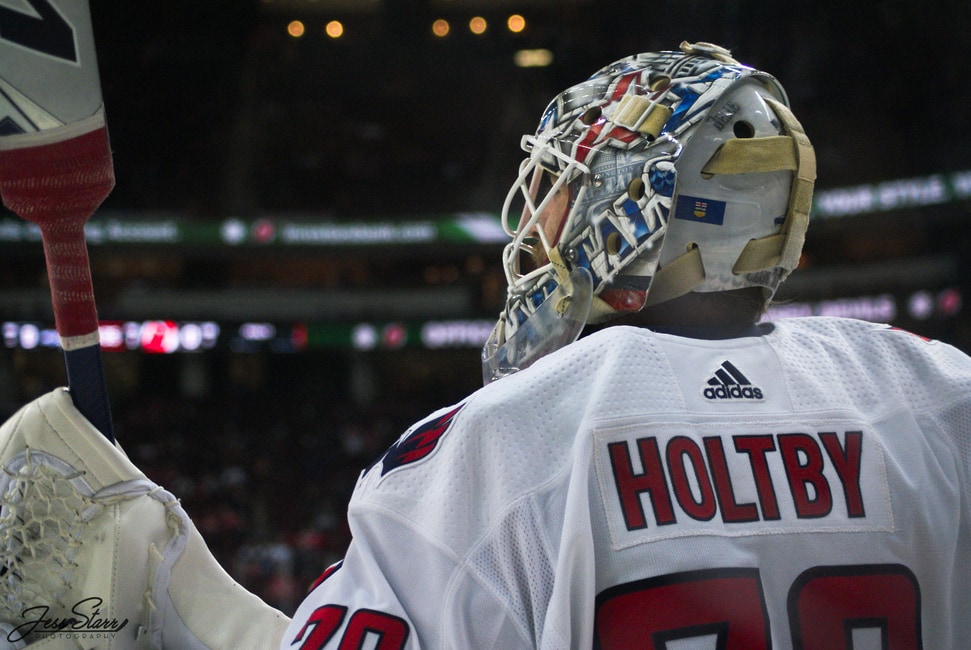 Over the 2010-11 season, Holtby began to make a push for recognition as a future starter. On Nov 5, 2010, Washington fans got their first look at their future star. Earning his first NHL win in relief, Holtby made four saves against the Boston Bruins. His success against the Bruins would be relived in the near future on a much larger stage.
The rookie would start his first game on Nov. 7, 2010, at home versus the division-rival Philadelphia Flyers where he would make 23 saves, earning his second win. He ultimately split time between Hershey and Washington over the course of the season, but gave fans another glimpse into the future in March. Appearing in six games from March 7 to 26, Holtby racked up six victories while allowing only six goals facing 158 shots including a shutout win versus the Montreal Canadiens.
Evolution of Holtby to Holtbeast
As the 2011-12 regular season came to a conclusion, many in Washington had, once again, an apprehensive approach to how the goaltending would stand up as the Capitals entered the postseason. With injuries to Vokoun and Neuvirth, another call-up from Hershey had Holtby once again in the goaltending carousel.
After appearing in seven games late in the season and helping the Capitals to four victories, the rookie was given the nod in the crease to open the playoffs against the aforementioned Bruins. While some considered it a mild surprise at the time, the rookie netminder had just backstopped the team with a 35-save win in Madison Square Garden over the rival New York Rangers, allowing one goal in the regular-season finale. The exceptional confidence was easy to see.
Holtby Answers Capitals' Goaltending Question
Taking on the defending Stanley Cup champion Bruins in the first round of the 2012 Playoffs could be a stressful situation for any goaltender. But for the rookie goalie, it was a chance to shine and prove he belonged in the NHL.
Holtby would go on to help defeat the Bruins in seven games, making many spectacular saves and help produce one of the Capitals' favourite moments.
Holtby has become known for his calm demeanour and this moment against Rich Peverley became a postcard moment for Capitals fans.
While the Capitals would lose a heartbreaking second-round series to the Rangers, Holtby was again stellar in going head-to-head with his current replacement Lundqvist, ultimately losing in seven games. He allowed only 15 goals in seven games while facing 220 shots, including an unbelievable 47-save performance during the Game 3 loss.
A Legacy Being Written in the Crease
The Capitals had found their starting goalie. Although Holtby would only start 36 games during the 2012-13 season, he was cementing his status as a goaltender the team could count on moving forward. Over the next four seasons, he registered numbers that not only positioned him as arguably the Capitals' best-ever goalie, but also as one of the best goaltenders in the NHL.
After two more solid seasons saw the now-confident Holtby continue to improve, he would lead all goaltenders with 72 games started; something you may never see again in the NHL. He historically enjoyed the workhorse load and was regularly open about his desire to play every night. In 2015-16, he would tie the legendary Martin Brodeur for wins in a season with 48, earning him a Vezina Trophy and his first of five All-Star nominations. He followed that up with a Jennings Trophy win in 2016-17.
Legacy Inked by a Cup in DC
The 2017-18 season will be remembered as Holtby's finest, though not statistically best, season. While he began to show signs of maintaining the high-level of play for extended periods of time, the now-seasoned veteran was able to overcome many obstacles and help the Capitals win their first championship. It had been decided that he would not start the playoffs for the first time since 2012, but after the Capitals found themselves down 2-0 in their opening series against the Columbus Blue Jackets, he became a part of NHL history with his name on the Stanley Cup. It was during the Stanley Cup Final in which Holtby became immortalized forever in Capitals and NHL playoff history when he made "The Save."
Many Capitals followers were beginning to wonder if Holtby was in decline following a failed repeat at the hands of the Carolina Hurricanes in 2018-19. Statistically, that season wasn't bad, but it was becoming apparent he was having a harder time being consistent. With his worse statistical season coming this past 2019-20 season, there were many more who thought his time had come as far as the Capitals number one goalie. Samsonov was showing signs he was ready to take over and, of course, his contract was much smaller.
In a perfect world, surely the Caps would have liked to retain Holtby for at least one more year to enhance Samsonov's progression. It seems to me that a move to another team is likely the best scenario for both player and team. Holtby is not ready to give up his crease and maybe, more importantly, his contract became an issue that the team had to move on from. Either way, it's a bittersweet day for Capitals fans.
Holtby Helps in the Community
With his extensive community involvement, the loss of one of the greatest Capitals in team history also comes at a loss to the city. Along with his wife Brandi, Holtby has been a driving force in many social issues and his volunteer work throughout the DC area is well documented.
From donating time and money to help get a gym built for a school or walking in the DC Pride Parade, he was always a willing ambassador for the team and league. Recently, Brandi and he donated 25,000 meals to the Capital Area Food Bank. After fans matched the donation, the Holtbys decided to donate another 25,000 meals. During the pandemic, it's actions like these that help so many in need. Always fan-friendly, one only needs to look at the Twitter posts from his supporters to see how mutual it is.
As a Capitals follower since 1986, I can safely say that Holtby is one of the most important components to the club's first and only championship. The team was never able to "outscore" their problems come playoff time, and it was Holtby who was finally able to find the right equilibrium between winning and losing. Chances are better than not that he's left a legacy behind that won't be matched in Capitals history. Certainly, his patented water toss is one that belongs to Holtbeast.
---
---