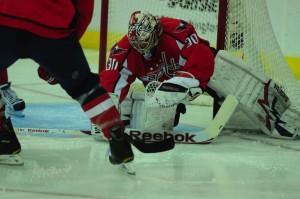 The Washington Capitals need to keep in mind that there are only so many games left in the regular season to earn a playoff spot. In order to do so, they must adhere to two things: they should probably try to win against teams over .500 and they should probably learn to do that as soon as possible. The push for a playoff spot in March is going to be a tough one, playing teams that are decent contenders and playing a lot of them on the road. As a result, the Caps are in a position where they have no other option but to win most, if not all, their home games. Friday night they failed on both accounts, losing to the New Jersey Devils, 5-0, after winning 3-2 by a hair in overtime against the New York Islanders on Tuesday.
Teams in the Eastern Conference have been so tightly packed in the standings that almost everyone is in it. As a result, teams like the Buffalo Sabres have come up out of nowhere and the Tampa Bay Lightning are still even sort of in it. The Caps have then needed to cross their "t's" and dot their "i's" since then. After winning three straight against the Canadiens, Leafs and Isles, it appeared that Washington was finally in control of things, taking the eighth seed after Tuesday's win. Two days later, the Winnipeg Jets regained the eighth seed with a 7-0 win over the Florida Panthers, but no worries in Caps Land — they had Friday to get two points.
Unfortunately for the Caps, they didn't get the memo, as they constantly turned the puck over and went to the penalty box, giving this year's aggressive Devils team prime opportunities to turn on their offense. New Jersey certainly took advantage, as Zach Parise recorded a hat trick just 23:08 into the game and the Devils added a league-leading 14th shorthanded goal.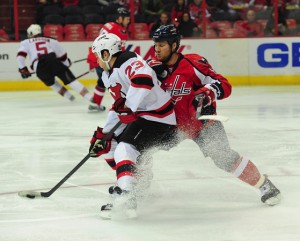 "Pretty much all of their goals — except their power play goal — we turned the puck over," said a visibly-frustrated Dennis Wideman after the game, clearly showing the team still knows they are having trouble with season-long problems.
The Caps are not helping themselves when they play games like this. Aside from the fact that they only beat three teams that are not the playoffs and then immediately lost to the current seventh seed, Washington continues to struggle to keep their destiny in their own hands. Now still sitting in ninth place after Thursday's Jets win, the Buffalo Sabres have suddenly come into the picture, sitting ahead of the Toronto Maple Leafs in 10th place. The Leafs' recent struggles may have given people the go-ahead to call Toronto out for the count, but as quickly as the Caps were down and then back in the race, after they confirmed the firing of Ron Wilson and hiring of Randy Carlyle, they might have a small spark to find their return to a playoff spot. In other words, if the Caps don't take two points nightly, other teams can and will, forcing the Caps to have to rely on everyone else to lose instead.
The immediate solution to this game is to win Sunday against the Flyers at home. There are only nine games left at home and the ideal situation would be to win all of them considering that road swing ahead. It would also (potentially) be a morale booster to beat a playoff-seeded team, especially after a frustrating performance like Friday night against New Jersey. Take it one game at a time, and they might be able to sneak back in.