This is the sixth in a series of articles leading up to the regular season detailing the most pressing questions facing the Washington Capitals heading into the 2015-16 campaign.
Click here to see Question 1 (What Happens to Laich and Chimera?)
Click here to see Question 2 (Will the Caps Miss Mike Green?)
Click here to see Question 3 (Can Any Prospects Crack the Lineup?)
Click here to see Question 4 (Has the Culture Been Changed for Good?)
Click here to see Question 5 (What Did We Learn From Preseason?)
Transparency is apparently the word of the moment as we suffer through the endless presidential debates, complete with their usual mudslinging, and the daily criticisms of both President Obama and the U.S. political system in general. So for a blogger covering a hockey team in the nation's capital, being transparent seems appropriate.
Well then, here goes nothing.
I'm a Caps fan. From Day 1. 40 years. Diehard. Cynical. Frustrated. Overly critical. A conspiracy theorist. Loyal to a fault.
And I'm not changing. Win or lose. Good or bad. Through thick or thin.
To me, the Caps are lovable and exasperating all at once. The referees and Gary Bettman are clearly out to get them and continuously keep them from achieving the sport's ultimate goal (isn't it amazing that fans of every team feel this way?). This is who I am, and it makes perfect sense. I mean, who else besides a true fan would take the time out of his or her life to blog about a team they don't care about (unless the money was really good; and trust me, it's not!)?
And I say this with all due apologies to my kids – my poor kids – who have been passed the torch and become diehards, too. My son, in fact, a 16-year-old college and junior hockey prospect who recently broke his foot playing soccer for his high school team (yes, soccer – shoot me now), will get his crutches and hop all the way to section 411 tonight for the opening game of what some have said might turn out to be a historic season for the Washington Capitals. Wait, I didn't say that did I?
An aside, thankfully, my daughter went with the other side of the family when it comes to football, rooting for the Ravens (although I wouldn't call her a diehard). My son, yeah, double whammy. Redskins fan. Please send donations for his therapy fund. DM me on Twitter @BeltwaySport for more info. Thanks!
So now that we've gotten that out of the way, the answer to the question stated in the title of this article is unequivocally NO! Yes, that's NO with an exclamation point. NO WAY, NO CHANCE. Do you really think this jinxed franchise with more epic playoff meltdowns on its resume than possibly any other professional sports team has a chance to win the Stanley Cup? The greatest trophy in sports? What? Are you freaking nuts?
Remember, I'm a fan and a true fan would never jinx his team with a public statement – especially one in writing for the world to refer to and make fun of – that his team is going to win it all. And he certainly wouldn't do that if he roots for a team that has made it past the second round of the playoffs just twice. That's right. Twice. EVER.
Take my statement for what it's worth then, although being a Caps fan hasn't been all that bad. Maybe we should have known that the road wouldn't be easy when the franchise turned in possibly the worst season ever by any professional team in its inaugural 1974-75 campaign, going 8-67-5 (yes, I typed that record from memory before double-checking its accuracy).
Then there was the "Save the Caps" telethon in 1982. I was there. In person. 12 years old. Already hooked. The team was losing money (and games) hand over fist and had never sniffed the playoffs. Ownership was just about convinced that hockey in D.C. would never take off. The gauntlet was thrown down: Sell out the first 10 games of the season or the team goes bye-bye.
Seriously. A telethon to save a professional sports team. George Michael, God rest his soul, a local sportscaster who had covered the Islanders on Long Island and developed a love for hockey, orchestrated the whole event. Fans and local businesses stepped up to ensure the sellouts, and the rest is history.
We Haven't Had it That Bad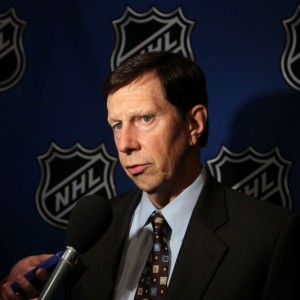 From that point until now, really, compared to most professional teams, the Caps have enjoyed a pretty good run of success. About the same time as the telethon, Washington GM David Poile, another franchise savior who often goes unappreciated in D.C., made the blockbuster trade for Rod Langway, Brian Engblom, Doug Jarvis and some talking head TV guy named Craig Laughlin. After that, the Caps immediately began a streak of 15 consecutive playoff appearances that culminated in 1998 with a first-ever trip to the Stanley Cup Finals. How many pro franchises can say that?
Along the way, we got to watch future Hall of Famers like Langway, Scott Stevens, Dino Ciccarelli, Phil Housley, Sergei Fedorov and Mike Gartner up close and personal. The highest-drafted American-born player in history, Bobby Carpenter, played in D.C. Peter Bondra won goal-scoring titles. Jim Carey and Olaf Kolzig won Vezinas. Dale Hunter pissed everyone off and scored a Game 7 overtime winner against the hated Flyers.
Here, I pause. Many Caps fans still consider Hunter's torching of villain Ron Hextall as the greatest goal in team history, but a true fan realizes that Joe Juneau's Game 6 OT winner against Buffalo that sent the team to the finals in 1998 was far bigger. Yes, there was that.
Of course, along the way, there were the blown 2-0 and 3-1 playoff leads, the Easter four-overtime heartbreaker versus the Islanders and the demons beneath the Capital Centre ice (or maybe the ice just generally sucked) flipping the puck over Juneau's stick on an OT penalty shot in a game lost by the Caps when Peter "Effing" Nedved (yes, that's his real name) beat Kolzig in the fourth overtime. Ironically, Pat LaFontaine's middle name is also "Effing." Do you think those are family names?
Another aside (slight case of A.D.D. today, I guess): I have talked to LaFontaine twice and think he's one of the nicest superstar athletes I've ever had the pleasure to meet. My first meeting was when the 1984 U.S. Olympic Team came to D.C. for an exhibition against the Caps. The team held an open practice, and everyone was invited onto the ice to meet the players. I was in high school at the time, and he must have spent 10 minutes just chatting with me, asking personal questions as well as questions about the Washington area in general.
Fast forward to the 2011 Winter Classic. LaFontaine was signing autographs for one of the game's sponsors. I had my kids with me and tried to explain who he was. When we got to the front of the line he asked if we were from Washington (I guess all the Caps gear didn't give it away). He deadpanned, "You guys must not like me very much." I wasn't going to mention it, but his comment made me say, "No, I'm actually a big fan," and then I relayed the Olympic team story. He seemed genuinely moved and again took a few minutes to talk to my son about hockey. It doesn't take much, even for the enemy, to create fans for life.
So back to the Caps; most sports fans don't get to follow a team that over the past 30-plus years has made the playoffs 25 times, won eight division titles and advanced to the league championship series once. Eight Hall of Famers have donned the Caps' various colors over that time period, along with future Hall of Famer and world-famous superstar Alex Ovechkin and potential future HOFer Nicklas Backstrom.
I've seen more Game 7 collapses in person then I care to admit, but was also present for Hunter's goal, an OT game-winner by Todd Krygier in the 1998 conference finals and Sergei Federov's top-shelf Game 7 laser to beat Henrik Lundqvist and the Rangers. I've attended an All-Star Game at Capital Centre, Stanley Cup Final games at the then-MCI Center and got to see the Ovechkin-Sidney Crosby dueling hat tricks game firsthand. So the ride hasn't been too bad.
"Objectively" Speaking
And that brings us back to this year. Is this THE YEAR?
NO! Do you not listen?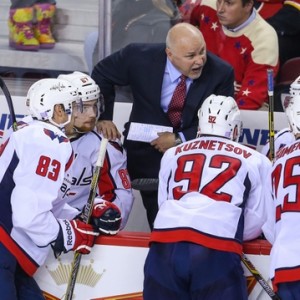 But if I were to look at things objectively (I said "IF" I were), I would tell you this: The Washington Capitals have as good a chance as any team in the NHL to win the Stanley Cup this year. Almost anyone will tell you that. A lot of luck goes into that accomplishment, both on the ice and as far as player health is concerned, but how many times has anyone been able to make that statement in the last 40 years (and it to be accurate)? Maybe three or four times? That's about it.
This year's version of the Capitals, top to bottom, may be the best in franchise history. The team's forward depth stacks up against anybody's. The top-four defensemen are as good as just about any team's top four, and they have a goalie who finished fourth in last year's Vezina voting, is a budding superstar and battled one of the best goalies in the history of the NHL shot for shot in the second round of last year's playoffs. With the exception of a few years when Kolzig was in his prime, goaltending has always been a concern in Washington. The Caps just never seem to have the goalie capable of carrying them to a title. Holtby could be that guy.
The lone question mark is Washington's third defensive pairing of Dmitry Orlov and Nate Schmidt. Both are 24 years old, have battled injuries and have had opportunities to play at the NHL level. Both have shown the potential to be excellent two-way, puck-moving defensemen. The team is good enough to live with some early season mistakes in hopes that they mature into solid performers come playoff time. And if they don't, there is plenty of depth in the organization to make one of those landmark deadline-day trades that results in a deep playoff run.
A brief look at how the Caps stack up against the rest of the East (objectively speaking of course):
Top-Six Forwards:
Ovechkin, Backstrom, Oshie, Burakovsky/Johansson, Kuznetsov, Williams
I would argue that Pittsburgh's top six stacks up against the Caps, but Sergei Plotnikov is on the Pens' second line? Is that accurate? Boston has a quality top six if Pastrnak performs up to expectations (but have you seen the Bruins' defense?). Buffalo's top six is solid, but too young. Detroit's is solid, too, but Zetterberg and Richards are not who they used to be. Florida, Toronto, New Jersey, Carolina and Ottawa don't compare, and the Flyers have two superstar-caliber forwards along with a bunch of third-liners, with the exception of Wayne Simmonds. The Islanders are close, but not quite as deep, and the Rangers are simply solid, but not spectacular, and their goal-scoring issues have been well-documented in the past. If Tampa's top-six supporting cast continues to develop and plays like it did last postseason, the Lightning do compare favorably with Washington. Columbus is very close with the exception of Rene Bourque on the second line (again, is that accurate?).
Bottom-Six Forwards:
Chimera/Johansson, Beagle, Wilson, Laich, Latta, Collins/Galiev
A lot here depends on Tom Wilson's development. Brooks Laich and Stan Galiev give the Caps the ability to create a more offensive-minded third line depending on the matchup. This group of forwards gives Barry Trotz a lot of flexibility and a great combination of youth, experience, size, speed, skill and toughness. Without going team by team, this bottom six would hold its own against pretty much any in the NHL.
Defense:
Carlson, Orpik, Alzner, Niskanen, Schmidt, Orolov, Chorney
Again, the top four is as good as almost any in the NHL and has a great mix of two-way, puck-moving guys and stay-at-home, positionally responsible defenders. The key here is the development of Orlov and Schmidt.
Looking around the East, Tampa immediately appears to be as good or potentially better, perhaps gaining an edge overall on the blue line thanks to the experience of Braydon Coburn on its third pairing. Hedman, Stralman, Carle and Garrison compare favorably to just about any defensive core in the league. Florida has a solid mix of veterans along with youngsters like future Norris-candidate Aaron Ekblad, but looks to be slightly behind the Caps (and the remainder of the lineup doesn't compare).
Montreal is intriguing on the blue line, of course, with Subban, but Markov's age as well as injuries and overall depth are a concern. The Islanders' top four of Leddy, Boychuk, de Haan and Hamonic, along with the addition of Zidlicky, puts them in the conversation, but their lack of depth was exposed in the playoffs last season. If not for Dan Boyle on the second pairing, the Rangers clearly would be the elite defensive group in the East. But with a guy like Keith Yandle playing on the third pairing, they still are probably as good as any team in the league top to bottom. Detroit, Ottawa, Buffalo, New Jersey, Toronto, Carolina, Columbus, Boston, Philly and Pittsburgh just aren't on the same level defensively as the teams already mentioned.
Goaltending:
Assuming that Holtby is as good as he was a year ago or takes a step forward, he is as good or better than anyone in the conference except Carey Price. And if he can turn in a Price-type year, the Caps are as dangerous as anyone in the league. Lundqvist certainly is at least Holtby's equal if both are on their games and has more big-game experience, but Holtby's resume is growing. Bishop, Bobrovsky, Fleury and Rask all have shown the ability to play at that elite level, it just depends on if they play up to those expectations this year. Schneider and Halak certainly have had their moments over the years, and last year's surprise, Andrew Hammond, still has to prove himself over a full season.
The Bottom Line
So, is this the year for the Washington Capitals? As a fan I say no. But if I were an objective observer looking in from the outside, I think that I could honestly say, well, maybe. And no, you're not going to get me to put anything more than that in writing.
Enjoy the 2015-16 NHL season everyone. It's already off to a great start!