This is the fourth in a series of articles leading up to the regular season detailing the most pressing questions facing the Washington Capitals heading into the 2015-16 campaign.
Click here to see Question 1 (What Happens to Laich and Chimera?)
Click here to see Question 2 (Will the Caps Miss Mike Green?)
Click here to see Question 3 (Can Any Prospects Crack the Lineup?)
When Barry Trotz was hired to coach the Washington Capitals, the immediate reaction around hockey was that ownership was putting the team on notice that there needed to be a culture change. It took a little while, but culture change is the best way to describe what took place in D.C. a year ago. Yet, heading into the 2015-16 season, the big question is whether the change was a temporary one or if coming within one overtime shot of advancing to the Eastern Conference Final was enough to confirm long-term buy-in from the players.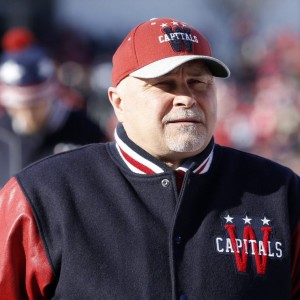 Trotz, a respected defensive taskmaster who had found a way to win games consistently with limited offensive talent in Nashville, inherited a Capitals team that had given lip service to two-way hockey in the past, but that had a reputation for being most comfortable playing a wide-open, up-and-down style that had not translated to any postseason success worth mentioning. And of course there were whispers, well maybe more than whispers, about the team's captain Alex Ovechkin being a coach killer.
Like any transition, it was a struggle at first, and the early results were mixed. The Caps started the 2014-15 season with a bang, going 4-1-2 out of the gates before dropping five straight to fall to 4-5-3. From there, the team hovered around the .500 mark into early December before the light bulb finally turned on for good. Washington was one of the best teams in the league from December through the end of the season, putting together a 35-16-4 record the in that span and climbing all the way to second place in the Metropolitan Division.
What was the difference? To a man, the answer was Barry Trotz and the new culture he had created within the organization.
"You heard me talking about that a lot," Trotz told the National Press Club during a July luncheon. "Changing the culture. It's not an indictment of anyone who had been here before me, because there had been some great people here before. But the brand had lost its energy a bit … And one of the things I did when I first got the job was to start listening."
First Things First
One of the first people Trotz listened to was Ovechkin. Trotz began his tenure by traveling to Las Vegas to meet with Ovechkin to begin the process of building a bond and earning the trust of the team's superstar captain.
The bond and trust between the two grew throughout the season, with Trotz continually praising Ovechkin publicly for "buying in," working hard and putting the team first. He brushed aside his star's coach-killer reputation and told the world that Ovechkin had been a model citizen and a strong leader.
Ovechkin, who had been crushed by U.S. and Canadian media the year before for his minus-35 rating despite scoring 51 goals, returned the favor by going out of his way to change his game, playing a more responsible defensive game, competing in all three zones consistently and not taking shifts off.
Trotz preached to Ovechkin that defense can create offense, and guess what? The world's best goal-scorer exceeded his previous season's totals in goals with 53 and points with 81 to win yet another Rocket Richard Award. Even more important, Ovechkin enjoyed a 45-goal turnaround in his plus-minus rating, finishing the year at plus-10. Suddenly the misunderstood Russian was a media darling instead of a coach killer.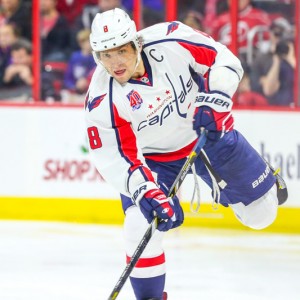 Ovechkin trusted his coach and the offensive results actually got better. That led to full buy-in from the captain. Once he was in, everyone was on board. Say what you want about Ovechkin's leadership, he's well-liked in the dressing room and has always held himself accountable. The Capitals follow his lead, and never was that more apparent than last season.
Trotz asked Ovechkin and the rest of the team to trust the process, and that's exactly what they did. The final results speak for themselves.
"I really tried to identify and communicate the game plan to the leaders," Trotz said, "because if the leaders don't buy in then nothing happens. It was really important to get their buy in, because without your leaders you aren't going to be very successful. They've got to buy in. Even if they don't believe it, you've got to sell it."
But Will it Last?
So what happens this year? Despite last season's near run to the conference finals, the team came up short again in predictable fashion. No one can deny the positive strides the Caps made in terms of their style of play and the ultimate results. But after eliminating one demon with a Game 7 win over the Islanders in the first round of the playoffs, Washington fell to the Rangers in overtime in a classic Rd. 2 Game 7 after holding a 3-1 advantage in the series.
The thoughts expressed by team members following that emotional Game 7 setback were, much like their coach, tempered – a further indication that the team had bought in completely and could see the big picture after not making the playoffs at all the previous season.
"I wanted them to be humbled by not making the playoffs," Trotz said "and I think they were."
This changed group of Caps finished second in a difficult division, won a Game 7 and came within a goal of the conference finals. It was a great turnaround. Tremendous progress. But they said it wasn't good enough. And while the outcome was disappointing, it was not the end of the world. The future was truly bright.
This time around, we didn't hear the same old clichés about pucks not bouncing their way or the effort not being good enough or not playing a style that can be successful in the postseason. Instead the talk was focused on the turnaround, the new culture that had been created, lessons learned and that anything less than the conference finals would not be acceptable going forward.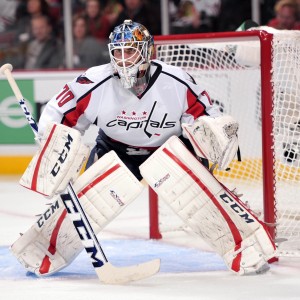 "It was good hockey," goaltender Braden Holtby said following the loss. "Both teams played really well. It's tough to swallow. This group is special. We have a very special group. It's unfortunate. We challenged ourselves against the best team in the regular season. We played really well. I'm proud of everyone on this team. It's tough to swallow, but there are no regrets here."
The post-playoff mantra for once wasn't "Woe is me," or "Curse our luck," instead it was more an air of disappointment and perspective. The Caps had taken positive strides toward becoming the kind of team they want be – one that played a style that would allow them to compete for the Stanley Cup – but still had learned many valuable lessons to draw from in the future.
"Last year, these interviews were done about a month earlier," veteran forward Brooks Laich said on the day of his exit interview. "We had a very difficult season, but looking at our team now on the ice and off the ice and the strides we've made I think that we're in a great position to have success next year. I really liked our team. I liked how hard we were to play against. You can always improve your game offensively and defensively – every facet. You never come to the rink ever saying that your game is okay. There's always something to improve. But I thought we had a very strong team. Quite possibly the strongest since I've been here in D.C., and I'm very proud of that."
There was no finger pointing or excuses, but instead there was confidence and almost a defiant tone. "We will be back, and this won't happen again," was the refrain. It was almost as if Trotz had scripted the locker room speech for every single player. But he hadn't. Instead he had managed to change their thinking. A new culture had been born during the season, and by the end it truly had become the team's identity.
"It's a tough one to not have moved on," Laich said about the playoff defeat, "but it really gets us excited for next year."
Trust Goes Both Ways
As the loss to the Rangers became just a speck in the team's collective rear-view mirror, the organization stepped forward again to solidify the players' and coaches' belief that the franchise was serious about contending. Instead of standing pat and resting on last season's accomplishments and hoping that the team's promising young prospects developed, Washington went out and signed free-agent Justin Williams, arguably the greatest Game 7 performer in NHL history.
That alone was enough to make the fanbase and players believe, but the Caps weren't done. Next they traded for T.J. Oshie, a player with first-line skill and the missing piece to the Ovechkin-Nick Backstrom top-line puzzle. If they all hadn't bought in at this point, Caps players were now sure to be fully on board as they sat back and listened as various experts either picked them to advance to the Stanley Cup Final in 2015-16 or at least be among the very top group of teams with a realistic chance of getting there.
To make this happen, veteran players who had been key members of the team's recent history had to leave town. And while high-flying defenseman Mike Green, clutch playoff scorer Joel Ward, Penguin-killer Eric Fehr and Winter Classic hero Troy Brouwer certainly will be missed, any change in culture is accompanied by personnel turnover. You simply can't keep the same group of guys intact, no matter how much you might like them all, and take giant strides forward.
"On the ice, guys are tremendous players," Laich said. "We know what they can do on the ice, but it's the friendships off the ice. I spent a lot of time in my life with these guys. I literally grew up with Mike Green. Eric Fehr, winning championships with these guys in the minor leagues. I mean that's 10, 11 years ago. You think about the guys you get to play with everyday and you're so much more than teammates with them and you want to have success with them. They're special friends and I really thought we had the group this year to do it."
Trotz enters Year 2 of his Capitals' tenure armed and loaded for battle. He never had this kind of talent in Nashville and overachieved. Then he came to Washington and right away, again with less talent than he has now, made an immediate positive impact on veterans and youngsters alike.
The team's veteran leaders had heard similar messages before, but for whatever the reason, they did not resonate. This time, the expectations came through loud and clear. Promising young players like Evgeny Kuznetsov and Andre Burakovsky saw Trotz' patience and cautious approach pay dividends for them late in the season and in the playoffs.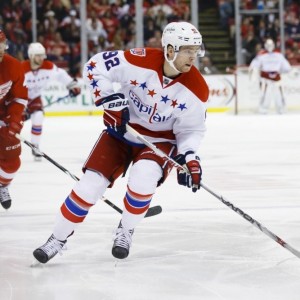 "Here's a top player from Russia coming from a different league," Trotz said of Kuznetsov. "He had a situation where he had to trust the coach. The coach was not always playing him as many minutes, sitting him out sometimes and helping his game, but he trusted the coaching staff and we were always upfront with him and he grew as a player. Now I think he's going to be a terrific player for us."
People wondered if Trotz would burn out Holtby, the budding superstar goalie who was handed the job and told in no uncertain terms he was Trotz' guy. Holtby rewarded his coach with his best season to date and emerged as one of the league's top goalies.
"You gotta have a vision, not only for the group, but also for the individual player short term and long term," Trotz said. "Braden Holtby was a very busy goalie for a number of years here. And all of the sudden he wasn't a busy goalie. We were better defensively and a better-rounded team. It was very difficult for him to stand there for 10 minutes and not get a shot. Then he gets a shot and his save percentage wasn't very good. If you talk to any goaltender it's very difficult to play those games, but he was willing and open-minded to do that."
The development of a new culture is based primarily on trust and then subsequently results.
"It's getting that trust, giving opportunity and then being patient, knowing that the process will hold up," Trotz said.
And when the players buy in and get a taste of the success that has eluded them and then see first-hand that their organization is committed to doing whatever it takes to be the best, the buy-in becomes permanent – and in turn so does the culture. That's where we find the Washington Capitals as they enter what they hope will be a memorable 2015-16 campaign.