Already the Carolina Hurricanes look different. Monday night the Ottawa Senators came to Raleigh for the rematch in a home and home with the Hurricanes, who look decidedly different of late than they have for most of the season. Frankly, it's a good look. It's a look, however, that spawns two primary emotions with the Hurricanes' fans, disappointment and excitement.
Disappointment because "What if the team had looked like this six weeks ago?" is a valid question — and excitement because if the last few games are any indication, the future is looking good for the Hurricanes. Valentin Zykov is already making a legitimate impact on this team and has very likely played his way onto next season's roster. Head coach Bill Peters said last week that a larger sample size would be necessary to more accurately assess Zykov's future.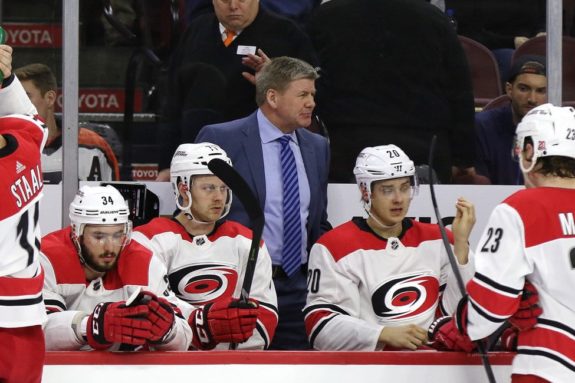 After Monday night's game against the Senators – which the Hurricanes won, 4-1, Peters seemed to have already changed that tune. Asked about the "five-game plan" for Zykov Peters said,
The five-game plan with Z got blown up.
A better way to say that would be, "Z blew up the five-game plan." He's showing that the wishful thinking the fans had about bringing him up a few weeks ago was definitely justified.
Hurricanes Scratching
The Hurricanes had previously announced that Victor Rask and Brett Pesce will both miss the remainder of the season due to shoulder injuries. So, there are two scratches right off the bat. Against the Senators, the Hurricanes also scratched co-captain Justin Faulk and Lee Stempniak. Faulk was listed as day-to-day with an upper-body injury. Stempniak was a healthy scratch.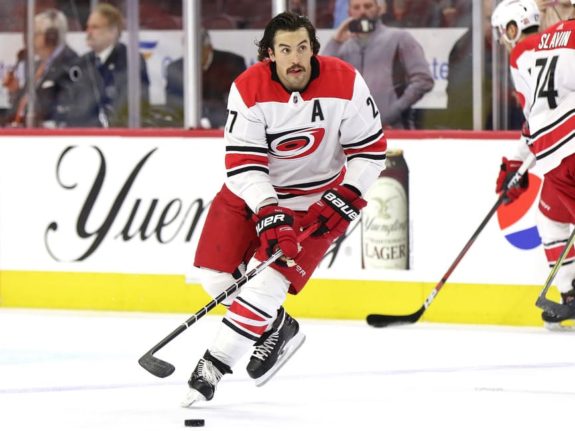 The absence of four Hurricanes regular players that the fans have seen night in and night out for six months makes this a different looking squad altogether. Sure there are still, mostly, the regulars, but the novelty of having a couple of guys from the teams' AHL affiliate Charlotte Checkers mixed-in makes watching the Hurricanes extremely fun here at season's end.
Those Hungry Checkers
So much of the Hurricanes' fans disappointment and excitement has centered on the hesitation of management to bring Valentin Zykov up from Charlotte to Raleigh to try and jump-start the team's offense. The disappointment came from a thinly veiled threat from head coach Bill Peters that there were guys in Charlotte. The implication was that since Peters was chewing the team for their lack of effort, there were hungry Checkers ready to work if given a chance.
Monday night I asked coach Peters about this comment he made when he was furious about his team's lack of effort after losing to the San Jose Sharks in early February: "There are three healthy bodies, there's at least three that can go in. If not those three, there's a group down in Charlotte, too, right? We can't put that group [of Hurricanes] out again after that. It's not acceptable."
Peters responded to my question by saying that the Checkers coach is doing a good job preparing his players. Apparently he did not want to walk down bad memory-lane and talk about what might have been had the Checkers guys had been given a chance six-seven weeks ago.
Valentin Zykov
The disappointment among the fans materialized when Peters' threat did not. Former Hurricanes general manager, Ron Francis sent Marcus Kruger and Josh Jooris to the Checkers after they cleared waivers, but never brought up Zykov, the obvious choice. He was leading the team in goals scored and the 'Canes needed scoring. Whatever the reason – and there could be a myriad of them — Francis said no to bringing up Zykov or anyone else that could possibly boost the offense.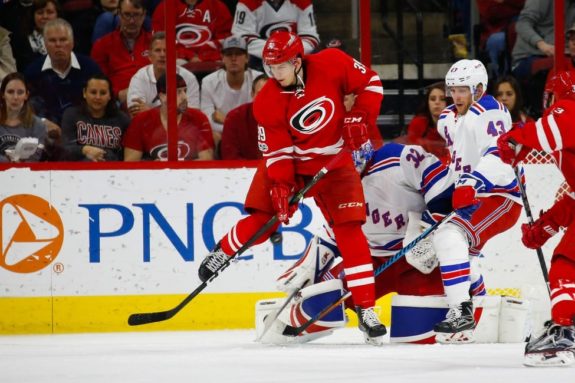 Zykov excitement is happening now, as at long last the Hurricanes have him in an NHL sweater, and he is on fire. Against the Arizona Coyotes Zykov scored two goals. Against the Senators Saturday night, he had two assists. And again Monday night he scored a goal against the Sens. Zykov has put five points on the board in three games. Peters doesn't need that five-game plan. Zykov looks to be for-real.
Zykov has a sense of humor, too. Last night, I reminded him that after the last home game he told me he had a lot to learn. I asked him if he was learning and Zykov said, "Yes. Not quickly, but learning." I followed up by telling him he sure looks comfortable on the ice and he smiled and said, "It's illusion."
Warren Foegele
Warren Foegele got his chance at NHL ice Monday night and almost as expected, made the most of his opportunity. As if adding salt to the wound of disappointment that these guys were not brought up when it mattered in the playoff hunt, Foegele scored the first goal of the night against the Senators. It was his first career NHL goal and it was incredible.
First @NHL Game ✅
First @NHL Goal ✅@FoegDaddy96 is having quite the Monday! pic.twitter.com/xEv7ajFURu

— Carolina Hurricanes (@Canes) March 26, 2018
With only a minute and eight seconds left in the first period, Foegele grabbed a loose puck from behind the Senators' net, took it to the wall, juking the defender off of him, turned to the net and drove forward, firing a shot at an almost impossible angle and hitting the back of the net. Goal! What was so amazing about Foegele's goal is that he looked even more comfortable that Zykov, in this his first NHL game.
I asked him about looking so comfortable and if he had any nerves about playing at this level. Foegele said,
I had nerves, but around the third shift I realized it was just another hockey game and I needed to stick with what's been working down low.
What's been working with the Checkers is 42 points (26g, 16a) in 65 games with the Checkers this season. He and Zykov both have been having fantastic seasons and are making strong cases at the AHL level and in the NHL that they belong on the Hurricanes' roster. Sure Foegele's only had the one game. But, getting a goal and an assist and being named the game's first star was not a shabby way to start.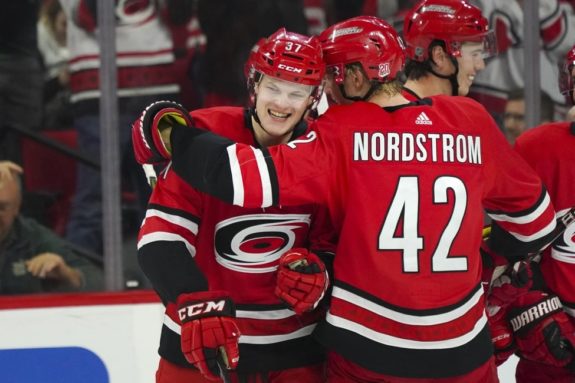 Andrew Miller at Cardiac Cane hit the nail on the head in a post after the game: "This is a huge opportunity for players like Foegele and Zykov to show why they should be in the lineup at the very start of the 2018-19 season. Carolina's offense could use the added boost, throughout the top three forward lines. That's exactly what those two potentially provide." That added boost is something that would have been nice to have had about 20 games ago.
So, the fans of the Hurricanes are excited about their team's future. These young guys have made hockey fun again, and while there is still a very slight chance of making the playoffs this season, guys like Zykov and Foegele are making it easy to believe that next season could be the one that sees the Hurricanes back in postseason play. The disappointment over what might have been will just have to give way to the excitement.