The first piece of mail I ever received at my new home with my newlywed wife was a Flyers-themed plea for grandchildren. It was a small brown box that wasn't heavy at all, and I'll never forget its contents. Inside were three baby onesies – or "creepers" as NHL.com calls them – that had the Philadelphia Flyers logo stitched onto the front. There was a little sticky note attached to the one in the center of the three from my grandpa with a simple request, "Please fill these as soon as possible."

I haven't granted him his wish yet, although I imagine I will someday. Hopefully not all three at once though, or my wife might kill me.

If I am lucky enough to have children, I'm looking forward to showing them the Flyers and the wonderful game of hockey. I'm hoping they can appreciate the game's combination of speed, skill, and strength. I want them to be mesmerized by the beauty of a perfectly executed breakout. I hope they appreciate any player, regardless of their team, that is so good at an aspect of the game that they make it an art form, whether it's scoring goals or blocking shots. When they go to their first game, I hope the hairs on the back of their necks stand up when they realize, "I can't believe I'm here. This is where I saw (player) do (amazing/historical event)."

Most of all, I hope that they want to love hockey. A lockout doesn't do anything to promote hockey in America, and it certainly doesn't attract newcomers.

The NHL is was in the best position possible to gain new fans. Not only was the game thriving with parity, but two other leagues were both facing work stoppages. The American juggernaut of sports, the National Football League, missed training camps over negotiations over how to split up their excess piles of cash. The NBA, who the NHL goes head to head with for ratings and media attention during most of its season, didn't open their season until Christmas. The highway to American sports-lovers hearts had turned five lanes wide with zero traffic from October to December.

Top that with the fact that the past three Stanley Cup champions were from Chicago, Boston, and Los Angeles – all major markets – and you have the perfect storm for increased popularity. Only instead of Kings fans buzzing about their chances to repeat with a team that lost no major pieces, they're wondering which country their best players, like Anze Kopitar, are going to play in. I don't foresee many kids asking for a Mora IK jersey for Christmas.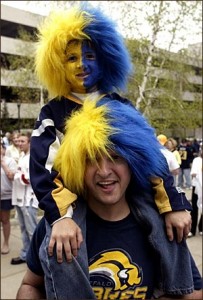 For all fans – prospective or life-long – the only thing more detrimental than a lack of buzz about the NHL is a shortage of NHL games. Instead of educating the general population about the rich history of the league and its teams and players, the NHL is giving people another ready-made excuse to not bother giving them a chance.

Somehow, the NHL didn't learn anything from the mistakes made by the NFL and NBA with their labor negotiations. The league enjoyed its highest revenues ever, but now the owners and players can't agree how to divide them. Plus, the dire financial situations of some teams are complicating their abilities to attract or keep free agents, as fans in Phoenix and New Jersey can attest to. That's what makes this lockout so frustrating.
Before the NHL determines how much more revenue the owners deserve, they owners need to figure out how to distribute their share to support the clubs that need it most. The players need to take a step back and see that no other major American sports leagues are giving players 57% of revenue. The quicker that both sides can reach this epiphany, the sooner we'll see hockey.

If the league and the players end up reaching something close to a 50-50 split (as everyone suspects anyway), the fans are going to be as incredulous as they are grateful. "You're telling me it took all summer and part of the season to figure out a 50-50 split?" Unfortunately, that probably won't be far from the mark.

The NHL needs to do something different than the NBA, NFL, or MLB. Hockey will always have its extremely loyal core of fans, and an uphill climb to collect new ones here in America. The league needs to support the growth of hockey, which in turn would develop a whole new generation of fans. Take this CBA and do something drastic to show the fans how much they matter, and to make playing organized hockey as a kid more common.
Agree to set 4% aside for the fans and the development of the sport. Owners can consider it "an investment in their investment."

The players said that they could accept a decrease in their share as long as it went to the franchises that need it. This sacrifice would benefit every franchise. With over $3.3 billion in revenue, I think owners could figure it out and survive with 48%, or $1.584 billion. That represents a 5% raise for the owners. I also think that the same 48% would be fair, considering players in the NFL and NBA get 48% and 49-51% or revenue, respectively.

This kind of positive solution is something that fans can support. Use that 4% to lower the costs of going to an NHL game, such as ticket prices, concessions, and parking. Your typical family can't afford an NHL experience right now, and there's nothing more eye-opening than seeing the speed and skill of hockey in person, seated next to the most passionate fans in sports.
Take a portion of the 4% to support clinics and leagues for children. I wanted to play ice hockey so bad as a kid, but it was too expensive, so I played soccer and baseball. Most people already know about Pop Warner for football and Little League for baseball, but they don't know where to turn for hockey. Support hockey at its lowest levels to make it more common for kids. Propose money back to rinks that offer these clinics and leagues at an affordable price as an incentive. The NHL lockout doesn't have to be all about greed. Hockey is a special game with special, loyal fans. We, the fans, are constantly praised as the best in sports. Reward us, and help us beguile our friends to the charms of hockey.                                                                                     
I don't care about youtube videos where players tell us their side of the story. I don't need "Thank You Fans" written on the ice at every game. These actions don't change anything.

I do care about being able to take my future kids to a game, and I will need all the help I can get to afford all the things they'll want me to buy them.

At least I won't have to buy them Flyers creepers.

Growing up in Levittown, PA, Matthew learned to love the Philadelphia Flyers and NHL hockey at a young age. He now writes his analysis of all things hockey for The Hockey Writers.