Hockey cards play an integral role in the early education process of young hockey fans (though not nearly as much now, in a post-internet age). From simple datum like stats and which teams players play (or have played) for, to details like scouting reports and even specific off-season hobbies – there's a lot you can learn from a hockey card.
I, for example, first became aware of the concept of a player lockout while reading the back of a hockey card – in statistic columns, I kept on seeing "48 GP" in the 1994-95 row, and once I realized that it was no coincidence that so many players played only 48 games in the '94-95 season, I eventually became familiar with the notion of labor strife and how it can affect sports. That was a dark day.
As dark days go, it doesn't get much darker than September 7th, 2011 – the day that the plane carrying Lokomotiv Yaroslavl crashed and killed everyone on board. The hockey world lost scores of people that day, though not all were household names. Sure, there were ones we all knew – Pavol Demitra, Ruslan Salei, Karlis Skrastins – but for every recognizable player, there were handfuls of individuals for whom there existed little to nothing by way of name recognition. Vitaly Anikeyenko, Andrei Kiryukhin, Pavel Trakhanov. The list goes on. And on. All hockey players who, at one point, dreamt of nothing but having the privilege of playing a child's game for a living. And in some small way it all goes back to hockey cards – for me, at least.
About a week after the Lokomotiv disaster, a friend gave me a stack of old hockey cards – probably an inch-and-a-half thick, all from the early 90s. I guess they had previously belonged to her brother, but he didn't need them anymore, and being the only hockey fan she knew, she saw fit to bequeath them to me. I'm glad she did.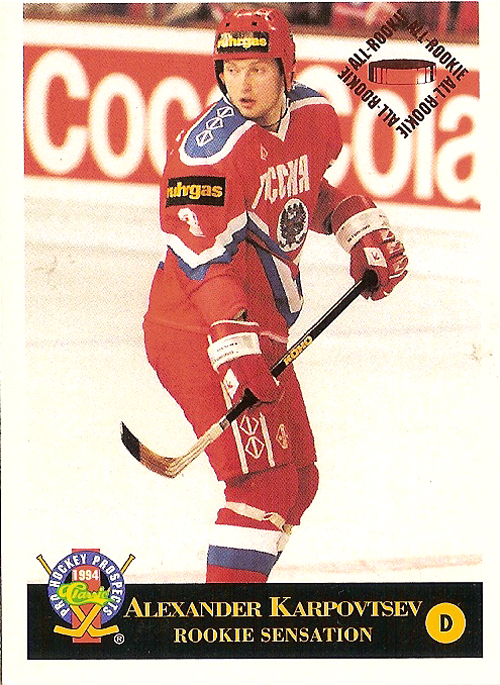 As I started to flip through them, one of the very first cards that I saw had a familiar name on it – Alexander Karpovtsev. A chill ran down my spine.
Alexander Karpovtsev. Born April 7, 1970 in Moscow. A journeyman veteran NHL player, Karpovtsev had played for the New York Rangers, Toronto Maple Leafs, Chicago Blackhawks, New York Islanders, and Florida Panthers, as well as Dynamo Moscow of the old USSR hockey league. The same Alexander Karpovtsev who, just a week earlier, had perished along with the entirety of the Lokomotiv Yaroslavl hockey team.
And here he was. Immortalized on a piece of cardboard, playing for Moscow Dynamo. And he looks so young – so young that he can't possibly have any idea as to the trajectory of his career, let alone the fate that awaited him on that early September day in the year 2011. How could he?
Forever immortalized, in part at least, on a hockey card. Not permanently enshrined in hallowed ground like the Hockey Hall of Fame, but rather on an ultimately disposable medium. And yet somehow, this is what every young hockey player dreams of – to be so immortalized on a hockey card all our own. As youngsters we may dream of one day being named to the Hockey Hall of Fame – and to be sure we all dream of having our names chiseled onto the Stanley Cup – but there's something about the idea of being the subject of our very own hockey card… To have our picture, our stats, our biographical information printed on high quality cardboard – to be kept, traded, given away, whatever. In many ways, that is immortality. It's kind of silly, but ultimately true.
Karpovtsev's card, printed in 1994 by Classic Games, Inc. tells me the following about him:
From 1990 to 1993, the defenseman Karpovtsev played in 111 professional games for Moscow Dynamo of the USSR and later CIS. Along the way he scored seven goals and added eighteen assists, for a total of 25 points. He also racked up 141 PIMs. He also played eight games for Russia in the '92-93 World Championships, recording one assist and ten PIMs. He was drafted by Quebec, 158th overall in 1990. He was 6'2″, 189 lbs., and shot Right.
And that's about it – nothing about his later NHL career or his later death (obviously). But that is precisely what, to me, is so incredibly awesome about hockey cards, and why, in a way, they are the perfect memorial to the hockey players (or hockey trends) that won't be remembered by history. They perfectly catch a specific moment in time. They are a snapshot of hockey culture, style, and trends, time and date stamped to a specific era. And even then, there is so, so much that can be taken away from a simple glance at a random stack of hockey cards.
For instance: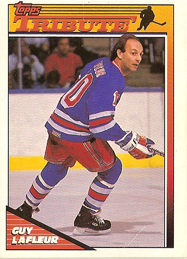 One of the most disturbing experiences one can have while looking through a stack of hockey cards is undoubtedly stumbling upon a player made iconic for wearing one specific NHL sweater, wearing a different jersey altogether. Think of the shock that would ensue from coming upon a Steve Yzerman card in which he's wearing, say, a Colorado Avalanche jersey. Imagine the sickness in the pit of my stomach, then, to find a Guy LaFleur New York Rangers card. Huh?!
Sometimes the stat lines can be head scratchers. An example, as taken from a Tony Amonte rookie card: 0GP, 0G, 0A, 0P. I guess the industry was booming in the early 90s – or at least booming enough to make cards for players who had yet to contribute in the NHL in any meaningful way.
Alternatively, there is the phenomenon of coming to know of certain players that you personally have never heard of, but who nevertheless put up decent numbers in the League. Did you know that Mark Osborne played in 624 NHL games, racking up 172 goals, 263 assists for 436 points – in addition to a more than respectable 763 PIMs – while playing for Detroit, NYR, and Toronto? I certainly didn't. Who is Mark Osborne?
There are, of course, nostalgic cards for players playing on teams that currently don't exist. In this stack alone, I found a Shawn Chambers Minnesota North Stars card, a Marc Fortier Quebec Nordiques card, and a Mike Tomlak Hartford Whalers card. (Viva la Whale!)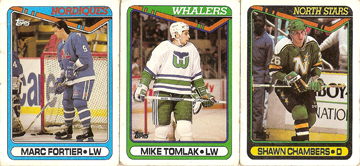 And then there's the sometimes hilarious/awkward/dry "informative" copy often found on the back of some hockey cards.
To wit, as taken from the back of a Petr Svoboda card:

There are cards that serve as awesome time machines. One that I found in the stack featured Craig MacTavish, then of the Edmonton Oilers, sans helmet. What an end of an era that was.
And then there is the Coup de Grace of early 90s (and I suspect even current day) hockey cards: the forever-awkward street clothes card. Words can do no justice to the Brian Leetch card I found in the stack, so enjoy the scans of the front and back of this card (and be sure to take in all the detail – including, if you can read it, the pithy answers to the Q&A):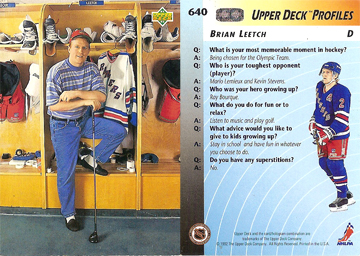 Leetch was clearly thrilled to be asked those questions.
* * *
Going through old hockey cards can be an equal parts entertaining and sobering experience. I know that I, myself, have boxes and boxes of old hockey cards that I haven't gone through in years. It might be fun to spend one afternoon going through these boxes and seeing what I find.
Do you have any old cards lying around? Go through them – you never know what kind of treasures you'll find, or the memories you'll dig up.