It's pretty clear the NHLPA has been on a mission to defend their position by using Twitter to promote their fight against the NHL owners and have won over the majority of fans as a result of their effort. The evidence of fan support for the NHLPA is prominent in the recent YouTube hit: Together We Can, a fan-made video supporting the players which has received almost 1 million views in just over a 2 week time span.
In response, the NHLPA has released their own video only hours after the lockout came in session to reach out to fans once again. In the video we see interviews from David Backes, Sidney Crosby, Gabriel Landeskog, James Reimer and Blackhawks captain Jonathan Toews as they try to justify their position and, once again, point out that the owners are locking out the players and that they are prepared to play.
Their tactics are cute, but are they really as innocent as they claim to be? I don't think so.
According to Gary Bettman, the NHLPA refused to start negotiations until the Stanley Cup Finals and did not submit their first proposal until nearly one month after negotiations began. Why would they wait so long to start talking? Fehr claimed that he was unprepared to enter negotiations but the fact is, he isn't on the ice and it's his job to represent the players. The fact that they delayed negotiations is proof to me that they were prepared to enter a lockout situation and use that to promote bad PR towards the NHL. In short, the NHL lost the PR battle before they could even begin due to Fehr's tactics. Smart move, sure… but also dirty.
The NHLPA's demands also seem to be unrealistic, despite the fact that they claim that their proposal is at 52%, because they are asking for a fixed number and calculate the percentage based on their projections.
"It's not anything close to 52 percent, their proposal is not on percentage" Bettman stated last Friday, "it's a guaranteed dollar proposal."
It's clear both sides are very far apart due to the fact that the NHL owners want to change the definition of HRR as well as reducing the players share to 46% along with an increase in escrow. On the other side of the table, the NHLPA not only wants a larger cut but they want that fixed percentage based on their projections which is never going to happen. Of course, their projected HRR shows that the players share would be 52%, but in reality they are not proposing a percentage so the NHL has no interest in going that route.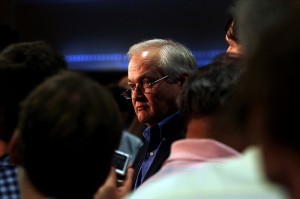 In the video above, the NHLPA claims that both sides need to compromise in order to get a deal done, but at this point they are crying wolf as they have proposed too much change in the current CBA and have provided a situation where the NHL must gamble if they took their proposal. Simply put, the NHLPA has complicated matters even further while the owners have clearly tried to keep it simple. Some may call their ideas innovative but I call them greedy, unrealistic, and
purposely provided fans with a finger to point in the NHL's direction. It's all smoke and mirrors for the PA.
Gary Bettman has entered his 3rd lockout during his tenure as NHL commissioner. He is booed in every building he steps into and he already knows that he has zero fan support. If there's anything to take out of that, he is far removed from getting involved in the media circus and he is simply there to do his job and negotiate a new deal. You can't say the same about Donald Fehr and the NHLPA.
There is still hope out there that the season may be delayed until November or December, but that isn't an opinion that I share and can see this dragging out for another full season if things continue on this trend. The NHLPA has played dirty. They've won fan support and the only reason they have been so active in that area is to put pressure on the NHL to agree to their proposal. At this point it hasn't worked and until they decide to negotiate without a media distraction they won't be taken seriously by the NHL owners.
Try not to mistake my apathy towards the NHLPA as enthusiasm for the NHL. Neither deserve your support or attention until a deal can be resolved.