Judging when a player is ready to play in the NHL is probably one of the most difficult things an organization has to do.  What's even harder to judge is when and if that player will actually perform up to the level that was expected of them.  So when a player actually lives up to expectations of an origination and preforms at a high level in the NHL it's a thing to stand back and recognize.  It's time to stand back and recognize the Minnesota Wild's Charlie Coyle's rise to that high level.
Drafted in the 1st round of the 2010 NHL Entry Draft (28th overall) by the Sharks, Coyle was the traded to the Wild during the offseason in 2011 as part of the trade that send Brent Burns to the Sharks.  From the beginning the Wild had high expectations for the former Boston University and QMJHL star to develop quickly and he has delivered scoring 14 points his rookie year in 2012-13, 30 points in 2013-14, and 35 points last season in 2014-15.
Up to this point in the season Charlie has already matched his career high point total of 35, and shattered his previous high mark for goals by a margin of 9 with 21 tallied to lead the team.  Coyle was expected to improve on last season, but this has been much more of an improvement than anyone expected.  Of course Charlie's natural talent is showing through, but there might be a few more factors at play that have given him the opportunity to shine.
Moving from Center to Right Wing
In college, the QMJHL, and the AHL Coyle was a Center and highly effective on both sides of the puck, but his goal totals never very high with his highest total coming in the QMJHL with 15 goals for the St. Johns Sea Dogs.  As with most centers the need to be a strong up front and be a two-way player most likely was keeping Coyle from concentrating completely on scoring.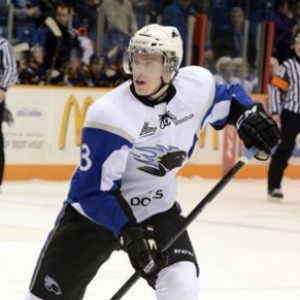 Very soon after his call-up to the Wild it became obvious that he could play the wing.  Despite showing lots of promise as a winger, a shortage of center talent in the organization kept him playing up the middle.  The Wild this season decided they needed to give Charlie that chance to play wing full time, and looked to acquire a center to take that spot and free him up to play the wing.
On December 15th the Wild picked up Jarret Stoll of waivers from the Rangers and brought him in to play center.  This is when Coyle moved to Right Wing full-time and broke out.  Since Stoll's acquisition, Coyle has scored 15 of his 21 goals this season.  He's been free to concentrate on goal scoring and it's paid off for the Wild on the scoresheet.
Enter Torchetti and a Move to the Top Line
It can be argued that the entire Wild team has benefited from the change of Head Coaches.  Still Coyle has seen his opportunities under John Torchetti skyrocket.  Torchetti coached Coyle in the AHL with Houston and saw from the beginning Coyle's potential.  The relationship forged then has paid off now, as right away Torchetti decided that Coyle's hot hand deserved a shot on the top line and top power play unit with Parise and Koivu.
Since Torchetti's first game on February 15th, Coyle has scored 6 goals in 12 games to lead the team through that stretch.  His ice time has increased as well as he's averaging 20 minutes a game, giving him more looks at the net.  He's obviously responding to playing on the top line as he's able to concentrate on putting the puck in the net and letting Koivu and Parise do what they do best, make situations happen.  Also it can be said that it's been proven time and time again that playing with great players will make your play great.  Perhaps Charlie himself says it best in an interview after the Wild's home win against Colorado on the 1st about how playing on this top line has elevated his play.
Talented players require direction and shaping to fully realize their talent.  In Coyle's case it seems that a simple position change mixed with a move to the top line has been the direction he needed to go to take his game to the next level.  With 15 more games left in the regular season and a race to make the playoffs Charlie will most certainly be one of the keys to the Wild's ability to salvage this season.  Regardless of the outcome of that stretch, the Wild and their fans have enthusiasm for the future as Charlie Coyle has officially risen to an elite NHL level.