The Pittsburgh Penguins dropped an important game in Brooklyn last night vs. the New York Islanders. Aside from missing out on two crucial points in the middle of an Eastern Conference playoff push, the Islanders now sit five points ahead of Pittsburgh for third place in the Metropolitan Division.
Maybe more concerning is how the Penguins lost. It wasn't necessarily due to poor play, costly turnovers or bad penalties, though there were a few times in which staying out of the box would have been extremely beneficial.
They lost because they didn't finish on prime scoring opportunities and no one stood out in that regard more than Phil Kessel.
To be fair, there were plenty of other chances whiffed on throughout the game by other Penguins. For example, Kessel laid a beauty of a pass through traffic to Evgeni Malkin on the power play, and Malkin missed wide by a few inches. Bryan Rust drove the net earlier in the game, only to lift the puck over Jaroslav Halak's right shoulder and off the cross-bar.
However, Kessel's muffed attempts stand out because so far this season, he's been really good at not finishing.
At Some Point, Scorers Have to Score
I recently discussed Kessel in a little more depth and alluded to the fact that he's producing points, so the overall disappointment and criticism of him is somewhat unwarranted. I still believe that and honestly, I don't feel that Kessel is playing bad hockey.
However, plays like this are happening far too often.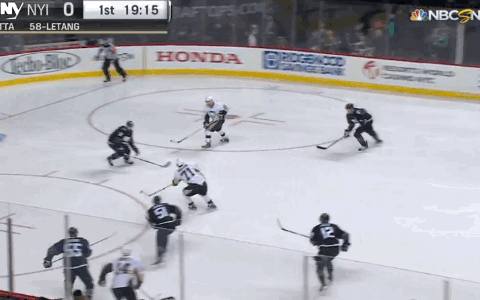 That play came on Kessel's first shift, with Malkin putting the puck on a platter for him. When the Penguins acquired Kessel last summer, these are the plays that Penguins' fans dreamed about. Unfortunately, those dreams are becoming nightmares due to so many missed opportunities.
Especially when Kessel has the game on his stick in the final seconds…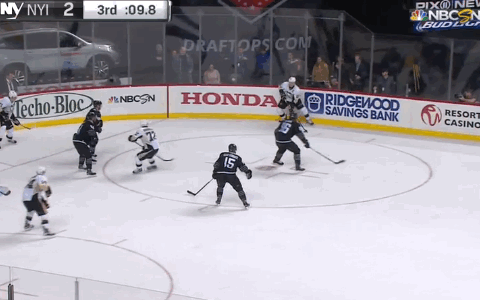 On both occasions, it's likely as simple as elevating the puck. With nine seconds left and the chance to send the game into overtime, guaranteeing the Penguins at least one point in the standings at a crucial time of the season, you'd normally want the puck on your most dangerous shooter's stick. It couldn't have worked out better, except that Kessel kept the puck on the ice and allowed Travis Hamonic to block the shot before it could make it on net.
Mike Sullivan addressed those missed opportunities in his post-game presser…
He had some real good opportunities. Percentage-wise, I have to believe they're going to start going in for him.
Pittsburgh better hope that's the case.
Is it the Stick?
Kessel's stick flex has been a major topic of conversation in Pittsburgh. I'm not sure that I'm ready to question his choice of twig after he's been so successful for so long. But, let's consider the questions.
Many believe that using a stick with that much whip is ailing him, as it isn't ideal for slapshots or one-timers. However, slapshots and one-timers aren't his strength, so changing sticks will likely have a negative impact on him since he'll be moving away from what he does best, which is wrist shots from the slot or on the rush.
Another thing to consider is that Alex Ovechkin, who scores an absurd amount of goals via one-timer from the left faceoff circle, uses a similar flex. James Neal, former Penguin and current Nashville Predators' sniper falls into that category as well. Both players are larger, stronger individuals and have no issues with those types of shots.
We have to stop blaming the stick.
Phil Kessel Can Redeem Himself This Postseason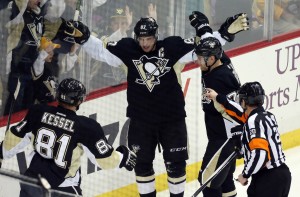 If you're underwhelmed by Kessel so far, I can't really blame you. Expectations were through the roof upon his arrival and while maybe everyone expected a bit too much, 25-30 goals doesn't seem out of the question. Maybe he'll still get there through the final stretch of the regular season but it doesn't seem likely.
Fortunately for the Penguins, Kessel will likely get a shot at redemption in the playoffs, barring a drastic setback that eliminates them from contention.
Considering Kessel played so many years in Toronto, his postseason sample size isn't large. However, the results through his 22 playoff games are encouraging, as he's netted 13 goals and 21 total points for an average of .95 points-per-game.
In recent seasons, the Penguins have been too reliant on Malkin and Sidney Crosby for scoring in the postseason. If Kessel can contribute at the same pace as his past playoff appearances, the Penguins will be a tough team to defend. If not, and his struggles continue into next season, the fact that he has six years left on his contract becomes a bit worrisome.
Thanks for reading. Follow me on Twitter at @Michael29Angelo for more conversation around the Pittsburgh Penguins and everything NHL.
Pittsburgh Penguins writer for TheHockeyWriters.Com and PittsburghHockeyNow.Com. Youth hockey coach, and student of the game.